5 Very Good "Dogumentaries" To Watch On Netflix If You Already Finished 'Dogs'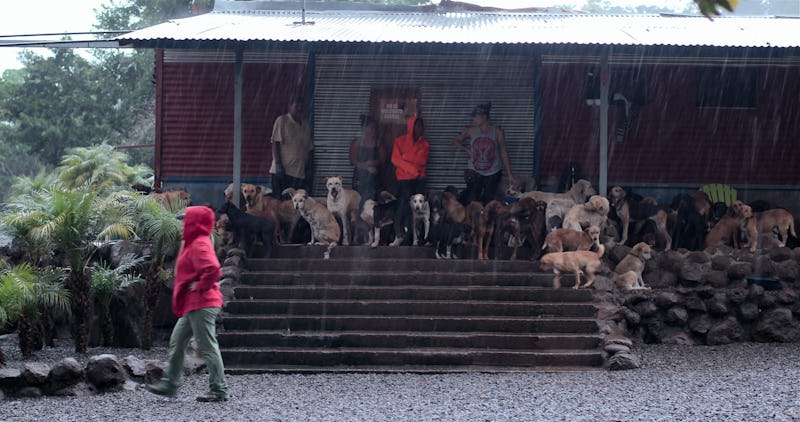 Netflix
The dogs featured in Netflix's new documentary, Dogs, are all very good doggos, indeed. The six-part series, which hits the streaming network on Nov. 16, takes an individual look at six special doggos and their humans, including Japanese dog groomers, a dog sanctuary in Costa Rica, and an Italian pup who watches over a small town in Northern Italy. The docuseries is enough to bring a tear to the eye of even the most standoffish cat person, which is why once you finish you might find yourself already yearning for Dogs to return for Season 2?
At the moment, Netflix hasn't released any official information on whether Dogs Season 2 has been confirmed. It will probably take some time before they do, since they need to collect viewership numbers and analyze whether or not another season of Dogs will be a good investment for the company.
However, it's a good time to be a fan of Netflix's nonfiction programming, as the streaming giant is currently making a push to increase its nonfiction content, reports Vulture. Documentaries are bigger than ever.
Netflix doesn't usually release information about what it's viewers are are watching, but vice president of original programming and comedy programming, Lisa Nishimura, told Variety that the vast majority of Netflix users have been pressing play on docs lately. "Oftentimes people will say the documentary audience is niche," said Nishimura. "Roughly 75 percent of our audience in the last 12 months has watched a documentary." That's like 525 percent in dog years.
Provided that Dogs manages to recruit a loyal pack of fans, there doesn't seem to be much reason why Netflix wouldn't bring it back for a second season. But if you're finding the waiting period to be a little ruff, feel free to peruse some of Netflix's other dog-themed documentaries.
1. Precious Puppies
The name pretty much says it all here. Meet a variety of puppers and doggos and watch them fulfill their destiny of becoming man's best friend. At just 53 minutes and rated G, this one's perfect for human pups, too.
2. A Dog's Life
If you've ever wondered what it is your best friend does all day while he waits around for you to get home, this documentary gets down on all fours and tries to understand how dogs see the world around them.
3. Dog By Dog
Take a closer look at the horrors of puppy mills in America, and how they're part of an even bigger problem that ignores animal rights: big agriculture.
4. The Snow Wolf Family & Me
One man decides to head out to the Canadian Artic and bonds with a family of wolves, the O.G. dogs. This docuseries comes from BBC Earth (a.k.a. the network that makes Planet Earth) so you know it's good.
5. Death Row Dogs
Some dogs are never even given the chance to be good boys and good girls. This 44 minute documentary explores what happens to dogs that wind up in shelters, abandoned and facing death row.
Even if Dogs doesn't manage to bark out a second season, with nonfiction original programming already on the rise at Netflix, you can be sure that there'll be more canine-themed docuseries coming out one way or another. There are just too many real, good dogs out there with real, good stories to tell.