Australia-US Relations Are In Trump's Hands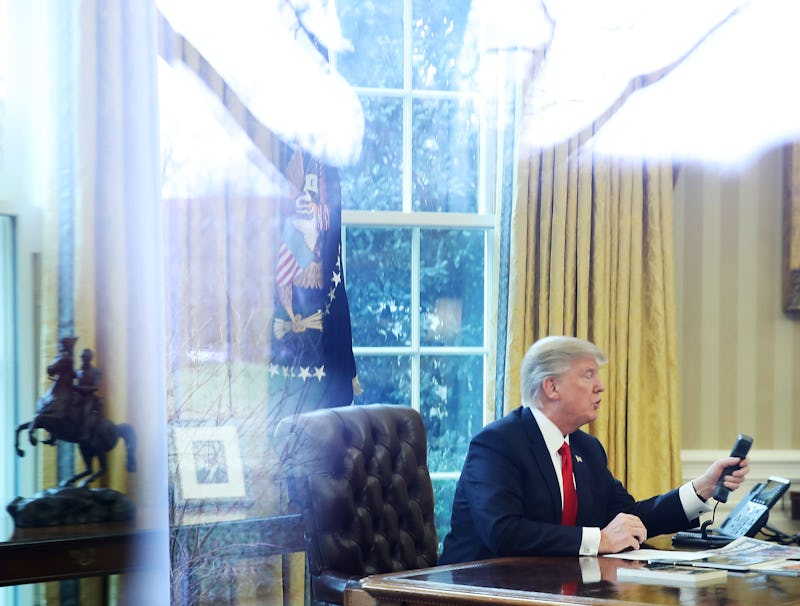 Mark Wilson/Getty Images News/Getty Images
President Donald Trump has been making phone calls to diplomatic leaders around the world, but his latest known conversation with Australian Prime Minister Malcolm Turnbull reportedly did not end well. Keeping this in mind, will Trump uphold Australia's refugee deal?
Well, if we're going off of Trump's Twitter profile, the future of the Australian refugee deal does not look too great. "Do you believe it?" Trump tweeted. "The Obama Administration agreed to take thousands of illegal immigrants from Australia. Why? I will study this dumb deal!" It seems our new president does not mince his words, but I'm still confused as to why Trump didn't study the deal before he spoke about it to Turnbull.
The deal in question concerns a decision made by former President Barack Obama's administration to take in hundreds of predominantly-Muslim refugees in the wake of Australia's refusal to do so, Politico reported. The total number was not specified, according to Politico. The refugees, who sought asylum in Australia, are currently residing in island refugee camps in Nauru and Papua New Guinea. Conditions at the detention facilities were reportedly so bad that the United Nations had to intervene, according to Human Rights Watch. Following this revelation, Obama's administration pledged to accept 1,250, or half, of the refugees from the camps if they pass U.S. security screenings, the Washington Post reported.
Australia and the United States have had a particularly amicable relationship as allies for so long that it's surprising that Trump would reportedly cut off what was intended to be an hour long call just 25 minutes in. But that's supposedly what happened during Trump's Jan. 28 conversation with the Australian prime minister, as reported by the Washington Post.
But there's still hope for the Australian refugee deal to go through. Sure, Trump's infamous "travel ban" executive order would have technically banned the refugees in question from entering the United States. But a special provision in the executive order, if upheld, will allow exceptions to the ban to honor "a preexisting international agreement." Additionally, an embassy spokesman said that "President Trump's decision to honor the refugee agreement has not changed," the Washington Post reported. "This was just reconfirmed to the State Department from the White House and on to this embassy at 1315 Canberra time."
And during a press briefing on Thursday, Turnbull refused to comment on the details of his conversation with Trump but reassured the public that the relationship between America and Australia was strong and claimed that Trump would uphold the deal.
In the end, whether the United States carries out its end of the refugee deal will likely be up to Trump. We'll have to see whether he chooses to honor a longstanding alliance with Australia, or whether his penchant for banning refugees from entering the United States wins out.