Dr. Luke Could Still Profit From Kesha's 'Rainbow' Album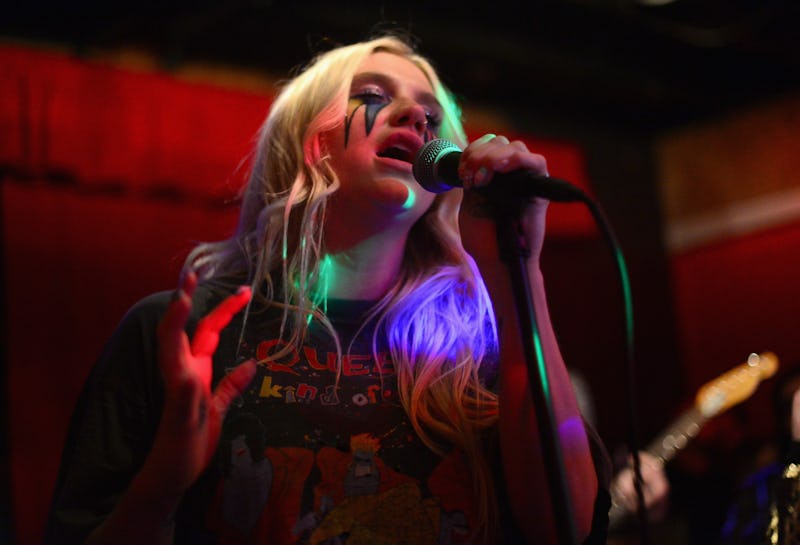 Katie Stratton/Getty Images Entertainment/Getty Images
On Friday, Kesha finally unveiled Rainbow, her first album in five years. It comes after a legal battle with her former producer Dr. Luke, who she's accused of sexually, physically, and emotionally abusing her throughout their professional relationship. (Dr. Luke, aka Lukasz Gottwald, has denied her claims and countersued for defamation.) It's a tangled and ongoing lawsuit that's been waylaid by more than one roadblock, but, given that Kesha and Luke are still legally entwined, it may mean Dr. Luke could profit from Kesha's Rainbow. Sony had "no comment" in response to Bustle's request for confirmation.
Since filing her lawsuit in 2014, Kesha has been trying to get her recording contract with Luke legally severed. She's been caught in appeals limbo since last year, when a New York judge denied her injunction on the grounds that Gottwald and Sony have permitted Kesha to record and release music without his direct involvement. That means Rainbow was released on Kemosabe Records, a Sony imprint that Gottwald co-founded and ran from 2011 until April, when his contract expired and he stepped down as CEO.
The New York Times also noted that Kesha's contracts are reportedly dependent on earlier agreements that she made with Gottwald when she first signed with him in 2005. That reportedly includes a deal with his publishing company, Prescription Songs. Since Kesha has not been able to make any legal changes to her contract, that means Gottwald ultimately owns her work — a fact verified by the liner notes for Rainbow, which show all words written by Kesha belong to a Dr. Luke property, Vulture reported. (The lyrics weren't published through Prescription Songs specifically, but Dynamite Cop Music/Where Da Kasz At (BMI), another one of Luke's companies).
Further complicating the matter is her contract with Dr. Luke's Kasz Money Inc. (KMI), which, per Vulture, she reportedly signed to before he brought her over to Sony in a separate agreement. For that reason, Sony has said before that they are legally unable to void Kesha's contract, since she is technically Gottwald's artist, not theirs. In other words, Kesha's contract does not actually belong to Sony, it belongs to Gottwald. Even if Sony were to sever all ties with both the producer and Kemosabe, it's possible that Kesha's music — and career — would still be under his control, since he owns both of the companies that hold her original contract. According to The New York Times' investigation, lawyers for Dr. Luke say that he did make an exception for the portion of Kesha's contract that stipulates he must produce at least six songs on any of her albums. Instead, he will "pursue the equivalent producer royalties in court."
Vulture claimed that representatives for Kesha, Dr. Luke, Sony, and RCA Records — the Sony subsidiary distributing the album — would not clarify Luke's financial stake in Rainbow. But, from all reports, it appears that the producer is involved somehow.