Emma Watson's Presence Will Be Felt At The Women's March, Even If She Doesn't Attend IRL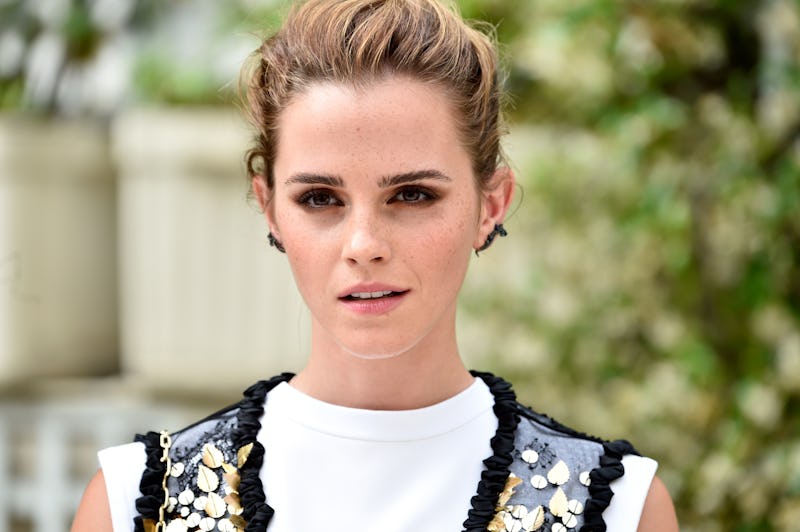 Pascal Le Segretain/Getty Images Entertainment/Getty Images
Emma Watson is an accomplished actor and activist. She has long been an advocate for gender equality, and is a vocal member of the #TimesUp movement. So, is Emma Watson at the 2018 Women's March? If so, which city's march is she participating in? The 2018 Women's Marches are taking place across the world this weekend, with marches planned in every U.S. state, several Canadian provinces, Italy, France, Spain, Greece, Germany, and more. In the U.S. in particular, the organizers are stressing voter turnout in 2018, and the New York Times reports that this year's march is largely "galvanized" by the #MeToo movement. While she hasn't confirmed anything yet, it would make sense for Watson to be in attendance.
The actor and activist has been quiet on social media lately, having posted just one or two times since the 2018 Golden Globes. If she is present at one of the 2018 Women's Marches, she has not shared it on Twitter or Instagram yet — and no Watson fan has snapped a paparazzi-style photo at one of the marches thus far. It's entirely possible that she is marching this weekend, and simply choosing to lie low; Watson may be attempting to amplify typically marginalized voices instead.
In addition to her work as an actor and humanitarian, the Brown University graduate supports #HeForShe. Described as "a campaign for the advancement for women," HeForShe is a movement she speaks out about as part of her work as a UN Women Goodwill Ambassador. Its primary goal is to educate male allies on ways to effectively empower non-men, in the workplace and in the world.
Watson has been a vocal supporter of #TimesUp since it was announced in early 2018. She also attended the 2017 Women's March in Washington D.C., accompanied by her mother. Further, Watson's work as a U.N. ambassador rivals her efforts in fair trade fashion design. Watson's presence at the 2018 Women's March would be certainly be welcome. Her work as an activist has not been centered on herself, but rather, elevating groups of people who may not have previously been included, or whose voices are often drowned out.
If Watson is marching this weekend, it would make sense for her to return to the Washington, D.C. march, particularly considering her work with the U.N. She could also be in New York City, where she spent a lot of time in 2017, or marching in London, where it's believed she lives when not working. (Watson is quiet about the details of her personal life — she's never confirmed her home base to the media.)
As of now, it remains unclear whether Watson is attending one of the 2018 Women's Marches, though it's likely she'll be present for at least one. Even if she's undercover, or there as an empowered citizen, rather than as a U.N. ambassador or high-profile participant in #TimesUp. It just doesn't seem like an opportunity the actor would miss out on. Further, after 2017's major year — the actor had star turns in Beauty & The Beast, The Circle, and others — it would be understandable if the famously private actor wasn't seeking out opportunities for press for at least some time.
Until Watson chooses to reveal something, fans and allies will keep an eagle eye out for her at the Women's Marches this weekend. Even if she isn't able to attend one in person, it's likely she'll release some form of message on social media. After backing #HeForShe, supporting #MeToo, and devoting her presence at the 2018 Golden Globes in person, it wouldn't make sense for Watson to miss out on this opportunity for unity and activism.