Eva Mendes & Ryan Gosling Need To Go To The Globes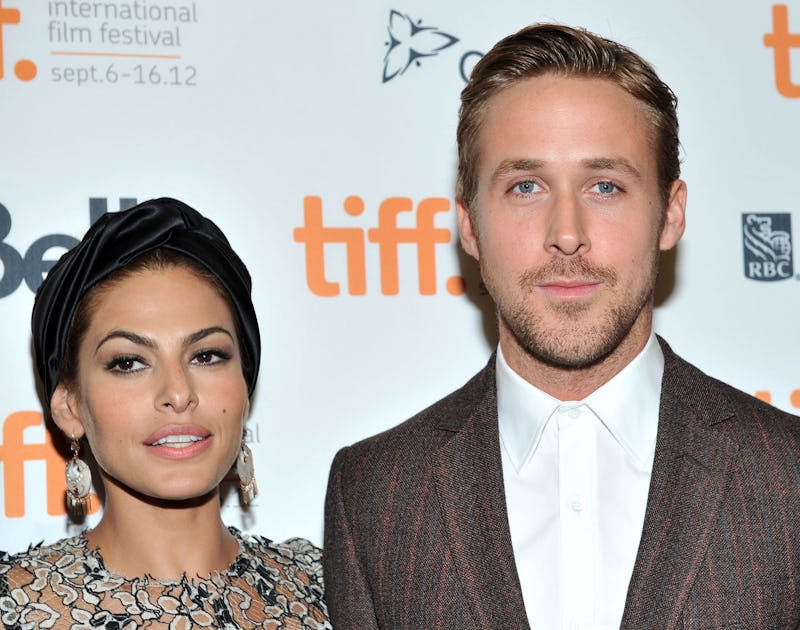 Sonia Recchia/Getty Images Entertainment/Getty Images
One half of the notoriously private couple that is Eva Mendes and Ryan Gosling has been nominated for a Golden Globe, leading fans to wonder what percentage of the couple they'll see on the red carpet that night. In the past, the red carpet shy couple has rarely been spotted together. So, all eyes are on Mendes this January 8. Will Eva Mendes be at the 2017 Golden Globes by Gosling's side?
Gosling was nominated for Best Actor in A Musical or Comedy for his performance in La La Land, he is almost certainly attending. However, Gosling's attendance doesn't ensure Mendes'. Gosling went stag to the 2016 Oscars, which he attended both as a presenter and in support of his film The Big Short.
If you think about Gosling and Mendes as a couple, you probably imagine one of the few red carpet photos of them, the one that is at the top of this article. You know, the one where Mendes is beautiful and rocking a turban and Gosling looks handsome. The photo is from the premiere of their movie The Place Beyond The Pines at the 2012 Toronto International Film Festival. Whoa, that's an old picture. I actually couldn't find an image of Mendes and Gosling on the red carpet that wasn't associated with that film.
But, the couple isn't only private about being photographed together, they also release last-minute or surprise announcements when it comes to concealed pregnancies and even whether or not they are married. It was reported back in September that the couple had secretly tied the knot, but a source later claimed to Vanity Fair that no nuptials had taken place.
Mendes and Gosling have opened up about their personal lives occasionally in interviews. In an interview last year with Latina magazine, Mendes explained the heartbreaking reason behind her second daughter's name, Amada Lee. Many fans were curious about the name, considering their first daughter is named Esmerelda Amada. Mendes explained her second daughter was born the same week as her brother's funeral, so she chose the family name again because it made her so emotional.
Gosling has spoken about being a dad and gushed about Mendes and their daughters to GQ in December. He said, "Eva's the dream mother, and they're dream babies, and it's like a dream that I'm having right now. I'm dreaming it all. So I feel so lucky"
With so much mystery surrounding the couple, it sort of makes me want a joint appearance more this awards season, especially since Gosling could win. I guess we'll just have to stay tuned and cross our fingers for a new picture of them.