Sorry Fans, The Future Of 'Famous In Love' Isn't Looking Very Bright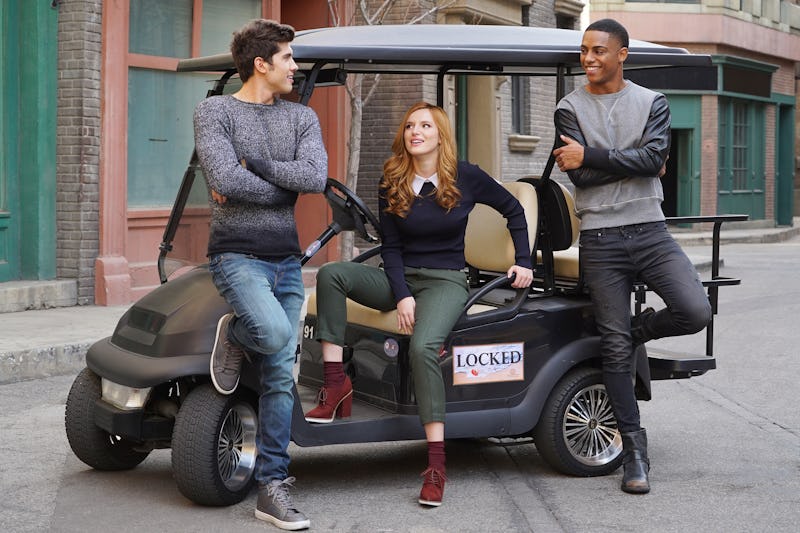 Freeform/Eric McCandless
Famous In Love, starring Bella Thorne, Carter Jenkins and Charlie DePew, focuses on a college student who gets her big break in show business, and of course, a lot of conflict ensues. There are definitely fans who would be happy to see Famous In Love come back for Season 3 for more overnight success drama. But as of the May 30 season finale, Freeform hasn't made any announcements regarding the fate of the series.
UPDATE: TV Line reported on June 29 that Famous In Love has been officially canceled by Freeform.
EARLIER: There isn't much word on the future of the series, but its ratings could spell trouble. According to TVSeriesFinale.com, Famous In Love is averaging about 258,000 viewers in the 18-34 demographic in its second season, which is about 22 percent down from the viewer count of Season 1. If the show does end up being renewed by the network, Famous In Love fans are still in for a wait — Seasons 1 and 2 both premiered in early April of their respective years, so that's probably when viewers could expect a potential third season to appear.
Regardless of what the ratings might suggest, the Freeform series has a dedicated fanbase that wants to see it succeed. Even just a glance at Twitter when the show is on provides plenty of insight into just how invested some viewers have become in the Famous In Love characters:
And others are already gearing up to be unhappy if Famous in Love doesn't come back.
The cast is among those who live tweet the show, too, and it's clear that they'd be game for any additional episodes if that's the way things shake out. Thorne told Collider last year that she'd already read the book Famous in Love is based on before she read the script for the show, and it sounds like she was one of the driving forces behind getting the adaptation made. "I put a quote on the book, and then me and my manager were discussing making the book into a show," Thorne told the outlet. "He knows [creator I. Marlene King] really well and was like, 'She'd be amazing for this! She knows just how to do this, in all the right ways.' And she did. We read the script and we loved it, and then we were attached to it."
Thorne also said that they shopped around a lot before landing with Freeform as a home for Famous in Love — they wanted to make sure someone was going to take care with the story. "We met with nine different networks, and we really loved Freeform the most," the actor said in the same interview. "We liked what they had to say about the show and where they wanted to go with the characters, which was really cool."
According to TVInsider.com, in the past, Famous In Love episodes have aired weekly on Freeform, but seasons have been immediately available in their entirety on Freeform.com and Hulu. Thorne told the site that this format worried her a little in terms of ratings.
"If everybody's going to be bingeing it, not a lot of people will be watching it live," she said last year, ahead of the Season 1 premiere. "That worries me a little bit. I want it to do well. I want people to really like the show, of course. For the most part, being binge-able is awesome. That's what people do now. That's what I do. I don't watch shows every week. So, it's much better in my opinion, if you're into that."
It's unclear if this format ended up affecting the Famous In Love ratings, or if the slightly lower viewer count will end up determining the future of the series. But for now, fans will just have to wait.