There's A CHANCE Harry Styles & One Of His Wild Suits Will Show Up To Teen Choice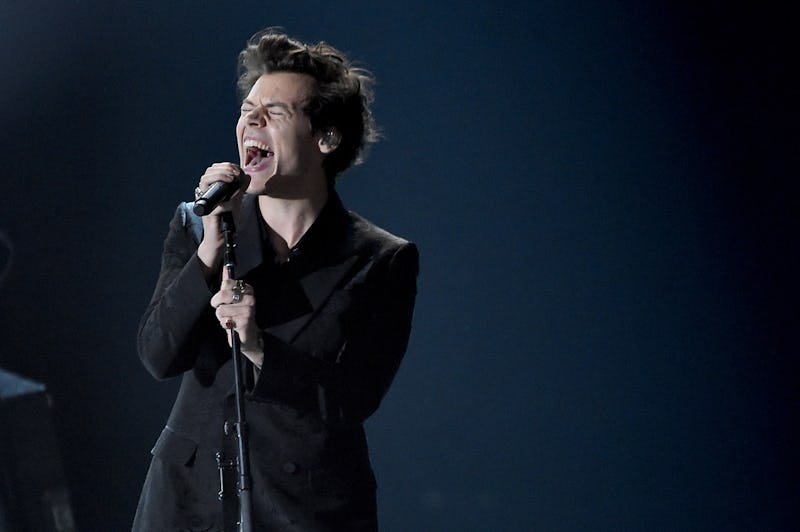 Steven Ferdman/Getty Images Entertainment/Getty Images
There's no denying that Harry Styles has been enchanting teenagers (and everyone else) for years. From his iconic stint in the ultra famous musical group One Direction, to his newer, more mature, more sultry venture into solo music, he's had dedicated fans following his every move for a long time. And this weekend, he's nominated for yet more coveted awards — so will Harry Styles be at the 2018 Teen Choice Awards on Aug. 12?
The tour he'd been on for much of this year is over, and no upcoming shows or events are listed on his website, so theoretically, Styles could be free to attend. He has a history of involvement with the show, and is nominated for a style award alongside the likes of newly minted royal family member Meghan Markle. But, last year, the musician and actor was nominated in a slew of categories at the Teen Choice Awards, and still didn't show.
That's not to say he doesn't care about the potential award! Celebrities are busy people with chaotic lives, especially when they're as big of a deal as he is. Harry Styles can't spend his days showing up every single place he's summoned, or he'd never get anything done. And apparently, there's a lot he's trying to get done.
Styles has been expanding his resume to include more than just "pop star extraordinaire" for a while — he appeared in the critically acclaimed Christopher Nolan drama Dunkirk just last year, and apparently, now he's even producing a CBS sitcom loosely based on his life, according to People magazine. The man probably doesn't sleep much.
The new show, Happy Together, will draw from Styles' experience living with friend and collaborator Ben Winston, according to the same report. "Although the series is inspired by when Ben and Harry lived together, that's where the reality ends. The show is not based on real life experiences and characters," CBS said in a statement, per People. So even if he doesn't show up at the Teen Choice Awards, Styles' fans have plenty of things coming down the pike for them to enjoy.
In addition to being nominated for Teen Choice Summer Tour, Styles will go toe to toe with Markle and other fashion gurus like Zendaya and Blake Lively for the 2018 Teen Choice Style Icon Award, and it's probably going to be a close one. All eyes have been on Markle lately in the wake of her romance with Prince Harry and their subsequent wedding, and she's definitely been stunning in some killer outfits and adorably tiny hats.
But Styles lives up to his name, and has for years — the star's outfits are always interesting, whether he's nailing it in a perfectly tailored classic suit or taking major risks with loud prints and unique fits. A look at his kaleidoscopic Instagram feed will easily take any fashion lovers breath away. He's flaunting fringe, he's rocking metallic blazers, he's bravely pairing mustard and lilac, and he has pink roses embroidered on his jackets. You never know what he's going to do next, and it's fun to watch because everything looks so fun to wear.
Especially when it often feels like men have traditionally toned things down on red carpets, Styles has made a point to stand out from the pack, so it makes sense that he's up for this award. Whether or not he'll show up remains to be seen, but he's seemed like a frontrunner from the start.