Trump Might Try To Overturn Hawaii's Travel Ruling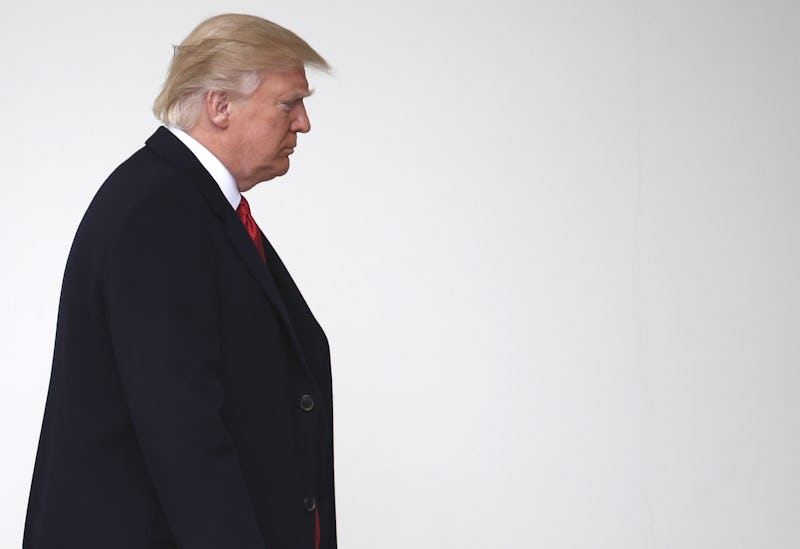 Win McNamee/Getty Images News/Getty Images
A federal judge has dealt another blow to the Trump administration, blocking the president's latest version of his highly contentious travel ban. Judge Derrick Watson of Hawaii halted the most recent executive order nationwide Wednesday afternoon in a ruling that marked back-to-back challenges for the order, which sought to deny travel from some predominantly Muslim countries. Though President Trump abandoned his previous order, which was halted in a Seattle federal court last month, will he attempt to overturn Hawaii's travel ban ruling this time around?
President Trump, for now at least, seems poised for a fight. At a rally in Tennessee on Wednesday evening, he told a cheering crowd of "the bad, the sad news."
"We're going to fight this terrible ruling. We're going to take this case as far as it needs to go, including all the way up to the Supreme Court." He said the most recent executive order was a "watered-down version of the first one," arguing that it should have never been blocked in the first place.
"We're going to win," Trump added. "We're going to keep our citizens safe. ... This is, in the opinion of many, an unprecedented judicial overreach."
The successful implementation of this travel ban had been a main goal throughout his presidential campaign, so it would be odd to see Trump abandon the second version — which critics likewise called a watered down version of the president's initially proposed travel ban — so early in his presidency. The test, rather, might come down to how much political capital Trump wants to expend on the ban.
The measure has been largely unpopular among the American public, as well as Democratic and Republican lawmakers. For conservatives riding on the president's success for their own 2018 midterm prospects, they might be less likely to push for a ban that could see Trump shoot down even further in the polls.
This second challenge to the ban may therefore see Republicans grow wary to defend it. With an agenda already steeped in challenges and controversies alike (from immigration to dealings with Russia), Trump may have to rely more unilaterally on the powers of the executive branch to see his travel ban through. Whether his Republican allies line up to join him is yet to be foreseen, but with this second executive order blocked by a federal court, it could turn out to be a drawn-out fight for the administration.