Season 2 Of The 'Heathers' Reboot Is Already Written, But The Setting Might Surprise You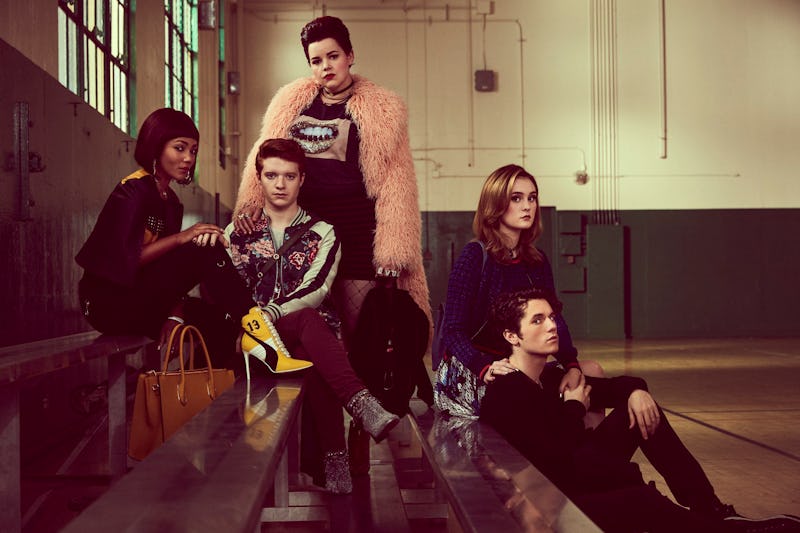 Paramount Network
As if the original '80s movie wasn't controversial enough, the TV version of Heathers has caused quite the stir. It was originally set to premiere on March 7 on the Paramount Network, according to The Hollywood Reporter, but its sensitive content clashed with news surrounding the February 2018 Parkland, Florida school shooting, so it was pulled at the last minute. If you've seen the cult favorite film with the same name, you understand why. After returning to the drawing board to rework its potentially triggering storyline, the series officially returned to the Paramount Network as a nine episode series that aired over five nights, two episodes at a time. And after all of that production hubbub, it all seems to have come and gone in the blink of an eye, which makes viewers wonder if Heathers will return for Season 2, or if producers are going to avoid another potential train wreck.
The show was originally developed for TV Land, per THR, before making things official with Paramount. It deals with topics such as suicide, murder, and sexual assault, among other intense topics, which is why it was pulled from its original premiere date out of respect for the Parkland victims and their friends and families. THR reports that sources say it aimed for a July premiere after that, and had to skip that one as well when the Houston-area Santa Fe school shooting occurred.
So, after undergoing some necessary cuts to tweak the content, per Deadline, the show went from being 10 episodes to 9, requiring the deletion of a finale similar to the movie's in which the high school is blown up. Now, Heathers the TV show finds itself airing up against Halloween, which oddly enough, seems fitting. And despite the multiple mishaps that delayed airing, showrunner Jason Micallef says this is the perfect time for America to revisit what Heathers is all about.
"It shows American society in a way that is truthful but that you don't see that often, which is one of the things that makes something stick," Micallef told THR. "Now was the perfect time for [the reboot]." As far as a second season goes, things seem to be up in the air.
President of development and production of Paramount Network Keith Cox told THR that before all of the network hosting and rescheduling issues occurred, a Season 2 was in the works.
It was originally confirmed as an anthology series, which means, similar to American Horror Story, each season tells a different story with similar underlying themes. And that's how, Cox told THR, they wanted to sell it. "The goal is when we sell this, you get a package: season one and all the development for season two. You're buying a franchise."
THR reports that a second season has already been written "which is tied to the first but set in a new location — and one that isn't a high school." The outlet also reports that it could be tied to the 1700s and Marie Antoinette, featuring some of the main talent that was cast in the inaugural season. So that sounds promising and more original than the initial remake. Fans will just have to wait to see what they end up coming up with.