Why Helena Bonham Carter Playing Princess Margaret On 'The Crown' Would Actually Be Great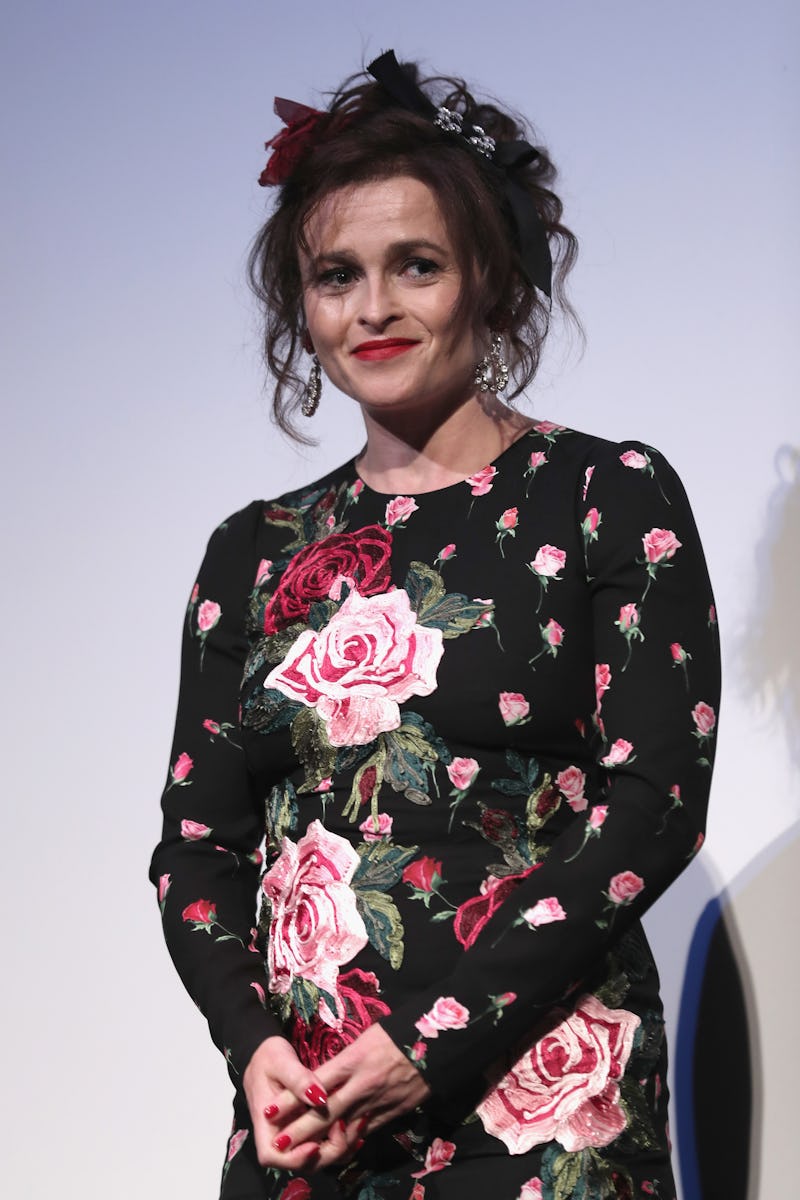 Jemal Countess/Getty Images Entertainment/Getty Images
Saying goodbye to the cast that fans have grown to love has never been an easy prospect, but this pill just got a little easier to swallow. Helena Bonham Carter may play Princess Margaret on The Crown (executive producer: Suzanne Mackie), so keep a stiff upper lip, old chaps. The British paper, The Evening Standard, reported that the Oscar-nominated actor is in final talks to play the regent's younger sister on Season 3 of the popular Netflix series. It's a little silver lining at the edge of all that London fog, if you will.
And although no official word has come from the streaming platform as yet, the Standard claimed that Bonham Carter's casting is "all but confirmed." If true, this would be an empowering step into the realistic for both the 51-year-old and Hollywood at large, so surely fans can't help crossing their fingers. According to People, the British actor was originally auditioning for the role of Queen Elizabeth II herself, a part that ultimately went to Olivia Colman. But the role of her younger sister would leave Bonham Carter a lot more room to have fun as the series moves into the 1960s for Seasons 3 and 4.
As fans of The Crown (series casting: Nina Gold) know, any casting of the character of Princess Margaret will mean a replacement of the original actor But it's one of the few cases where that decision has absolutely nothing to do with the original portrayer. British actor Vanessa Kirby has played the outspoken royal to perfection for the show's first two seasons, but she always knew that it was a part-time gig.
The Crown's creator Peter Morgan has a vision for the real-life drama, and it centers around using age-appropriate actors as the show jumps through time rather that slathering on makeup. As he told Variety before Season 1 even premiered:
"You can't ask someone to act middle-aged. Someone has to bring their own fatigue to it. The feelings we all have as 50-year-olds are different than the feelings we all have as 30-year-olds."
He pledged to completely replace the cast as necessary, which Netflix's Chief Content Officer Ted Sarandos suggested in an interview with The Hollywood Reporter might be every two seasons. "The idea is to do this over six decades," he told the outlet, "in six seasons presumably, and make the whole show over eight to 10 years." That timeline leaves each season representing a decade or so, and with the re-casting taking place now, it means we can assume that each round of actors will be replaced after the on-screen equivalent of about 20 years.
But just because it was all planned out in advance doesn't make it any easier for Kirby to cope with the loss of such a beloved role. "I was desperate to carry on," she told The Daily Telegraph in November. "I was like, 'Right, Peter, what do you want me to do? I'll smoke a million cigarettes in real life, I'll do anything to age myself…' I'm gutted." After her star performance, the show's audience can hardly disagree, but try to temper your disappointment with excitement at what an excellent opportunity this is for other — not to mention older — actors.
For as far as we've come when it comes to female representation in the media, there aren't a tremendous amount of roles for middle-aged women. In fact, quite the opposite. In a 2015 article, examining the state of films in 2014, Forbes reported that "only 28.1% of characters in 100 films were female." Increase the requirements to include a female lead or co-lead, and the number shrinks to 21 percent; add the factor of a female lead over 45, and zero films qualified. And even when they do appear onscreen, older women don't often get a chance to share their voice. A 2016 article from The Guardian noted that while men are given more dialogue as they age, women are given less.
"A survey of 2,000 movies by Polygraph found that women between the ages of 22 and 31 spoke 38% of all female dialogue. The figure fell to 31% for actors aged 32 to 41 and 20% for those aged 42 to 65."
So in addition to being a realistic choice from Morgan to recast every few decades, it's also a ground-breaking opportunity. He's offering middle-aged actors the opportunity to portray middle-aged women — what a concept! It's a particularly delightful role reversal because both Bonham Carter and Colman have previously played the mother of the characters they're taking on (or rumored to be taking on) now.
In 2010, HBC took on the role of the Queen Mum in The King's Speech, which earned her her second Academy Award nomination, and Colman followed her two years later with a turn as Queen Elizabeth the elder in 2012's Hyde Park on Hudson. All of which is to say that if this rumored casting does go through, it will be a satisfying upending of the usual disappointing stereotype, which is careers drying up as women age. Take that, patriarchy.