Jose May Not Be As Strong As Irma, But It's A Huge Setback For The Caribbean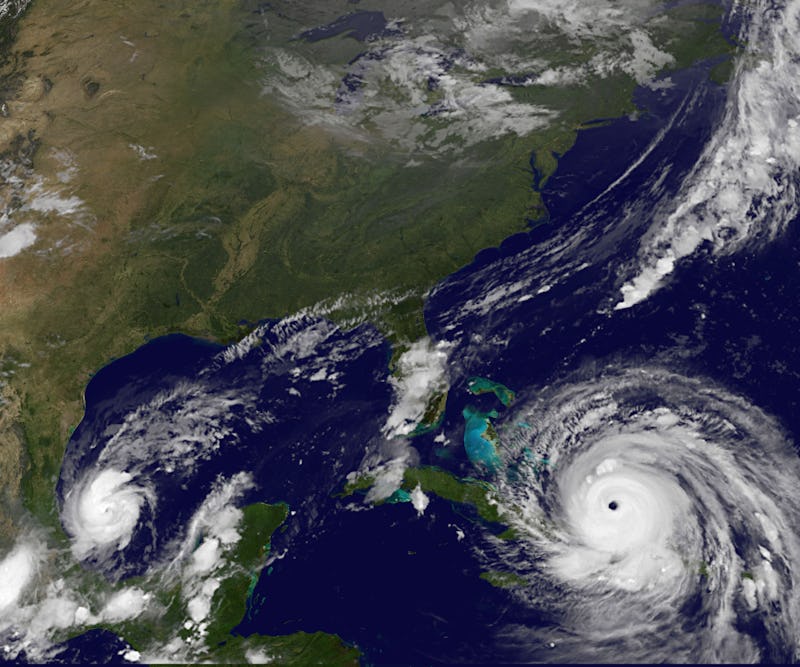 Handout/Getty Images News/Getty Images
Residents of the Caribbean's Leeward Islands who found their homes thrashed by Hurricane Irma are now bracing for the next storm heading their way: Hurricane Jose. As of Thursday, the storm intensified to a Category 3, with maximum sustained winds of 120 mph. Although it could slightly strengthen in the next 12 to 24 hours, meteorologists predict Hurricane Jose won't be as strong as Irma, leveling off and maintaining its current state. Nonetheless, the storm's path may take it over or near the islands that have already suffered damages by Irma.
Various watches and warnings are in place for several countries, including Antigua. The Antiguan islands of Barbuda were home to secluded, unspoiled beaches and a wild bird sanctuary, but are preparing for the second blow after Irma destroyed nearly the entire island. With buildings ripped apart and trees uprooted, Prime Minister Gaston Browne said Barbuda is now "literally rubble" and "barely habitable." Barbuda will have to rebuild everything, from roads to infrastructure for telecommunications, Browne told ABS TV in Antigua.
Hurricane Irma, a Category 5 storm at its peak, is the second major hurricane of the 2017 Atlantic hurricane season, sandwiched between Harvey and the upcoming Jose. Harvey, the Category 4 storm that flooded parts of the Texas Gulf coast, displaced more than 30,000 Houston residents. When Irma skirted by Puerto Rico, it left more than 1 million people there without power. It's another setback for the U.S. territory, which has been enduring an economic crisis and failing infrastructure for the last decade.
The Carribbean could have little time to recuperate from Irma's impact, though. Meteorologists expect Jose will slow down and turn northwest, but how close Jose comes to the Caribbean islands before turning remains uncertain. Still, the National Hurricane Center warned Jose could produce rainfall of up to 10 inches in the northern Leeward Islands from Antigua and Barbuda to Anguilla. This rainfall will maintain any ongoing flooding still happening in the area. Swells are also likely to cause life-threatening current conditions. However, the hurricane's northwest turn means it is unlikely to hit the mainland United States.
Meanwhile, Hurricane Irma is not over yet. After striking the Caribbean, Irma is now making its way to South Florida where Miami-Dade County has expanded evacuation orders and residents are already clogging Florida's evacuation routes with traffic jams. Irma will likely hit the tip of the Florida peninsula on Sunday morning, with the strong possibility of moving along the Georgia and South Carolina coasts.