Idris Elba's Latest Tweet Has Put Those James Bond Rumours Into Overdrive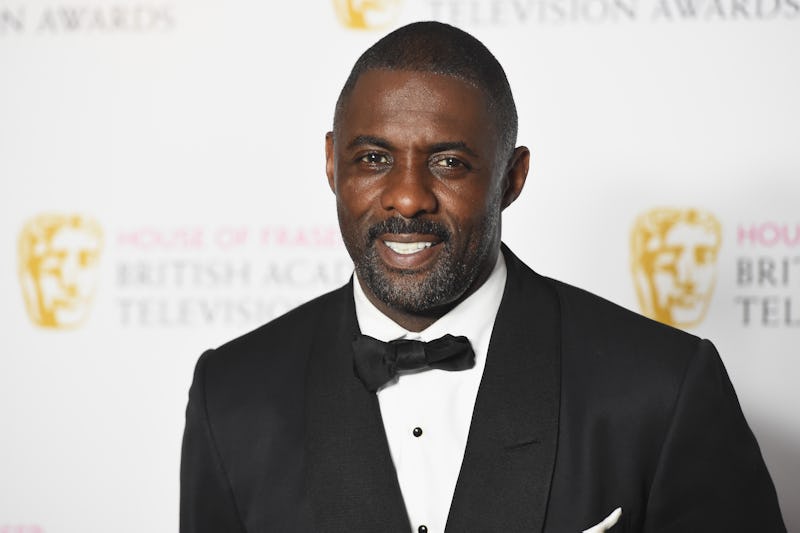 Stuart C. Wilson/Getty Images Entertainment/Getty Images
The role of James Bond is possibly the most debated one in Hollywood, and after current 007 Daniel Craig confirmed the next film in the franchise will be his last, theories circulated about Idris Elba or Tom Hiddleston playing James Bond. And now, a simple five word tweet (plus selfie) from Elba has intensified speculation to a feverish degree. Those five words? "My name's Elba, Idris Elba." Could this be confirmation — or at least a very strong hint — that Idris Elba will be the next James Bond?
The hopes of Team Elba For Bond (of which I am a committed member) were raised then dashed earlier this month, thanks to a bit of media back-and-forth. The Daily Star reported on a supposed conversation between Bond producer Barbara Broccoli and renowned Training Day director Antoine Fuqua; Broccoli purportedly told Fuqua that "it is time" for an actor of colour to play James Bond. The paper claimed that Fuqua then suggested Elba, saying, "Idris could do it if he was in shape. You need a guy with physically strong presence. Idris has that."
But a representative for Fuqua subsequently told the Hollywood Reporter, "He never had a conversation with Barbara about the franchise or about any casting. It's all made up stuff. Not sure how it got started." The publication cites a "knowledgeable source" who claims that "no one from Elba's team is aware of any overtures."
Elba's tweet comes only days after the fresh round of speculation was ignited, speculation of which he's more than likely aware. So is this a confirmation that the role is (finally!) his? Is it a hint towards an upcoming big reveal? Or is Elba just having a bit of fun with the persistent rumours associating him with Bond that have lasted, as the Hollywood Reporter notes, for "at least five years"? I've emailed Elba's representative for comment.
If Idris Elba doesn't ultimately play James Bond, who else is in the running to take up the mantle? Time's (sort of) ticking: in August 2017, Craig confirmed to Stephen Colbert that his next Bond film will be his last, so there's soon to be some very expensive bespoke leather shoes to fill.
Well, though Tom Hiddleston's still an internet favourite for the role, his chances aren't looking so great at present. In 2017, Page Six quoted an unnamed source who said, "Barbara Broccoli doesn't like Tom Hiddleston, he's a bit too smug and not tough enough to play James Bond." (Ouch.) And Ladbrokes have set his odds at 16/1, compared to Elba's 2/1, according to Metro.
The second most likely candidate, after Elba? Tom Hardy, the Metro writes, with odds of 3/1. Next up is Grantchester's James Norton at 4/1, followed by Poldark's Aidan Turner at 7/1. Metro reports the odds are 12/1 that "any female" will take the role, floating names including Kristen Stewart and Gillian Anderson.