The 'It's Always Sunny' Season 14 Finale May Have Revealed The Show's Fate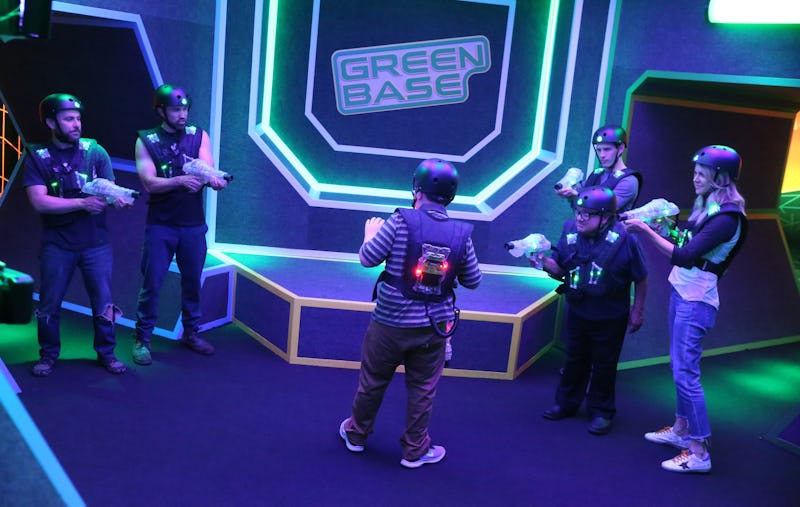 Patrick McElhenney/FXX
Spoilers ahead for the It's Always Sunny In Philadelphia Season 14 finale. If there was any doubt that It's Always Sunny in Philadelphia is game for another round, the Season 14 finale should have put that to rest. FXX hasn't announced if It's Always Sunny will return for Season 15, but the "historic, record-breaking (-tying)" finale was a metaphor for how the gang doesn't want to give up their spot on TV. The episode, written by executive producer and Rickety Cricket actor David Hornsby, mirrors what the cast has said in interviews about the future of It's Always Sunny as well. So no one should be knocking them off the leaderboard just yet.
The It's Always Sunny Season 14 finale contained two episodes — "A Woman's Right To Chop," a hit at the sexism in the anti-choice movement, and "Waiting for Big Mo," a Waiting for Godot laser tag-themed spoof. The second episode also seemed to serve as a way for the gang to say goodbye when Dennis realizes they should give up their place in the laser tag game they've been playing for years.
"Time to end the game," Dennis says. "Time to say goodbye to the base that we've held down for so long." Dennis, Charlie, Dee, Mac, and Frank seem to vacate their laser tag base forlornly. But moments later, they take it back from "Big Mo," the child who had be gunning for their top spot. "Oh, what you thought we'd gone?" Dee says. "You'd like that, wouldn't ya?" Charlie replies. Then Frank makes it clear, "We ain't going anywhere."
A Season 15 would make It's Always Sunny in Philadelphia the longest-running live-action sitcom in American TV history. As the length is calculated by seasons and not episode count, Season 14 has it tied with The Adventures of Ozzie and Harriet. With that in mind, the message behind "Waiting for Big Mo" certainly seems to indicate that the gang isn't OK with tying — they want to win all the way even if the sport has lost all its fun. However, having zero fun in an effort to be the longest-running sitcom isn't the actual motivation for the real gang.
Entertainment Weekly asked Rob McElhenney, Charlie Day, Glenn Howerton, Kaitlin Olson, and Danny DeVito if they'd make a Season 15. McElhenney, who created the series, replied, "For us, we just have a short checklist: Do we still enjoy it, are we still having fun, are we still stretching ourselves creatively, and is the audience still there? It seems like all those boxes keep getting checked, so we keep coming back."
The ball is really in their court (or the laser is really in their gun?) when it comes to future seasons of Sunny. During the Television Critics Association press tour in Aug. 2019, FX Networks Chairman John Landgraf told Deadline, "We will absolutely make more seasons of Sunny if the gang chooses to make more seasons of Sunny." Landgraf has long been an advocate for the show since the EW article noted the exec was the person responsible for bringing DeVito into the mix to help prolong the run of the show back in Season 2 when its fate was far less certain.
Ahead of the finale, Olson told The Hollywood Reporter how the decision for more seasons rests with Howerton, Day, and McElhenney (her costar turned husband) since they produce and write the show. "They put a lot of pressure on themselves to make really great, quality episodes and sometimes you need a little bit of a break. But hopefully, we'll take a break and come back," Olson said. "I don't think we really ever want to stop doing it."
Throughout its 14 season run, the cast has done other projects and McElhenney does have a new Apple+ show called Mythic Quest that he stars in and created. But before you think that means he's ready to throw in the Sunny towel, just remember how it was Mac who proclaimed at the end of the finale to Mo: "We're never leaving, you little piece of sh*t."