Every Single Rom-Com Reference In The 'It's Always Sunny' Season 14 Premiere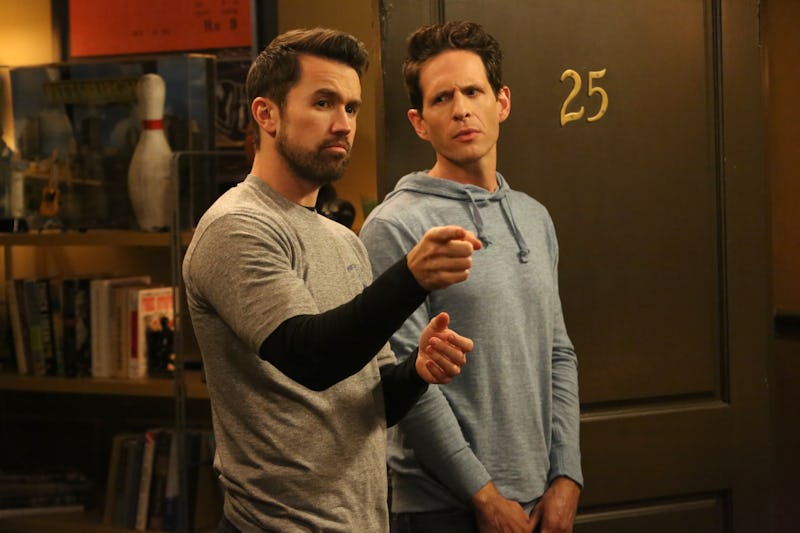 Patrick McElhenney/FXX
It's Always Sunny in Philadelphia decided to pivot from its standard cringe comedy to the lighter fare of rom-com for the Season 14 premiere. Well, actually, "The Gang Gets Romantic" is still as cringey as as always, but the rom-com references in the It's Always Sunny Season 14 premiere absolutely nail the genre. Even though you wouldn't think the gang at Paddy's Pub spends much time watching rom-coms, it's perhaps a testament to how well-established these movies are that Mac is so focused on setting up a meet-cute. Through his antics, It's Always Sunny at least attempts to get romantic while lovingly parodying the genre — and proves that the gang has still got it in Season 14.
To achieve the perfect rom-com style meet-cute, the gang sets up Airbnb schemes that they think will lead to romance. Mac and Dennis go the friendly mixup route with Mac double-booking the room they have rented out. With their bus station flyer, Frank and Charlie are less concerned with the charming aspect of a meet-cute and instead, want to lure "young bohemians with no sexual boundaries" for group sex. Dee briefly gets a shot at being the romantic lead, but mostly stays in the wings (as is fitting for her bird status).
Love does find two members of the gang unexpectedly. And while It's Always Sunny stayed true to its roots, here's how the show managed to honor the rom-com genre.