Ivanka's Mom Thinks Her Daughter Could Run For President "In 15 Years"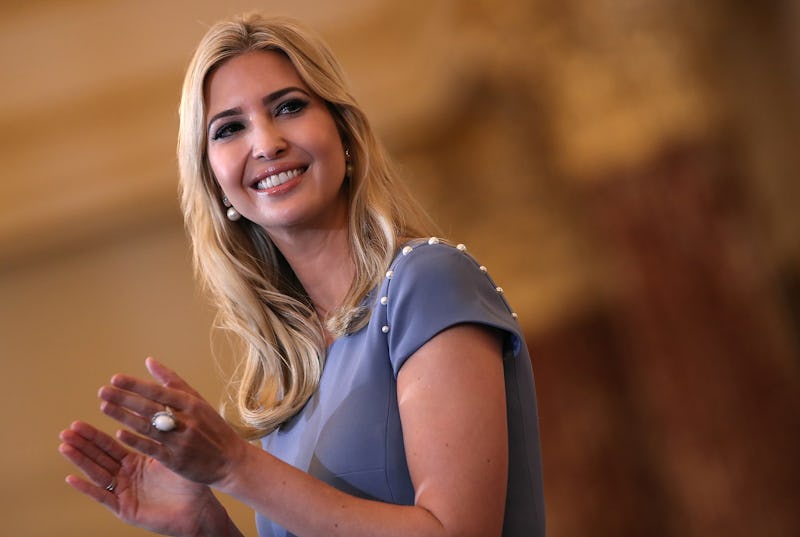 Win McNamee/Getty Images News/Getty Images
Ivana Trump says her daughter may be eyeing a presidential bid. In Trump's latest book, Raising Trump, President Donald Trump's first wife speculates that Ivanka Trump may run for president "in 15 years," following in her father's footsteps.
"First Lady?" Trump reportedly writes in her memoir, which is poised for a Tuesday release. "Holds no appeal for me personally. First Mother? That could work."
Ivanka's presidential aspirations, though, may be nothing more than wishful thinking on her mother's part: Ivanka, who is currently employed as a special assistant to her father, has baffled the country on more than one occasion with her disavowal of politics. In a June interview on Fox News, the eldest Trump daughter told Fox & Friends hosts that she tries to "stay out of politics."
"I feel blessed just being part of the ride from day one and before," Ivanka said at the time. "But I don't profess to be a political savant."
Just last month, Ivanka once again tried to minimize her White House role, saying it wasn't in her power to influence her father's decisions and calling people's expectations of her "unrealistic."
"That my presence in and of itself would carry so much weight with my father that he would abandon his core values and the agenda that the American people voted for when they elected him," she told the Financial Times. "It's not going to happen." She went on to say that voicing any kind of dissent would be to demonstrate to her father that she's not "part of the team."
Ivanka's apparent reluctance to counsel her father has been especially contentious following decisions the president has made that negatively impacting women.
On the campaign trail, the now-first daughter and special assistant pledged to tackle issues like wage inequality and paid leave, promising to focus on "really promoting more opportunities for women." However, Ivanka has stood by as her father has restricted access to abortion and birth control, promoted health care legislation that would gut women's health care and rolled back Obama-era fair pay policies.
Ivanka's few attempts to find room for compromise in the Trump White House have also garnered criticism. In February, Ivanka hosted a dinner party with a virtually all-male guest list to discuss ways to advocate for women in the workplace. Of the eight guests, just two of them were women.
In May, The New York Times reported on a meeting between the first daughter and Planned Parenthood President Cecile Richards, during which time Ivanka reportedly suggested the organization split in two, creating one branch solely to provide abortions in addition to a separate one dedicated to providing all other women's health services. The suggestion earned her harsh words from Richards, who chided Ivanka for not speaking up on issues of women's rights enough, and reams from media outlets, which seized on Ivanka's apparent misunderstanding of reproductive health care.
There was a time when Ivanka seemed more hopeful about fitting into the political landscape. Just months after the launch of her father's own presidential campaign, Ivanka told Town & Country magazine she might one day consider it.
"It's not something I've ever been inclined to do, but I'm 34, so who knows?" she said in December 2015. "At this point, I would never even contemplate it, but that doesn't mean that when I'm 50 I won't have a change of heart."
Ivanka struck a different tone more recently, in an April segment of "CBS This Morning." When host Gayle King asked, "Should voters get their Ivanka 2024 campaign signs out?" Ivanka replied with a flat-out "no."
"Politics is a tough business," she said. "Politics is a tough business."