How You Can Protest Trump's Birth Control Order Right Now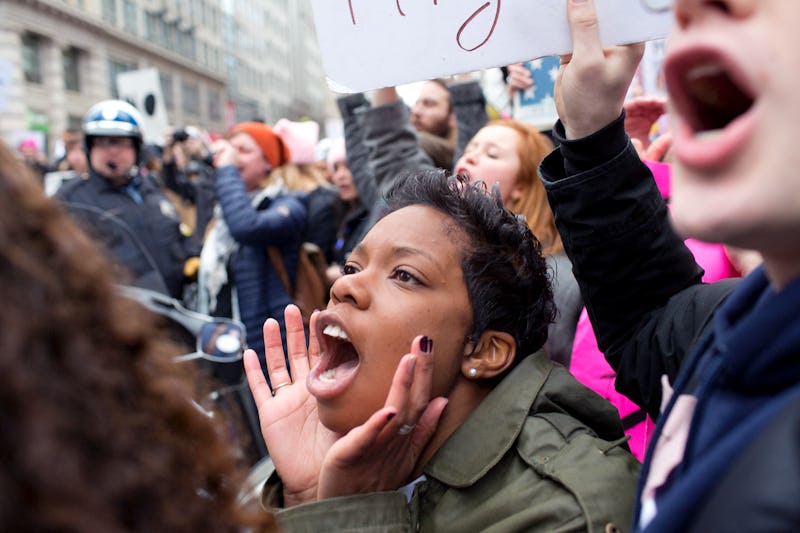 Andrew Lichtenstein/Corbis News/Getty Images
On Friday, the Trump administration announced that it would roll back the Obamacare birth control mandate that required corporations to provide birth control coverage for employees. As organizations prepare to launch legal challenges against Trump's birth control rule, there are ways to protest that could help build on the vocal opposition against this latest move.
The new rule would essentially allow any employer to seek an exemption from the Obamacare mandate if they have religious or moral objections to providing contraceptive coverage. It's a decision that could affect hundreds of thousands of women for whom the mandate opened up access to birth control.
A Health and Human Services spokesperson told reporters on Friday that it will be issued as an "interim final rule," meaning that it's expected to take effect immediately. Though the administration is touting it as a win for religious liberty, critics call it a blatant attack on reproductive rights.
According to Vox, the new rule is crafted in a way that's meant to withstand legal challenges. That hasn't stopped those opposing it from announcing that they're taking the administration to court over the new rule, however. The American Civil Liberties Union said it will file a lawsuit on Friday to block it from taking effect, and California Attorney General Xavier Beccera also announced that the state would be suing over the new rule. Here's how you can join the active opposition to the rollback of crucial birth control access:
Donate To Organizations Fighting For Reproductive Rights
This is one of the most obvious ways to resist the clampdown on women's rights. Organizations like Planned Parenthood, NARAL Pro-Choice America, and the Center for Reproductive Rights have been involved in a months-long battle against the current administration for reproductive access.
While these organizations have long withstood the onslaught on reproductive rights in states across the country, the weight of the current White House's efforts means that they'll need more support than ever. If you can't donate, consider volunteering — or even lending your voice on social media in support of their efforts counts for something.
Call Your Elected Officials
You did it to save Obamacare. You did it to protest the administration's decision to end the Deferred Action for Childhood Arrivals program. You did it when Trump announced a ban on transgender people serving in the military. Now it's time to pick up the phone again and make sure your senator and representatives in office know that they're constituents aren't going to accept them letting this birth control rule slide.
Calling your elected officials is one of the most powerful ways to effect change. Even if they don't have a say in this particular decision from the White House, it's imperative that they know just how much opposition there is to Trump's decision, lest they think it's time to relax.
Support Groups Launching Legal Challenges Against The Birth Control Rule
In the hours after the administration handed down the new rule, several groups have already made public their intention to challenge it in court. The ACLU, one of the groups that already has a string of legal challenges against the Trump administration's various executive decisions (such as the travel ban), quickly announced that they're "suing the Trump administration to block new rules allowing employers to deny insurance coverage for birth control."
The Democratic Attorneys General Association also responded to the rule soon after, stating that it would, among other things, "evaluate any legal response that may be appropriate to protect our citizens' private decisions and access to affordable healthcare."
Whether its financial donations or simply publicizing their efforts on social media, there are various ways to support the organizations at the forefront of the opposition.
Protest, Protest, Protest
Millions took to the streets the day after Trump's inauguration, and demonstrations against the White House have become so frequent in the months since, signaling a new era of political action. Protests help raise awareness about issues and show solidarity, and taking to the streets in opposition to Trump's birth control rule — and the administration's broad-scale attacks on women's rights — would be no different.
None of the policies coming from the Trump administration happens in a vacuum. The travel ban, the brutal crackdown on undocumented immigrants, the exhausting push to repeal Obamacare, and even Trump's verbal attacks on NFL players and Puerto Rico officials — all of these are part of a wider approach to the direction this administration wants to take the country, one that strips the rights of people of color, women, the poor, and the sick.
While it's certainly fine to feel overwhelmed by how personal politics is today, take a breath and keep in mind that you have the power to enact change, one phone call at a time.