You Might See Jay Z At The 2017 Grammys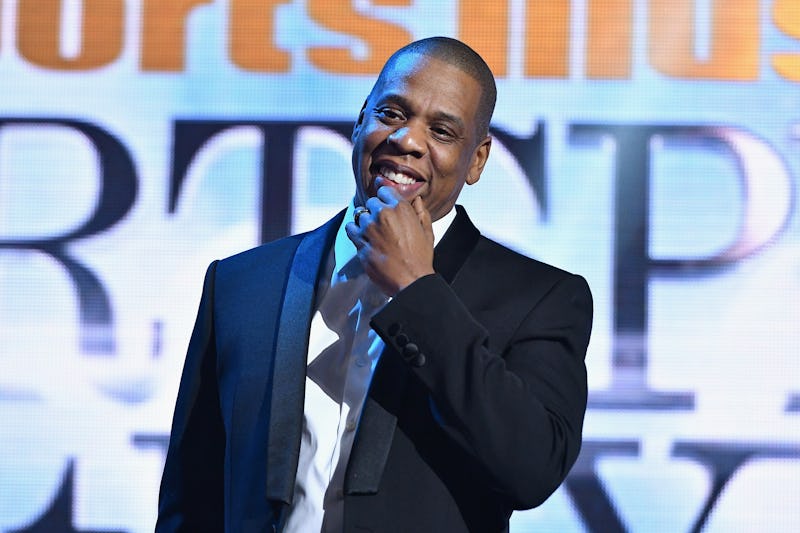 Slaven Vlasic/Getty Images Entertainment/Getty Images
Will Hov be in the building? As Beyoncé gears up to bare her baby bump on the awards stage this Sunday, Feb. 12, I'm left to wonder if Jay Z will be at the 2017 Grammys to support his talented wife. The power couple, who recently made the big announcement that they are expecting twins, are usually pretty inseparable. However, there have been a few instances where Jay and Bey have each attended award ceremonies sans the other.
Although this has happened on rare occasions, I'm expecting the entire Carter clan to be in attendance for the big night, on which Beyoncé is set to perform for the first time since dropping her pregnancy bomb. In addition to her highly anticipated performance, Bey is also nominated for a whopping nine Grammy Awards for her iconic Lemonade album. I can almost bet that her husband will be in the front row, if not on stage alongside her, for the huge moment. In fact, TMZ is reporting that there will, in fact, be cameos during her stage show.
It's said that Beyoncé will be taking it easy during this go 'round, so don't expect anything like that high octane, camera-breaking MTV Video Music Awards performance from last summer. Jay Z may be just the thing to complement Bey's presumably slowed down spectacle. I mean, the Carters always have some kind of marketing strategy in their back pocket, and I can't imagine them not taking advantage of this huge moment, especially given the fact that their pregnancy news nearly broke the internet earlier this month.
My guess is that they'll do something that will make all of America's heart melt, sending members of Bey hive into an absolute frenzy. You just watch. There's absolutely no way Jay, and the rest of Beyoncé's family will allow her to take the stage on such a big night without their support; no way. Don't believe me yet? Here's another tidbit that I may have failed to mention: Bey's sister, Solange, is looking to earn her first Grammy Award for her single, "Cranes In The Sky."
So yeah, just prepare yourself for a total Knowles-Carter turnout. I would expect not only Jay Z, but Blue Ivy, Solange, their mama, Tina Knowles, and maybe even Destiny's Child bestie Kelly Rowland to all be in the building — because, Bey's personal hive is just tight like that.