Trump Might Just Troll Jeff Sessions Until The Attorney General Finally Quits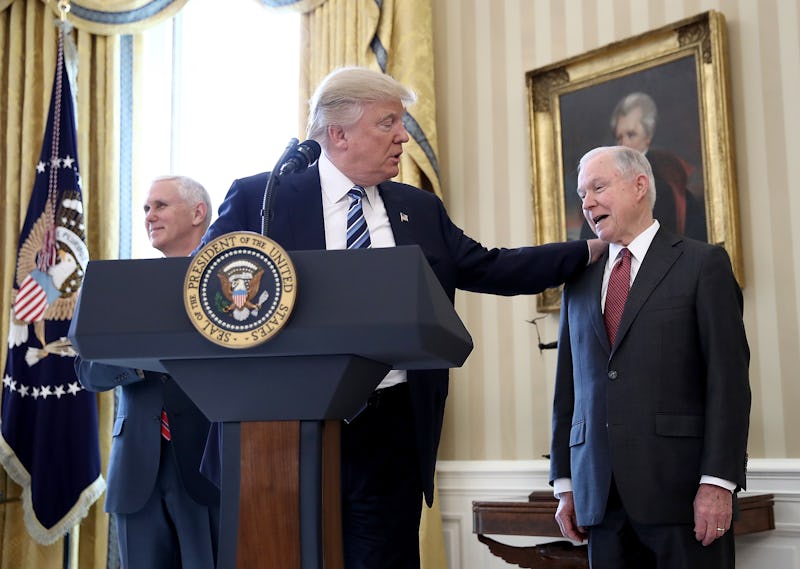 Win McNamee/Getty Images News/Getty Images
A blistering tweet leveled at Attorney General Jeff Sessions from President Donald Trump on Monday has many wondering whether Trump is trolling Sessions on Twitter until he quits. In a thread of tweets where he also attacked "fake news" and "the swamp," Trump called Sessions "beleaguered" while also taking a jab at the officials involved in ongoing investigations surrounding the 2016 election and potential Russian interference.
On Monday, Trump tweeted:
So why aren't the Committees and investigators, and of course our beleaguered A.G., looking into Crooked Hillarys crimes & Russia relations?
The latest insult to Sessions follows months of rumored tension between the former political allies and further stokes the flames of the supposed feud between the president and his AG. In fact, less than a week prior to this most recent insult, Trump pointedly told the New York Times that he wouldn't have hired Sessions if he knew the former Alabama senator would recuse himself from Russia investigations or that it would lead to the appointment of a special prosecutor. Calling the move "very unfair to the President," Trump said to the Times on July 19:
Sessions should have never recused himself, and if he was going to recuse himself he should have told me before he took the job, and I would have picked somebody else.
As Politico noted last week, the president hasn't been subtle when it comes to publicly airing his grievances with Sessions — and the repeated public roasting may be an attempt to encourage Sessions to resign. Notably, Sessions did reportedly offer to resign in June after he was supposedly blamed for the aftermath of the courts blocking Trump's travel ban executive order. However, at a Justice Department news conference last Thursday, he explicitly said that he had no intention of leaving just yet. Per The Washington Post:
I have the honor of serving as attorney general. It's something that goes beyond any thought I would have ever had for myself. We love this job, we love this department and I plan to continue to do so as long as that is appropriate."
Meanwhile, the president's reaction to a question (shouted out during a photo opportunity with some interns on Monday) about whether Sessions should leave his post (once again) didn't come off as vote of confidence. In response, Trump offered up an eye-roll and a smirk.
While they've already come a long way since the days when Sessions was the first sitting senator to endorse Trump, the growing interest and intensity of investigations into Trump's campaign won't do much to calm the increasingly public displays of beef between POTUS and his chief law enforcement officer.