Donald Trump Wishes He Hadn't Hired Jeff Sessions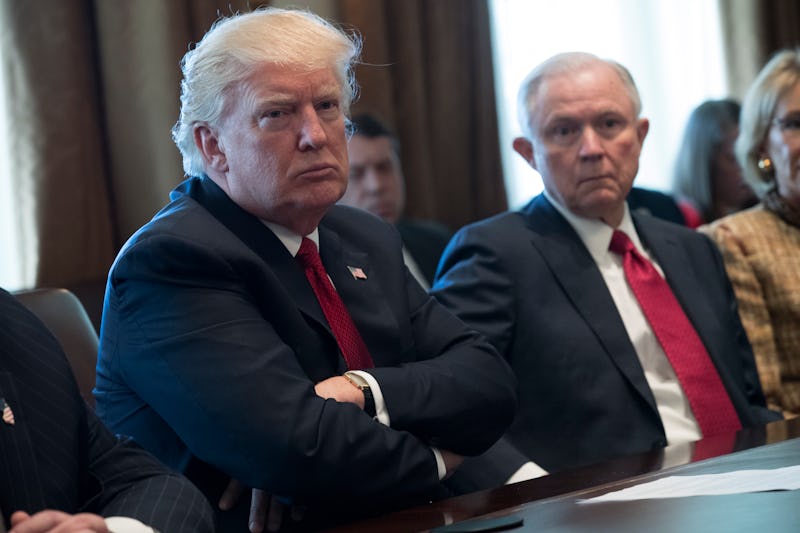 Pool/Getty Images News/Getty Images
If he'd known his attorney general pick was going to recuse himself from overseeing Russian investigations, President Donald Trump said he might not have chosen Jeff Sessions, Trump told The New York Times on Wednesday.
According to the Times, Trump said that Sessions' decision to recuse himself from "the matters that deal with the Trump campaign" (which includes said Russian investigations) in March was "very unfair to the president." As Sessions' decision ultimately led to the appointment of Robert Mueller to serve as special counsel overseeing those investigations, Trump also told the Times that he believed it never would have happened if he'd been made aware.
Sessions should have never recused himself, and if he was going to recuse himself he should have told me before he took the job, and I would have picked somebody else.
The comments follow allegations from earlier this year that the president and Sessions have been feuding steadily as investigations and public curiosity surrounding Russia intensified. That alleged beef was considered most palpable last month when the president declined to say whether he still had confidence in his Attorney General pick.
According to excerpts from the full interview published by the Times, Trump took issue with how little heads-up he was given about Sessions' recusal:
So Jeff Sessions takes the job, gets into the job, recuses himself. I then have — which, frankly, I think is very unfair to the president. How do you take a job and then recuse yourself? If he would have recused himself before the job, I would have said, "Thanks, Jeff, but I can't, you know, I'm not going to take you." It's extremely unfair, and that's a mild word, to the president. So he recuses himself. I then end up with a second man, who's a deputy.
In the same interview with the Times, Trump also turned his attention (and ire) on to Mueller and Deputy Attorney General Rod J. Rosenstein, remarking about the latter "Who is he? And Jeff hardly knew. He's from Baltimore" before noting that he believed "there are very few Republicans in Baltimore, if any."
Then, describing how Mueller had interviewed to replace former FBI Director James Comey, Trump alleged that his investigation had many conflicts of interest before again returning to his disappointment with Sessions and his performance at his testimony before the Senate Intelligence Committee last month:
Yeah, he gave some answers that were simple questions and should have been simple answers, but they weren't. He then becomes attorney general, and he then announces he's going to recuse himself. Why wouldn't he have told me that before?
While the future of Trump and Sessions' professional relationship remains uncertain, it's harder and harder to ignore that there is a major disconnect between the president and his chief law enforcement officer.