Like It Or Not, Saul Goodman Is Drawing Ever Closer In 'Better Call Saul' Season 4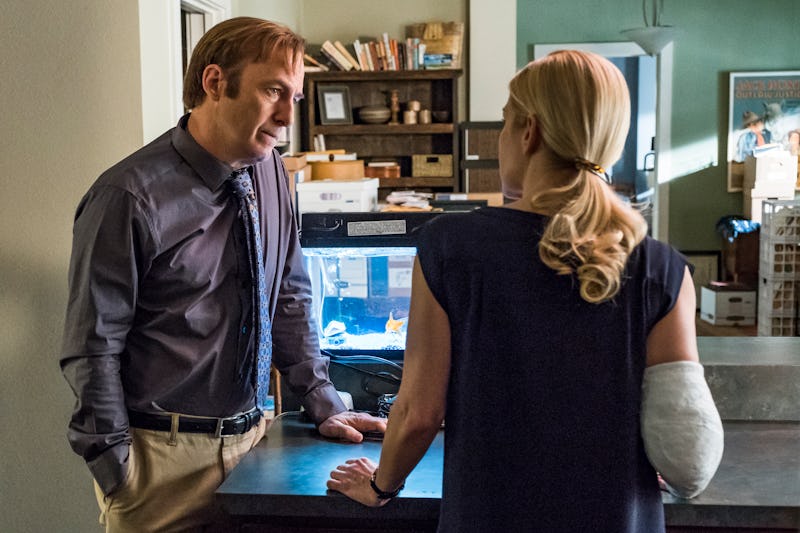 Nicole Wilder/AMC/Sony Pictures Television
At the beginning of Better Call Saul, it seemed unlikely (though also certain) that the hard-working, kind-hearted Jimmy McGill would become the morally bankrupt lawyer Saul Goodman first introduced in Breaking Bad. Fans may finally see the long-awaited transformation of Jimmy to Saul Goodman in Season 4 of Better Call Saul, but not before Jimmy McGill confronts the consequences of Season 3's tragic death.
Despite being the basis for the title of the show, the name Saul Goodman isn't uttered by Jimmy McGill until Season 3 of the series during a commercial shoot where he uses the name for the character he's portraying. While Bob Odenkirk's character has spent the first three seasons of Better Call Saul attempting to become the best version of himself, the aftermath of Season 3 may suggest that there is no "best" version of Jimmy McGill and that he'd be better off becoming someone else entirely. It's no coincidence that Jimmy first adopts the Saul Goodman moniker after publicly embarrassing his older brother in court — but Chuck McGill's death at the end of Season 3 may be the event that finally pushes Jimmy McGill to leave his real name behind for good and find a fresh start.
The timeline of Better Call Saul is slowly creeping towards Saul Goodman's introduction in Breaking Bad, meaning that the man himself is just around the corner. Fans have waited for a long time to see the origins of that unscrupulous lawyer, and co-creator Peter Gould promised fans in an interview with USA Today, "This season, the audience will start to better understand how the fun, slightly mischievous but good-hearted man who was Jimmy became Saul, who does so many despicable things." Gould also hinted that Season 4 will introduce an important character in Saul's origin story — Lalo — who Breaking Bad superfans may remember for being one of the show's few unresolved mysteries.
In Season 2 of Breaking Bad, after Saul Goodman was abducted by Walter White and Jesse Pinkman, Saul asked about someone named Lalo. During his abduction, Saul said, "It wasn't me. It was Ignacio," referring to the real name of the Better Call Saul character Nacho. After trying to throw Nacho under the bus, Saul asked the two, "Lalo didn't send you?"
Gould revealed to USA Today, "We've always wondered who 'Lalo' is, and this season, we'll find out." We know that Jimmy has fully abandoned his true name by the time he gets mixed up with Lalo and Nacho, so this character's introduction will likely solve one more piece of the Saul Goodman puzzle.
Between the looming threat of whatever trouble Lalo brings into Jimmy's life and the grief from losing his brother, Jimmy may be looking for an escape from the life he's found himself in. Just as Jimmy created the alter-ego Slippin' Jimmy to step outside of himself and successfully con people, Jimmy McGill may finally create Saul Goodman to try and outrun all the damage he's done to other people during his time trying to make an honest living.
The show is built on the promise of introducing Saul, and one important figure has been dreading the his arrival — Better Call Saul and Breaking Bad star Bob Odenkirk, who plays Jimmy. In an interview with Entertainment Weekly, Odenkirk said, "I'm having to confront the fact that he is becoming Saul, and I don't like Saul." And though that character is responsible for some of Breaking Bad's most memorable scenes, the actor who plays him would rather he just never appeared. "If [Jimmy McGill] was my friend, I would say, 'Don't go that route,'" Odenkirk said.
As tragic as it is, the change is already happening and there's no stopping the transformation. It's not yet for certain that it will be complete by the end of Better Call Saul Season 4, but the show is closer than ever to letting go of the optimistic Jimmy McGill and saying hello to its namesake.