John F. Kelly Might Have To Resign As Homeland Security Secretary To Take On His New Gig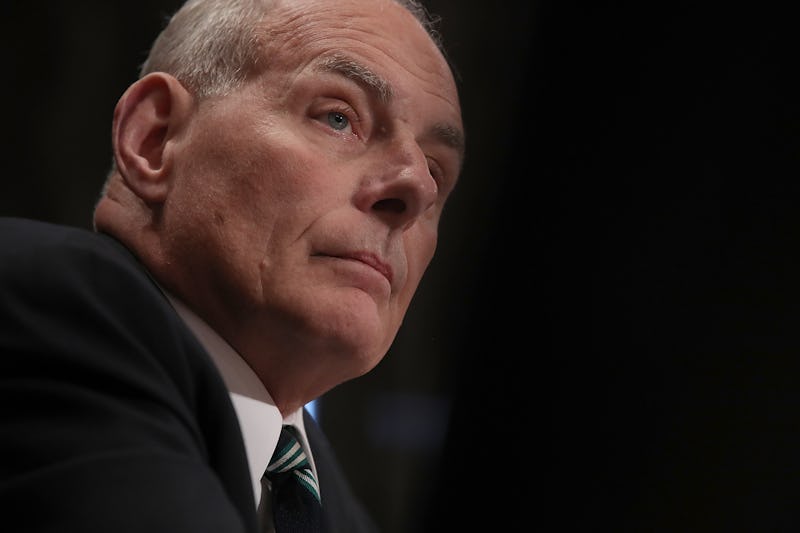 Win McNamee/Getty Images News/Getty Images
On Friday, President Trump announced that White House Chief of Staff Reince Priebus will be replaced by John F. Kelly, who is currently the secretary of homeland security. This presumably means that Kelly will resign as homeland security secretary, but the White House hasn't confirmed that this is the case.
If Kelly does resign from his post, Trump will need to nominate a replacement, who will have to be confirmed by the Senate. The current Deputy Homeland Security Director is Elaine Duke, and she will become acting director of the agency if and when the top post is left vacant.
Priebus was chair of the Republican National Committee before joining the Trump White House, and had previously served as head of the Wisconsin Republican Party. His hire was intended, in part, to bridge the gap between the Republican Party establishment and Trump's inner circle of loyalists. However, all reports indicate that his tenure was an uneasy one. As Vox notes, he had exceedingly little experience working in government, and according to the New York Times, it was Priebus and others who convinced Trump to prioritize Obamacare repeal. However, that effort flamed out dramatically on Friday morning after six months of legislative wrangling.
Priebus also clashed with other members of the White House, the most recent being new Communications Director Anthony Scaramucci, and it was reported as early as May that Trump was considering giving Priebus the boot.
Many of Trump's top aides have either quit or been forced out during the six months he's been in office. Such officials include his former national security adviser, communications director, press secretary, deputy chief of staff, FBI director, acting attorney general, and Office of Government Ethics director. Two Deputy national security advisers have also left the White House, as has one vice presidential chief of staff.
It's unclear whether Priebus resigned or was fired, but two day before his departure, Scaramucci said in an interview that Priebus, whom he referred to as a "paranoid schizophrenic," will "be asked to resign very shortly."
Kelly is a four-star general, and was confirmed as homeland security secretary on the day of Trump's inauguration. The Times reported Thursday that Trump was eyeing a general to replace Priebus, but that many of his advisers "considered that a bad idea." According to ABC 6, other contenders for the job included Chief White House Economic Adviser Gary Cohn, Deputy National Security Adviser Dina Powell, and former Campaign Adviser David Urban.