Trump Is Reportedly Gearing Up To Get Rid Of John kelly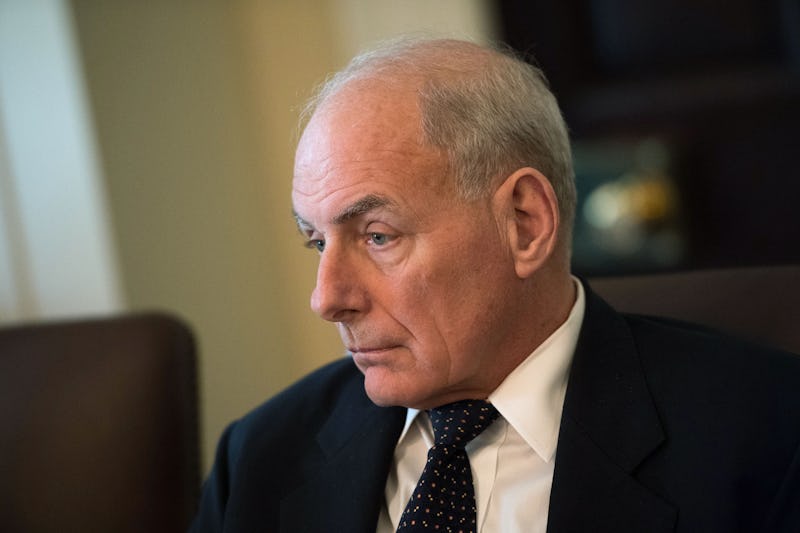 Pool/Getty Images News/Getty Images
Vanity Fair reported Friday that President Trump's chief of staff John Kelly may resign soon as part of a larger staff shakeup in the White House. Trump is "frustrated by all these people telling him what to do," a Republican who's in frequent touch with the White House told the magazine, and is especially irritated with what he sees as Kelly's attempts to reign him in. Vanity Fair added that National Security Advisor H.R. McMaster is likely to soon leave the White House around the same time as Kelly.
"Trump is going for a clean reset," a source told the magazine, "but he needs to do it in a way that's systemic so it doesn't look like it's chaos."
Trump has concluded that the struggles his administration has faced are the result of having the wrong team working for him, according to Vanity Fair. He is said to be "red-hot about Kelly trying to control him," and has reportedly interviewed John Bolton, who served as George W. Bush's ambassador to the United Nations, as a replacement.
When Kelly replaced former Republican National Committee chair Reince Priebus as Trump's chief of staff in July, it was largely seen as an attempt to bring stability to a chaotic administration. Many hoped that the retired four-star general would bring a sense of military discipline to the White House, and some of his early moves — ending Trump's "open door" policy in the Oval Office and firing controversial communications director Anthony "The Mooch" Scaramucci among them — raised hopes that he would succeed in doing just that.
However, Kelly reportedly fell out of favor with the president during the controversy surrounding former White House aide Rob Porter. In January, the Daily Mail reported that Porter had been accused of abusing two of his ex-wives. One, Jennifer Willoughby, accused him of forcibly dragging her out of the shower and ultimately obtained a protective order against him; the other, Colbie Holderness, said that Porter punched her in the face, and she later released images of herself with a black eye. Porter categorically denied the allegations, calling them "outrageous" and "simply false." He claimed that "the reality behind [the photos of Holderness] is nowhere close to what is being described."
Porter ultimately resigned. But when the initial reports of abuse came out, Kelly released a statement praising Porter as "a man of true integrity." It was later reported that Kelly had known about the allegations against Porter for months. According to an earlier Vanity Fair report, Trump was "f*cking pissed" at Kelly over this, and his staff began discussing replacements.
Vanity Fair now reports that Trump is feeling newly emboldened to take charge in his administration. Earlier in the week, Trump implemented new tariffs through executive order over the objections of many in his own party, and later, in an unprecedented decision for a U.S. president, agreed to meet one on one with North Korean leader Kim Jong-un.
"Trump is in command," a Republican who frequently talks with the White House told Vanity Fair. "He's been in the job more than a year now. He knows how the levers of power work. He doesn't give a f*ck."
Kelly and McMaster aren't the only ones said to be on the chopping block. Vanity Fair also reports that Trump's daughter Ivanka and son-in-law Jared Kushner, both of whom serve as top advisors, are expected to leave the White House soon as well, although most likely at a later date than Kelly. The couple will reportedly head back to New York by summer, with Kushner working on Trump's 2020 reelection campaign and Ivanka enrolling her children in private school in Manhattan.