Will Justin Bieber Reschedule His Cancelled Tour Dates?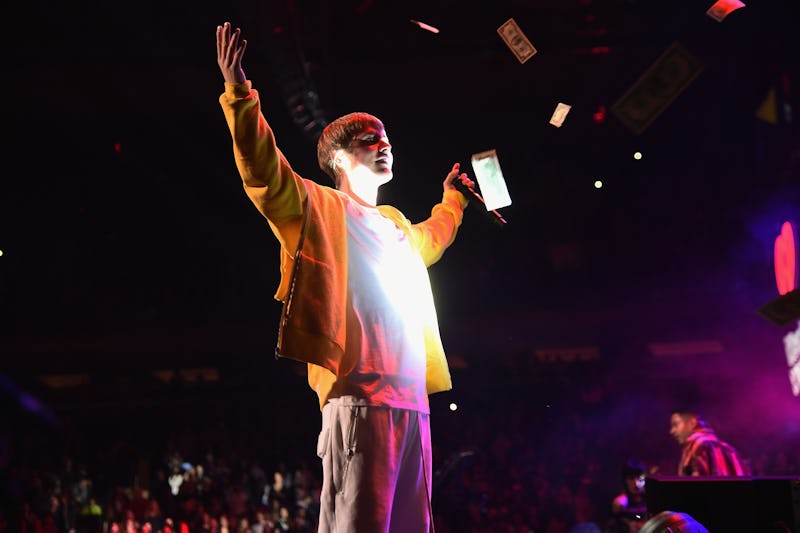 Nicholas Hunt/Getty Images Entertainment/Getty Images
Un-beliebable! When it was announced on Monday, July 24 that Justin Bieber had cancelled the rest of his Purpose world tour dates, fans all over the world were left hanging. Will Bieber reschedule the Purpose tour dates at some point, or are the would-be attendees of the singer's axed gigs out of luck? Bustle reached out to Bieber's rep for comment, but has not yet heard back.
Update: In a video posted to TMZ on Monday night, Bieber told fans "everything's fine." "Sorry to anyone who feels disappointed or betrayed," he continued in the video. "It's not my heart or anything. Have a blessed day."
Although the Canadian pop star has been on tour for the past 18 months, successfully completing over 150 successful gigs across six continents, Bieber's abrupt cancellation comes with only 14 dates remaining in his epic, globe-trotting concert series. The affected locations are scattered across North America and Asia, including Japan, Hong Kong, Singapore, the Philippines, Toronto, and and six cities in the United States.
Unfortunately for ticket-holding citizens in those locales, cancelled tour dates are rarely rescheduled. Coordinating such a massive event is no mean feat; between Bieber's schedule and the schedules of the affected venues are so busy that putting the whole thing back together at a later date would be nearly impossible.
Adele fans recently experienced a similar frustration when the singer cancelled the final two concerts of her own world tour in early July. Despite expressing her deep regret over cancelling — and despite having pulled out for serious medical reasons — it's unlikely those final gigs will ever be rescheduled.
Unlike Adele, who was open about the vocal cord problems that led to her cancellation, Bieber hasn't offered any explanation yet about why his Purpose tour was cut so suddenly short. The official statement on the singer's website simply cites "unforeseen circumstances" as the reason behind the unexpected turn of events.
This is peculiar since, as Variety notes, Bieber is likely to face severe penalties for cancelling his U.S. tour dates so last-minute without medical reasons or what is legally known as force majeure (aka an act of war or nature that would render completion of his contract impossible). Given that fact, the affected attendees can hopefully take solace in the knowledge that there must have been a pretty compelling reason for the singer to have taken such a drastic action.
Don't stop beliebing, fans.