Ethics Office Urges Investigation On Kellyanne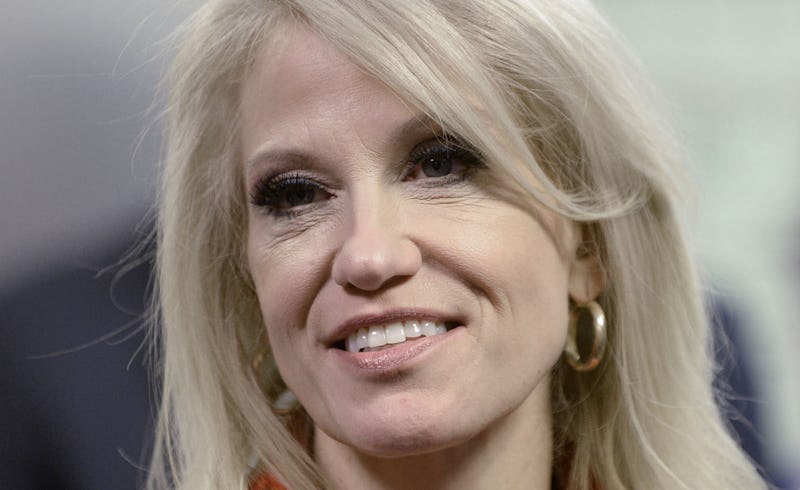 Pool/Getty Images News/Getty Images
In the first weeks of President Donald Trump's administration, things have been, well, controversial. From his executive orders on immigration, abortion, and regulation to the blatantly false information he's spread via his platform as the leader of the country, not everyone is happy about what's gone down. Last week, Kellyanne Conway, one of Trump's senior advisors and former campaign manager, made waves when she endorsed Ivanka Trump's clothing line on TV — something that isn't exactly allowed in her position. Despite Conway saying that Trump supported her, she was reportedly "counseled" for it. So will Conway be fired for her ethics breach?
Probably not, but it is increasingly likely that she will face some sort of disciplinary action for the incident. On Tuesday, the Office of Government Ethics director Walter Shaub released a letter recommending that the White House investigate Conway's actions and take necessary disciplinary action.
Conway appeared on Fox News last week, not long after Nordstrom decided to drop Trump's line from their stores and the president tweeted about the department store's treatment of his daughter's label. While fielding questions about the incident, Conway said, "Go buy Ivanka's stuff, is what I would tell you. It's a wonderful line. I own some of it. I fully- I'm going to just, I'm going to give a free commercial here: Go buy it today, everybody. You can find it online."
It's a nice sentiment to back up the first daughter's business, but it also happens to go against federal ethics standards, which maintain that public employees cannot use the position to endorse anything for the private gain of anyone they're affiliated with.
Conway apologized to the president for her comments, and Trump declared that he trusted her completely.
Even though the ethics department sets these rules, it's not responsible for their enforcement, according to CNN. That is handed to the agency the person works for. White House Press Secretary Sean Spicer said that Conway has been counseled, but remained vague on what that entailed. Whether the White House will investigate further is unknown. Shaub asked the White House to respond to his letter by Feb. 28.
Conway isn't the first federal employee to be in hot water for a government ethics situation. According to CNN, more than 1,500 federal workers were accused of ethics violations in 2015 alone. The thing that likely makes Conway's violation so widely discussed and criticized is that she did it on national TV. Some other ethics violations that have led to disciplinary action are more serious, like taking bribes, but those occur in private spaces. The fact that there is tape of Conway clearly endorsing Trump's line makes it an obvious candidate for some kind of disciplinary action by the White House. But we'll have to wait to see whether the White House will heed the concerns of the Offices of Government Ethics in this situation.