Kendall Just Basically Made A Bachelorette Audition Speech & It Was GOOD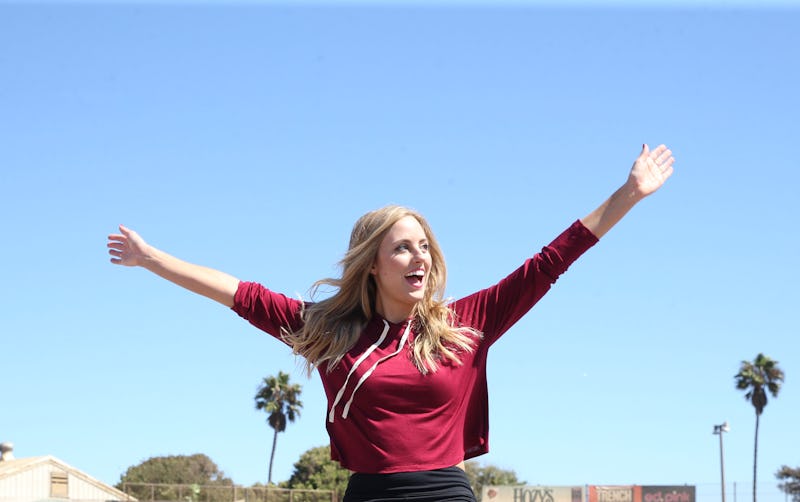 ABC
It was inevitable, but it was still sad to see it happen. On Monday night's episode of The Bachelor, Kendall was sent home after the Fantasy Suite dates, leaving only Lauren and Becca still in the running for that final rose. It wasn't the most shocking decision, since Arie and Kendall haven't been progressing at the same speed of the other relationships, but she was still bummed to leave. So will Kendall be the 2018 Bachelorette now that we know she and Arie aren't engaged? The third place lady has nabbed the spot before.
Surprisingly, Kendall took the news that she'd be going home very well, and it seemed like she totally understood why Arie had to make the decision that he did. But that doesn't mean that she wasn't heartbroken, and her limo exit made a pretty good audition for ABC's next leading lady. Not only did she bring up the fact that she finally could admit that she loved Arie, but that she'd come up just a little short of the kind of commitment he was looking for. Give it a few months and she could totally run her own season and fall in love and get engaged, right?
In fact, Kendall also mentioned that she'd wished that her feelings had developed faster, because she'd gotten so close to that kind of love she'd always been searching for.. and all of this sounded a lot like the makings of a perfect future Bachelorette. Add that in with the fact that she, like Kaitlyn Bristowe, is in that third-lady-standing spot, and she's perfectly positioned for the gig if ABC offers it to her.
And, there's no denying that a Kendall-lead season would be pretty entertaining. She was never afraid to keep it real with her taxidermy or with her feelings towards the other women. But, considering how kind she was to Krystal on their two-on-one she can also handle herself under pressure and in tough situations. That's key for a Bachelorette who is going to have to put up with a lot of her own hard goodbyes. She has to be able to put herself in the shoes of those she's sending home and do it thoughtfully. Plus, how fun would it be to have Kendall's twin sister Kylie (yes, really) stop by to offer some advice to her sis about who she should pick?
I'm not the only one who thinks Kendall would be a good fit. Following her elimination, many Bachelor fans took to Twitter to campaign to ABC for Kendall to get the leading lady spot when the season starts filming.
Kendall herself hasn't given any indication of whether she'd take the gig if offered, but she seems like the kind of person who doesn't let unique opportunities pass her by. Case in point? She was once on Fear Factor. And, The Bachelorette is only a slightly less terrifying gig! (I kid, I kid.)
However, a lot can happen over the next few weeks. In the past, it seems like producers have flip-flopped about who the next lead would be, so honestly, it's anybody's guess until the official announcement has been made. Let's not forget, third-place Caila Quinn was once destined to be the Bachelorette, but then JoJo got her heart broken as the runner-up and the producers went with her. Fans will have to wait until the official selection to see what's up. That could happen during After The Final Rose next week, or it could be a while away. After all, the season won't premiere until the end of May, so the powers that be behind the show still have some time to make their decision. But, Kendall should definitely be in the running.