Khloe Kardashian Gave Birth To Her Daughter In Cleveland — But She May Not Stay There For Long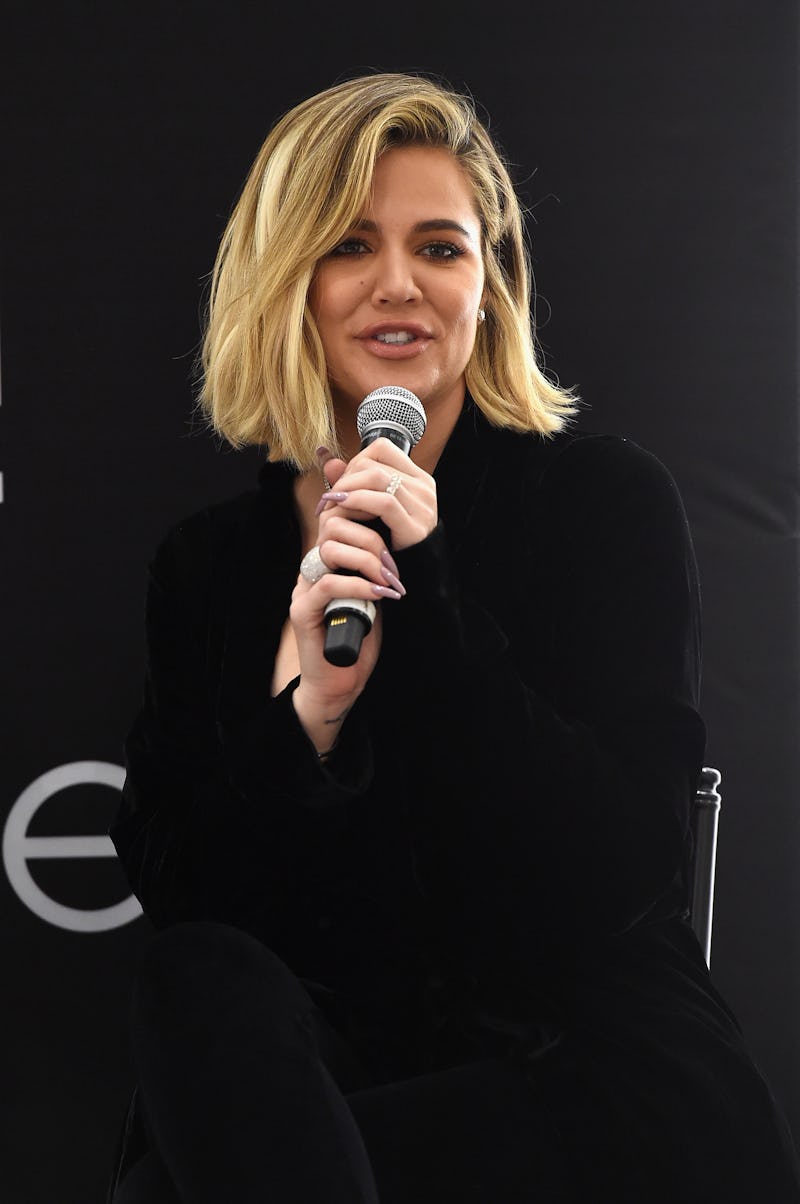 Jamie McCarthy/Getty Images Entertainment/Getty Images
Big news: On Thursday, April 12, TMZ reported that Khloe Kardashian gave birth to a baby girl at a Cleveland, Ohio area hospital. (Bustle reached out to Khloé's rep for comment, but did not receive an immediate response.) But will Khloe still live in Cleveland after the birth of her child? She may not remain in the city for long, according to several reports from earlier this week.
According to TMZ, Khloe gave birth to a baby girl at a hospital outside of Cleveland at around 4 a.m. ET. TMZ reported that the baby's father, NBA player Tristan Thompson, was there, as well as Kim Kardashian, Kourtney Kardashian, and Khloe's best friend Malika Haqq were there. The newborn's name has not yet been publicly announced by Khloé, nor has the birth of her daughter been officially announced or confirmed.
However, it does not seem likely that Khloe and her daughter will remain in Cleveland for long, according to a report from Us Weekly. On April 11, an unnamed source told the publication the following:
"Khloé shipped everything to Cleveland. She was fully moved in there," the insider says. "She was planning on raising the baby there full-time and making that her and her daughter's home. Now she just wants to get the hell out of Cleveland, but she can't fly."
Khloé's rumored reasoning for leaving Cleveland could have a lot to do with the rumors circulating about Thompson. On April 10, TMZ and the Daily Mail published video footage of a man who the publications claim to be Thompson kissing women who were not Khloé, fueling rumors that Thompson is reportedly cheating on her. The videos are grainy and the faces are not clearly visible. Khloé has not responded to the rumors, nor has Thompson. (Bustle reached out to Khloé's rep and Thompson's agent regarding the videos and the rumors, but has not yet received a response.)
Prior to the birth of her daughter, Khloé seemed to fully commit to living in Thompson's home base of Cleveland. He is a professional basketball player for the Cleveland Cavaliers and he regularly plays home games for the team at the Quicken Loans Arena. In December 2017, Khloé wrote on her app that she was moving in with Thompson in Cleveland. According to People, Khloe wrote:
"But I like being in Cleveland — it's a much simpler life, and I actually love it and crave it. I go to a lot of basketball games. It's very [much] like my old life."
On the Kardashian family's E! reality TV series Keeping Up With the Kardashians, Kim reflected on how much she missed Khloé being close to the family in Los Angeles, but Kim also expressed how happy she was for her sister's new life and new love. According to People, Kim said the following on the show:
"Khloé lives in Cleveland practically, and she's not rushing to come home anytime soon. We really do miss [her], and just knowing that so much of her life is here in Cleveland is hard to accept. I'm definitely sad that Khloé is gone, but she and Tristan are really cute together. She's got a good crew over there. She's got a good support system."
On the series, Kourtney Kardashian expressed similar sentiments regarding Khloé's move to Cleveland. "It's bittersweet," Kourtney said on Keeping Up With The Kardashians, according to People. "It's just sad that she's definitely not coming back anytime soon. But we're all living our lives and doing our own thing, so let her live hers."
But now with the current rumors circulating, it sounds like Khloé and her daughter's home city may not be Cleveland for the long-term — but that is ultimately Khloé's decision.