What To Know About Kimye's Plans For The 2018 VMAs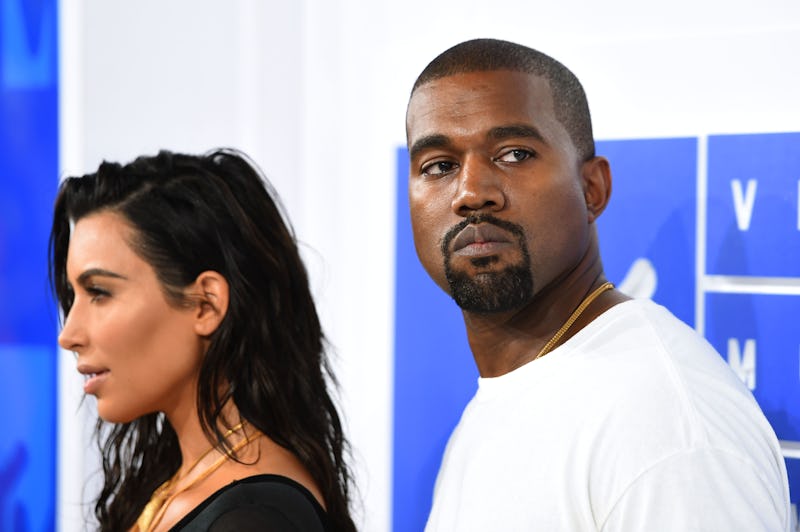 Larry Busacca/Getty Images Entertainment/Getty Images
A lot has gone down with the Kardashian-Wests since the last Video Music Awards, one which they did not attend for reasons unknown. Since last year's VMAs, Kim and Kanye have welcomed their third child, Chicago West, and Kanye has, well, kept his public persona interesting, to say the very least. To top it all off, in June, Kanye released his latest album, ye, that explains much of what's been going on. And while he's already been awarded the highest VMA accolade, the Michael Jackson Video Vanguard Award of 2015, he doesn't have any music videos up for nomination currently — which leaves fans to wonder whether or not Kim and Kanye will be at the 2018 VMAs, or if their time would be better spent running cosmetic companies and designing sneaker and watching from home.
Neither of the two have confirmed whether or not they plan to attend the awards so far. It's safe to say they've kind of been preoccupied with other things. But if they do plan on attending, plan for Kim and Kanye to really make some sort of impression. If you've been paying attention to headlines or either one of their social media accounts, you'll know that Kanye's most recent public engagements and statements have been quite controversial. Way more so than interrupting Taylor Swift's acceptance speech at the 2009 VMAs even. Ah, those were simpler times.
The fire was ignited when Kanye took to Twitter to express his support for President Donald Trump, with which many of his fans, and his colleagues within the hip-hop community, were unhappy.
Kim proceeded to defend Kanye and his "free thought" on Twitter, and shortly after, he was captured by TMZ proclaiming that slavery "sounded" like a choice. That pushed many fans, and one Detroit radio station, per Jezebel, over the edge, leading them to end their support of Kanye, canceling plans to listen to Ye, and so on.
Since then, Kanye's responded to the situation (excluding Twitter) on Jimmy Kimmel Live, where he talked about his experience with bi-polar disorder, and promoted embracing love and understanding over fear. "We're always, you know, pushing out so much hate," he said in the interview. "And love can cure so much."
Kanye was seemingly prepared to accept his associated controversy and move on to selling his new album. According to Pitchfork, Kanye used the month between the TMZ incident and his album's release to create, write, and produce it — which is why many of its lyrics are strikingly relevant. While critics have given it mixed reviews, it could be award worthy.
"Ye reveals that the past month's flailing attempts at iconoclasm were building up to exactly nothing," Meaghan Garvey wrote for Pitchfork. "It is an album born from chaos for chaos' sake, an album that can barely be bothered to refer to that chaos with anything more committal than a Kanye shrug."
Kanye most likely hasn't been nominated for a VMA because he hasn't released any music videos along with ye, although technically, he could've been nominated in the "Artist of the Year Category," which isn't exclusive to videos.
However, Kylie Jenner's boyfriend and the father of her daughter Stormi Webster, Travis Scott, is going to be one of the headline performers at this year's VMAs, and E! News has confirmed that the couple will be in attendance. That means it's possible that the Kardashian-Wests could make an appearance in support of their family. So Kimye fans, get your celebrity spotters ready to, quite literally, keep up with the Kardashians on Monday night.