This YA Netflix Series About Too-Real Virtual Reality Will Totally Freak You Out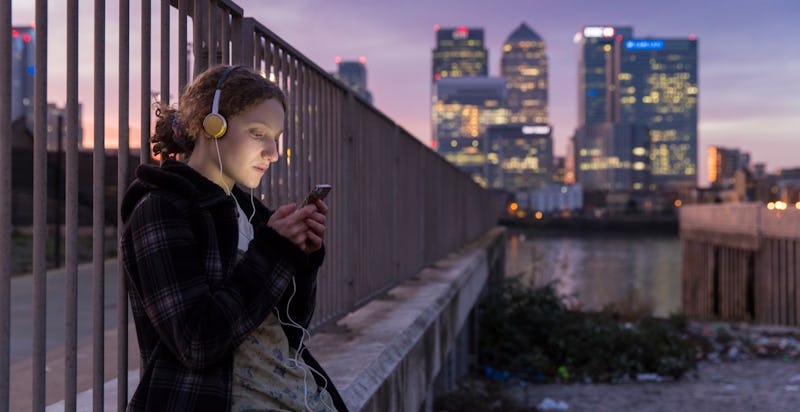 Balloon/Kindle Entertainment/CH4/Netflix
Countless movies and shows have tackled the dangers of becoming too engrossed in a virtual reality world. From Wall-E to Ready Player One, for years filmmakers and storytellers have been encouraging audiences to live fully in the real world, or suffer some intense consequences. Kiss Me First premieres on June 29 on Netflix, puts the dangerous allure of VR at the forefront of the plot. Sci-fi fans everywhere are sure to get hooked on this new series, but will there be a Season 2 of Kiss Me First?
Fans might have to hold their breath a little longer. The series first aired on Channel 4 in the U.K., and according to Express, the futuristic British show has yet to be renewed for a second season by its home network. But those who find themselves falling in love with the show shouldn't panic yet. According to the same Express report, it seems likely that Kiss Me First will return for a second installment. "We're hoping to make a returning series," Express reports that executive producer Melanie Stokes said at a screening of the show. She added that the show was cast very intentionally, with the hopes that audiences would relate to the characters, per the same article. With all that strategizing and planning, one would hope that the team behind Kiss Me First will be rewarded with a second season.
If the British network and Netflix aren't adequately encouraged by the producers' careful planning, then maybe they'll be swayed by a positive audience response. And Kiss Me First definitely seems like it could be the next big hit for Netflix. Based on a book by Lottie Moggach, the series follows Leila (Tallulah Haddon), a lonely teenage girl who has just lost her mother. Leila finds escape from her less-than-ideal reality in the virtual world of Azana, where she becomes the avatar Shadowfax, discovers new realities, and encounters the mysterious, seductive Tess (Simona Brown), who brings her even deeper into the secretive worlds of Azana.
If enough fans begin clamoring for the return of the show, then it's likely that the network will give Kiss Me First a second season. And the positive reviews coming out of Britain seem to suggest that the show has a real shot at sticking around for a while. The Guardian described the series as "ambitious, promising, and bleak as hell." RadioTimes categorizes the show as "Skins meets Ready Player One," which sounds like a winning combination if I've ever heard one. If the positive reviews continue after the show's release in the U.S., then it seems likely that Kiss Me First will return for a second season.
Kiss Me First also stands out for how it tackles prescient topics, from the way that technology makes us more antisocial to the dangers of making your personal data available online. Yet these big ideas are packaged in a way that makes it relatable for a wider audience, familiar to anyone who was ever an angsty teenager who felt alone in the world. Bryan Elsley, writer and executive producer of the show, shared with Channel 4 that he thinks the themes of the show will be familiar to many of the teens who will likely be tuning in, saying:
"I think that loneliness and isolation and alienation are a big part of growing up. And I think loneliness isn't spoken about nearly enough, and is little understood in a world where everyone seems so connected and everything is so immediate, and it's so easy to talk to people. I don't think that that necessarily changes the fact that young people — and indeed older people — don't know where to put themselves in the world. And that is something that I'm very happy to write about."
Relatable teenage angst, romance, and sci-fi? It seems like Kiss Me First has all elements for a hit series, one that has the potential to stick around for seasons to come.