Don't Give Up Hope For 'Knightfall' Season 2 Just Yet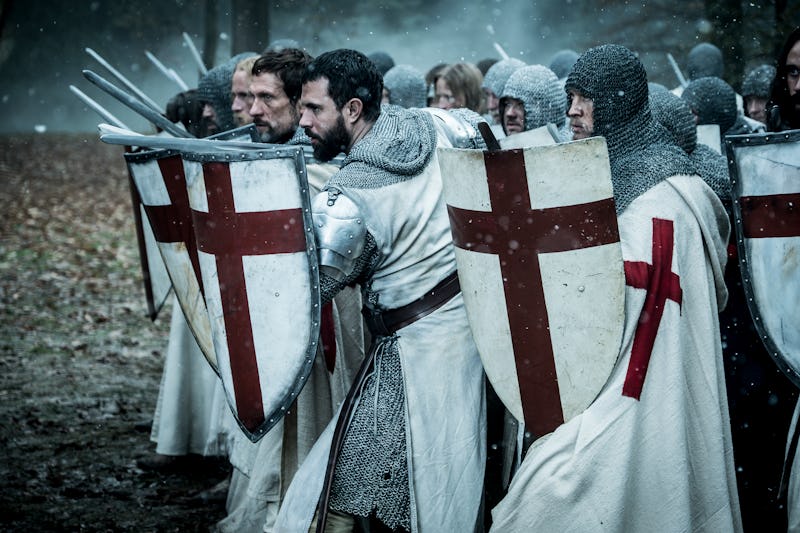 Larry Horricks/HISTORY
The search for the Holy Grail captivates audiences. That's why you see it popping up again and again from Indiana Jones to Monty Python. As Knightfall's Season 1 finale closes in, the Grail is again missing. Also missing is concrete news that Knightfall will return for a Season 2 sometime after its Feb. 7 finale. Fortunately, there are some encouraging hints about the future of the History series.
While not officially announced by History or the creators of Knightfall (series set decoration, 10 episodes, Beatrice Brentnerova), there are outlets reporting that Knightfall has been renewed for a second season. According to Spoiler TV, it only took three aired episodes before the decision was made that the would get a Season 2 extension. The outlet also reported the cast and crew will begin shooting for this second season as soon as April of this year. But again, the network has yet to confirm. Bustle has reached out to History for comment.
The series' showrunner, Dominic Minghella has remained quiet on the future of the series, at least publicly. He hasn't tweeted any teases or hints that an upcoming season is in the works. He did, however, retweet a fan who said, "I hope this show gets 10 seasons." Perhaps that can be taken as a subtle nod that he's interested in continuing on the series well into the future.
While the showrunner may not be speaking out on the future of the show directly, one actor is. Julian Ovenden, who plays William De Nogaret on the show, revealed in an interview with IGN that he's feeling confident about the show's prospects for a Season 2. "I think most shows take a bit of time to sort of find their core audience, which I think it's starting to do now. So, I think the omens are good," he said. "So, yeah, let's try to get another 10 episodes, and then I think we'll really hit our stride. And I certainly think the show really accelerates from here on in. I think the finale is great."
If the show has been renewed for Season 2 already, however, it seems strange that there would be secrecy surrounding it. Audiences often appreciate the knowledge a new season is coming to get on the hype-train or, in the case of Knightfall, perhaps a hype-horse. So perhaps the future of Knightfall is still up in the air at this point. The series has less than stellar ratings on Rotten Tomatoes, with a combined general audience and critic rating hovering in the low 60 percent range.
With nothing concrete about a future season, fans might imagine there's not much to go on when speculating about what might come next. But close to the series premiere Minghella was asked in a SyFy Wire interview what he would have included in this first season without time or narrative constraints. His response could provide a bit of insight into where the series can go in the future.
"The presence of the Grail, and the desire to get it back began to overtake the events of Season 1, in a good way," he said. "They started with nine knights, and about 30 years later they're one of the richest organizations in western Europe. It was just extraordinary that it was crowdfunding with the prize of a slice of Heaven."
Minghella said that with the focus on the Holy Grail, the Templar's rise to power was sidestepped. "None of that lent itself to us," he said. "Because another version of Season 1 is you go into it with a young boy who's learning how to be a Templar and you learn their ways with him." The Templar's rise to power, though, could be a very interesting storyline. The notion of going back to give a more authentic look does leave room for a potential prequel-style Season 2.
Fans of the series may be anxious at the lack of official word regarding Knightfall Season 2, but there are plenty of reasons to feel confident the show will continue. So, like the Templars, fans of the series just have to be willing to make a leap of faith.