The Return Of The Koko Kollection Is Short Term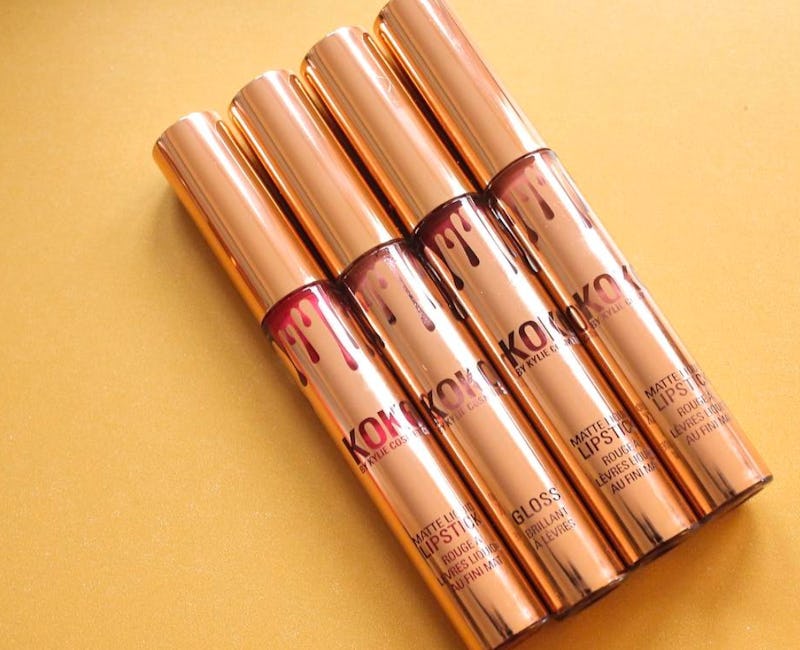 Koko is kicking it! Makeup addicts have spoken and Kylie Cosmetics has listened. Kylie Cosmetics is bringing back the Koko Kollection on Tuesday, Jan. 24 at 6 p.m. ET/3 p.m. PT. The Koko Kollection is back by popular demand, as well, since the brand confirmed that it's the most requested product of the past few months. The Kollection, ko-designed by her big sister Khloe Kardashian, features four lippies — three mattes and one gloss. The set was initially touted as limited edition and like all Kylie Cosmetics launches, it sold out quickly. Is the Koko Kollection restocking more than once? Is it a permanent addition or is this a one off?
According to the brand's Instagram caption, the Koko Kollection restock is one and done. The brand said its bringing Koko back one more time, which would suggest that the set won't be replenished again or added to the permanent repertoire of products.
Unless, of course, it does well and Kylie Cosmetics lovers continue to ask for its return. If you love the Koko set, then speak up. Perhaps some or all of the colors contained within will eventually be sold as singles
The Koko Kollection includes the Damn Gina sparkly gloss, along with the nude Khlo$, the berry Gorg, and the hot pink Okurr. It's a mix that's mostly matte.
The Koko Kollection mixes textures and comes in gold packaging. You can mix and "matte" and kustomize your lip look.
This is the caption of the above photo, revealing the popularity of the Koko Kollection. Notice it clearly says the encore is ONCE more. It is not a permanent addition to the brand's stable of products.
I actually nabbed the Koko Kollection when it landed last fall, mostly because I wanted Damn Gina and Khlo$, both of which were worth the spend.
The people have spoken and the brand has responded. It's essentially a democratic makeup restock.
Nothing like some swatches to get you excited about the restock.
Koko's return is short term.
If you are a lip obsessive, you soooo want to add these beauties to your lip arsenal. The more I think about it, it's quite possible that the Koko lippies are restocking as a "set" for one last time. Jenner could veritably add the shades that comprise the set to the brand's permanent offerings as individuals because you never, ever know!
Images: Kylie Cosmetics/Instagram (5)