Here's How Kylie Jenner Is Taking Her Support For Travis Scott To New Heights At The VMAs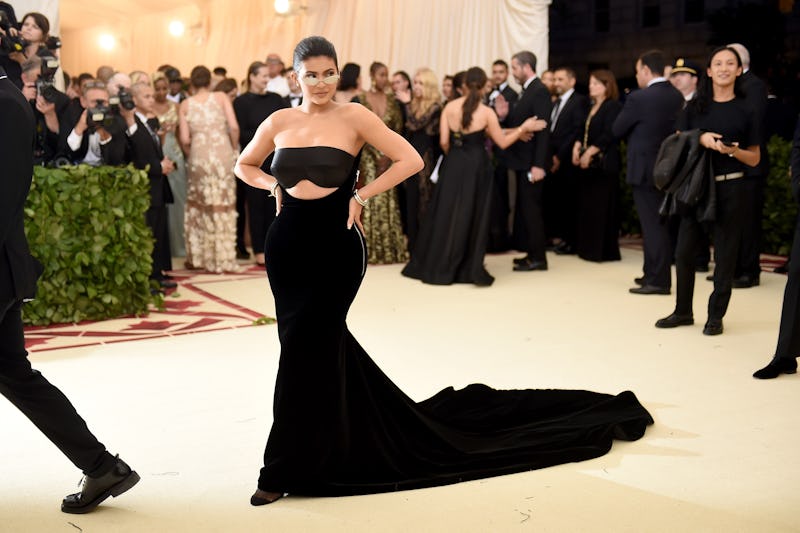 Jason Kempin/Getty Images Entertainment/Getty Images
Artists make music videos for many reasons; whether it's to enhance the meaning of their song, be an expansion of their album, or just to create more art, music videos have become one of the backbones of the music industry. To honor best in video-making this year, the MTV Video Music Awards are taking place on Aug. 20 and there are many celebrities, not just artists, that are slated to make an appearance. Among them, Kylie Jenner, who will be at the VMAs. According to a VMA seating charts, as reported by Us Weekly, Jenner will be in attendance, and considering she's dating performer, Travis Scott, her presence shouldn't be all that surprising.
Coming off the release of his third album, Astroworld, Scott has really been thriving. According to Billboard, the album saw the second-largest first week release of 2018, after Drake's Scorpion. On top of that, he had the fifth-largest streaming week ever and all of the songs on the album made it in to the Billboard Hot 100. Truly an impressive feat, and that's not even including his Astroworld Festival coming up in November and his headlining tour, which he just announced along with the cities he'll be visiting. Now, Travis Scott will be performing at the VMAs, which are being held at Radio City Music Hall this year, where he'll be right alongside other performers like Ariana Grande, Post Malone, and Shawn Mendes.
Of course many could say he's had a winning year even before Aug. 3 and Astroworld. On Feb. 1, Scott and Jenner welcomed their baby girl, Stormi, into the world and after keeping Jenner's pregnancy a secret for nine long months of speculation.
This isn't going to be the first time the couple makes an appearance together, though they have been pretty low key when it comes to red carpet events. They were guests at the Met Gala back in May, where Jenner revealed it was their first "real" party since becoming parents. She also accompanied Scott in Chicago in August, when he was a headliner at Lollapalooza during its first night of festivities. He actually had a release party in the Windy City that night as well, to celebrate Astroworld, which came out the next day on Aug. 3. The party featured a huge replica of the album cover, with an enormous inflatable structure of Travis Scott's head as a gateway. It seemed like a great night, with Kylie describing the release on Instagram as the "craziest ride of my life."
The dynamic duo were recently on the cover of GQ together, talking about everything from their love life to the arguably nonexistent Kardashian Curse. They even played a trivia game where Scott proved he knew enough about Jenner, and her makeup habits, to keep the peace. She also appeared in his music video for "Stop Trying To Be God." The song talks about how celebrities may think of themselves as gods, or fans may act as such, but they're not (obviously). Kylie Jenner plays the role of his savior, radiating gold beams, trying to save his soul.
With a couple that's this in tune with each other, of course Jenner is going to show up to support her man at the 2018 Video Music Awards. It only makes sense.