Travis Scott Gave Kylie Jenner A Shoutout On His New Album That Shows How Proud Of Her He Is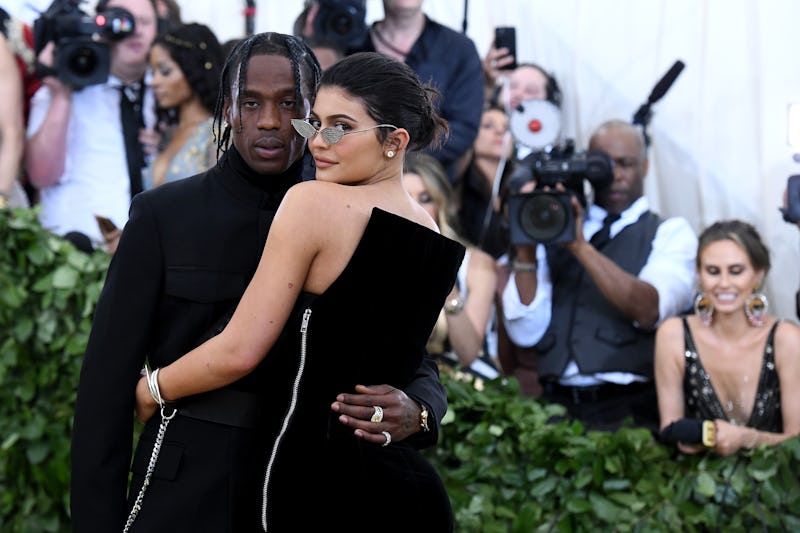 Noam Galai/Getty Images Entertainment/Getty Images
Rapper Travis Scott dropped his new album Astroworld on Friday, August 3. And while the project has many amazing tracks for fans to vibe to, there was one song in particular that made listeners take special notice. On the song "Sicko Mode," Scott mentions Kylie Jenner's Forbes magazine cover and also gives a shout out to their young daughter, Stormi Webster, at the song's close. In the very last line of the song's final verse, Scott directly points out Jenner's recent accomplishment of nearly becoming the youngest self-made billionaire in history. He raps,
Passes to my daughter, Imma show her what it took / Baby mama cover Forbes, got these other b*tches shook
For those who may not know, Jenner graced the cover of Forbes'' "America's Women Billionaires" issue which featured "the 60 richest self-made women"on Wednesday, July 11. A tagline for Jenner's appearance on the publication's front read, "$900 Million Cosmetics Queen: At 21, she's set to be the youngest ever self-made billionaire. Welcome to the era of extreme fame leverage." According to the magazine, Jenner, who will officially turn 21 on Aug. 10, is on the verge of beating out Facebook founder Mark Zuckerberg, who reportedly became a billionaire at 23.
Fans seem to be completely head over heels for Scott's mention of Jenner on the song, with many taking to social media to comment.
Although they often remain quiet about their romance, Scott's "Sicko Mode," which features Drake, Juicy J, and Swae Lee, certainly proves that he's proud of his girlfriend and mother of his child. However, this isn't the first time that the rapper has included the makeup mogul in one of his songs. Despite not referencing or mentioning her directly by name, many believe that Jenner's voice could be heard on Scott's May 2018 lead-out single, "Watch." At the end of the tune, which featured guest appearances by Jenner's brother-in-law, Kanye West, and Lil Uzi Vert, a women's voice can be heard that sounds very similar to Jenner's. "We got bust down Rollies, bust down Rollies / And I told him I wanted to have a bust down baby," someone says as the song fades out. While Jenner isn't officially credited on the song, People alluded to the notion that it's her voice in the track's closing. Genius also lists the Lip Kit entrepreneur as one of the song's participants.
It seems that Scott and Jenner have been inseparable since they started dating in April 2017. The duo welcomed their daughter, Stormi, on Feb. 1, which seemed to only sweeten the deal. They were recently featured on GQ's August cover, giving the magazine a rare up-close-and-personal glimpse into their relationship. There were also a few videos that surfaced from Scott's Astroworld listening party in Chicago on Aug. 2 that showed the couple packing on some major PDA while sweetly admiring one another.
Scott's 17-track project, which, in addition to Drake, Kanye West, Juicy J and Swae Lee, features guest appearances from some super talented artists, including Pharrell, Migos, The Weeknd, Frank Ocean, Kid Cudi, 21 Savage, Juice Wrld, Nav, and more. And while there are many hits to listen to on the album, the song "Sicko Mode" is a sweet reminder of the adorable romance that Travis Scott and Kylie Jenner share.