Kylie Jenner Is Literally The Virgin Mary In Travis Scott's New Video & You Need To See It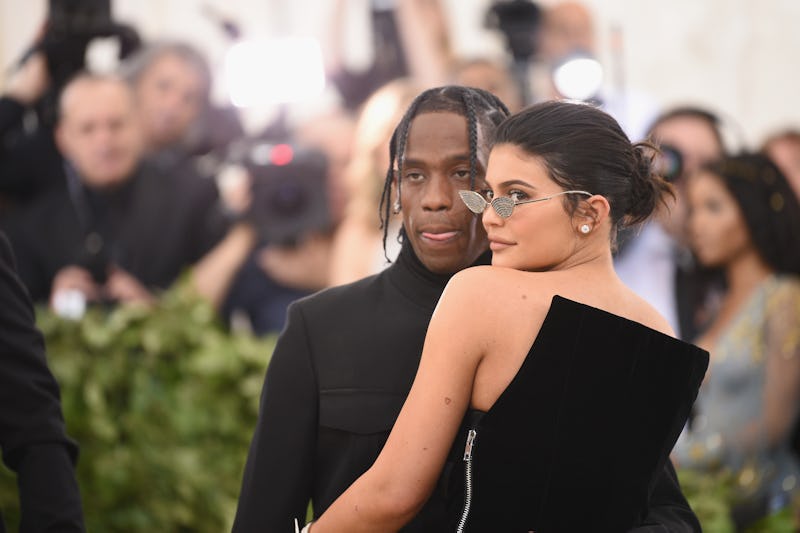 Jason Kempin/Getty Images Entertainment/Getty Images
Travis Scott is taking Astroworld to Biblical proportions with his new video. Scott's music video for "Stop Trying To Be God," which dropped days after the release of his new album, is filled with biblical references. But the most eye-popping is Kylie Jenner's cameo in Travis Scott's "Stop Trying To Be God" video, who is channeling the Virgin Mary.
In the video directed by Dave Meyers, Scott spends over four minutes playing God, walking among a flock of sheep and baptizing his fans only to turn them into mini-Travis Scotts — remaking them in his image. But, in the end, he shows why celebrity shouldn't be seen as a religion, standing in heaven watching as the world burns.
Jenner, however, appears as his saving grace. Painted in all gold and holding a baby lamb, she pops up, looking like a goddess. While Scott raps about fame and its pitfalls, namely, that it might be giving him a God complex, he portrays Jenner as a pure source of light and comfort. She brings him back down to Earth despite being something otherworldly herself. Jenner is both a god and a Mary has a little lamb that offers an important final reminder, mouthing "stop tryna to be God/that's not who you are" as the video cuts out.
But, as Scott shows, it's easy to get caught up in the fame, to think of yourself as something more when so many people worship you. To think this way about yourself, however, can destroy everything you've worked so hard for, which Scott shows not so subtly by riding a fire-breathing dragon that's burning everything down in the video.
It shouldn't be all that surprising that Scott's video features his lady love and mother of his daughter, Stormi, since Jenner is all over his album Astroworld. Scott sweetly references Jenner and Stormi on the final lines of "Sicko Mode," saying, "Passes to my daughter, Imma show her what it took / Baby mama cover Forbes, got these other b*tches shook."
The line is reference to Jenner earning a Forbes cover for closing in on becoming the youngest self-made billionaire in history. Right now, Jenner is reportedly worth $900 million thanks to her Kylie Cosmetics company. According to the magazine, Jenner, who will officially turn 21 on Aug. 10, is on the verge of crossing the billion-mark and will beat out Facebook founder Mark Zuckerberg, who reportedly became a billionaire at 23. From the line, it's clear Scott is proud of Jenner and all that she's accomplished. It makes sense that in his video for "Stop Trying To Be God" she would be his muse, the one he looks to for guidance and a sense of safety.
Jenner's cameo in the "Stop Trying to Be God" video is also another rare peek behind the curtain at a couple that tends to keep a low profile. In fact, they only recently began opening up about their relationship. Jenner and Scott appeared on the cover of GQ together and talked about their relationship. In the interview, Scott seemed to foreshadow some of the themes in "Stop Trying to Be God," talking about how Jenner keeps his feet on the ground as his fame grows. "Kylie actually likes me for me," he said. "I'm on my own island. So hey, come over there to Astroworld. I'm not into all the other sh*t. I don't get involved. I'm over here. Kylie is different."
From the looks of "Stop Trying to Play God," Scott doesn't want to be a god himself, but he's more than willing to bow down to Kylie Jenner.