Why Hulu's 'Light As A Feather' Will Keep You Up At Night Long After Season 1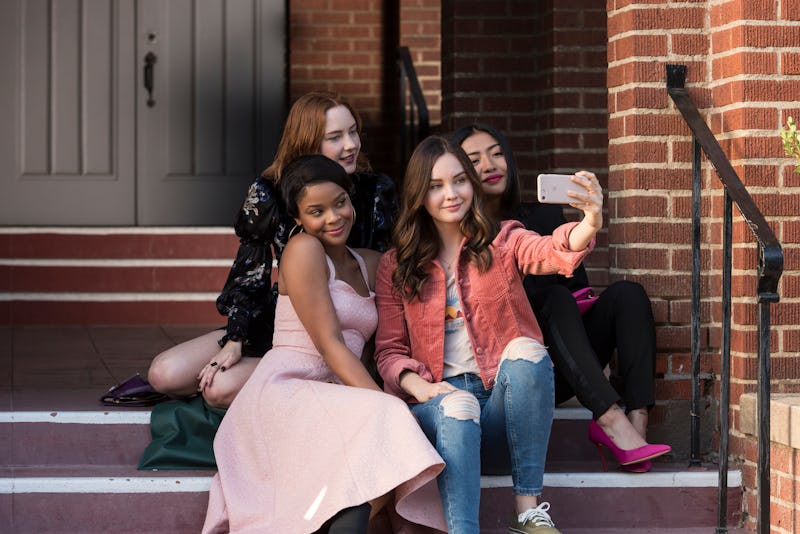 Rachael Thompson/Hulu
Hulu's new horror series, Light As A Feather, is the latest teen TV show to bring a dark story to screen. Following in the footsteps of Pretty Little Liars, Riverdale, and others of that ilk, it plunges its young stars into a world of evil and murder after an innocent game of "Light as a Feather, Stiff as a Board" goes sour. Will it be as successful as its predecessors? That remains to be seen, but thanks to Hulu's proclivity for second chances, those hoping for a Light As A Feather Season 2 can likely start looking forward to more episodes.
Hulu's catalog of original projects may be fairly large, but it pales in comparison to a behemoth like Netflix, which seems to release a new title — and in many cases, far more than that — every week. However, Hulu makes up for its smaller output by giving each of its shows a fighting chance. Since its inception, the platform has given almost every one its original scripted series a second shot. This isn't a surprise for major hits like The Handmaid's Tale or Casual, but is for lesser watched shows like Quick Draw and Freakish. So, considering the service has been so liberal with renewals in the past, the odds of Light As A Feather returning for a second season are high. That should be great news for fans of the original Light As A Feather novel, as it all but ensures the book's sequel will get an on-screen adaptation, too.
For those unfamiliar, the Hulu series is inspired by Light as a Feather, Stiff as a Board, the first novel in Zoe Aarsen's Weeping Willow High-based book series. The second, which is availably exclusively through Aarsen's Wattpad page, is called Light as a Feather, Cold as Marble. If the TV show version does get a second season, it will likely be based on Cold as Marble, assuming it gets through the first book's whole story in the first season. Beyond that, the third book in Aarsen's trilogy, Light as a Feather, Silent as the Grave, is also available on WattPad and just waiting to be channeled into a third season. With plenty of source material ripe for adaptation, the show has a clear outline for more storytelling — not to mention that the Light As A Feather may have a few ideas of their own to keep it going.
So, while no second season has been announced for Light As A Feather, Hulu's track record suggests the show will have plenty of time to establish itself past its first chapter. The biggest question, then, isn't will it get a second season, but which of the core characters will even survive long enough to make it there. There's a deadly paranormal force on the loose, and it doesn't seem like it'll be slowing down any time soon. Viewers — those unfamiliar with the books, anyway — will just have to tune in Oct. 12 to see how things shake out.