These Marvel Heroes Will Be Back On Netflix Before 'Luke Cage' Gets Another Turn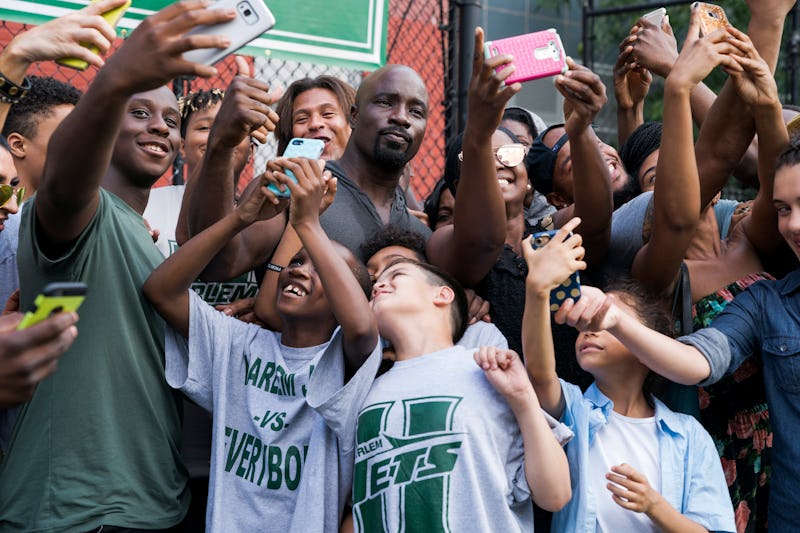 David Lee/Netflix
Sweet Christmas, the second season of Luke Cage is almost here. When fans last saw the indestructible man — in the crossover series The Defenders — Luke was free from Seagate again, back with girlfriend Claire Temple, and getting more comfortable in his role as Harlem's Hero. With new episodes of his solo series dropping June 22, it's not too early to be thinking about whether Luke Cage will be back for Season 3.
Update: On Oct. 19, Netflix announced that it was canceling Luke Cage, according to The Hollywood Reporter.
So far, Netflix has not made any announcements about the show's future, though the streaming service is certainly deeply invested in these "street-level" heroes. A possible Season 3 may look a little different, however. Rosario Dawson, who plays Claire, recently hinted that she may not continue with the series. According to Screen Geek, the actress discussed the future of her character at the 2018 MCM London Comic Con, saying:
"I don't know if I'll be back after this, to be honest, but it's been an amazing few years. I've been on a lot of different shows. I mean, I don't know if maybe they do a third season of Luke Cage potentially, or maybe if they figure out some kind of way for me to be on The Punisher — just so I can feel like I've done every show. But it's been like, my daughter is in high school, so I kinda wanna not be 3000 miles away for work."
The actor has been involved with the franchise since Daredevil Season 1, which came out in April 2015. As a refresher, while Luke Cage Season 1 came out in September 2016, it has taken nearly a year and a half for its second season to arrive on Netflix. Fans knew by December of 2016 that it would return, however, so Netflix will likely be making a call on the future of the show within the next few months.
As for Luke Cage Season 2, things are looking up for the bulletproof guy — at least at first. Harlem looks to be safe and sound, per the below trailer, and Luke is clearly feeling himself. That is, until a new Big Bad arrives on the scene. Enter Bushmaster (Mustafa Shakir), who gets the better of him in the trailer, warning Luke that Harlem is his. And if there's one thing Luke Cage fans know, it's that the hooded vigilante is fiercely protective of his neighborhood.
But even if Luke somehow beats this new mysterious bad guy, he's still got two other villains to contend with: Mariah Dillard (Alfre Woodard) and Shades (Theo Rossi), the crooked politician and her right-hand man. "Harlem doesn't need any hero," Mariah says in the trailer. "It needs a queen." Hopefully Luke has was it takes to dethrone Mariah before she does any serious damage.
So while Luke Cage itself may not be back for a while, fans can look forward to the return of some other Netflix Marvel shows. While they don't yet have release dates, Iron Fist Season 2, Daredevil Season 3, and The Punisher Season 2 are on deck.
However, it doesn't look like The Defenders is coming back — at least not any time soon. "I had a great time doing The Defenders and honestly, it was such a good experience that I would even do it again," Krysten Ritter told Vulture in March. "I don't think we are doing it again. It was never intentioned to do it again, but, you know, if I was given another opportunity, I would." So while Danny Rand, a.k.a., the Iron Fist, is set to appear in Luke Cage Season 2, the whole gang probably won't be reunited onscreen.
The Harlem vigilante's new chapter, however, will almost certainly leave things open-ended for a third iteration of Luke Cage. So his return will probably just be a matter of time.