This Is The Likelihood Of 'Magic For Humans' & Justin Willman Coming To The UK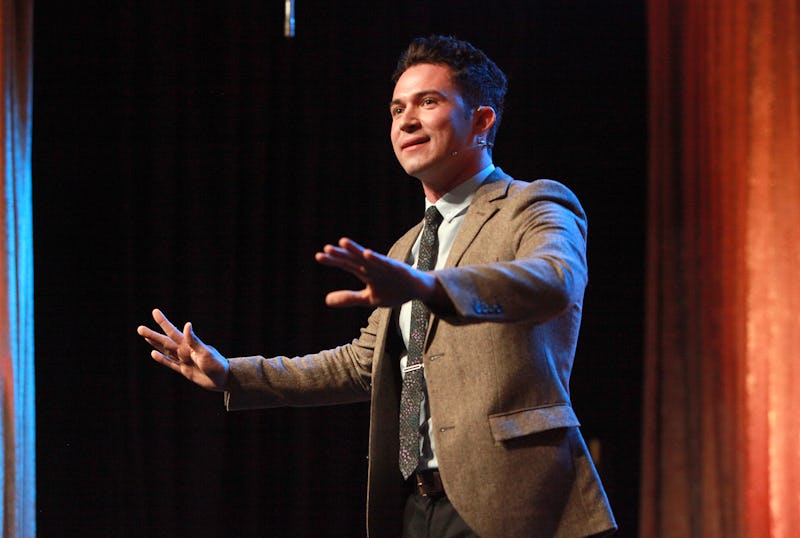 Rachel Murray/Getty Images Entertainment/Getty Images
If you love the street magic antics of Dynamo and David Blaine, then you're gonna love Justin Willman's Magic For Humans. The six-part Netflix series, which premiered on Aug. 17, sees Willman exploring the art of being human by using the extraordinary world of magic. If you're like me and are itching to see these illusions before your very eyes to confirm that they are indeed real — and not aided by clever editing or CGI — then you'll want to know: will Magic For Humans perform live in the UK anytime soon?
Fresh off of Magic For Humans' release, Willman will be embarking on a 16-date North American tour starting on Aug. 31 in Arlington, VA and concluding in Hollywood, CA on Oct. 27. He's got a lot of experience performing his illusions live with comedic flair, including a 2015 Comedy Central special entitled Sleight of Mouth, and a performance at Montreal's Just for Laughs Festival in 2012.
If he were to do a few UK shows — or even a tour for that matter — it would probably be after this, or sometime in 2019. I reached out to Willman and his representative to find out if this was a possibility, and have yet to receive comment.
Even if a UK tour isn't in the immediate future, it doesn't stop Willman from entertaining the masses on British soil. Before the release of his series, Willman was pretty well known for appearing on American talk shows. From Conan to Ellen, the magician thrilled live audiences and viewers at home with his insane illusions and hilarious chat.
Whilst the UK doesn't have a vast amount of regular late-night talk shows, Willman would fit right in as a guest on The Graham Norton Show or hell, even This Morning and Sunday Brunch if he's up for a super early start.
Depending on whether Magic For Humans gets picked up for a second season, Willman could easily take to the streets of major cities across the UK and unleash his magic on an unsuspecting British public. I mean, he's already got the support of one legendary illusionist — Derren Brown.
Taking to Twitter in response to a clip from Magic for Humans in which Willman convinces someone that they're invisible, Brown wrote: "I think #MagicForHumans on Netflix is the most charming and inventive magic TV show for years, and Justin Willman is phenomenal. Here's a great clip," to which Willman replied with an appropriate — and adorable — gif of Dwight from The Office.
I can already see the start of a beautiful friendship, and *gasp* maybe even a collaboration. Imagine these two combining their illusions together — I don't think my mind could handle that much bamboozlement.
Just imagine it — the seriousness of Brown and the jovial, comedic stylings of Willman with a dash of mind-bending illusions... the odds of that happening are pretty slim.
In the meantime, if you want to see Willman live in action but don't want to fly all the way out to the States for one show, get on over to Netflix and marathon Magic For Humans. You won't regret it — trust.