Before She Can Be A Duchess, Meghan Markle Has A Certain Requirement To Handle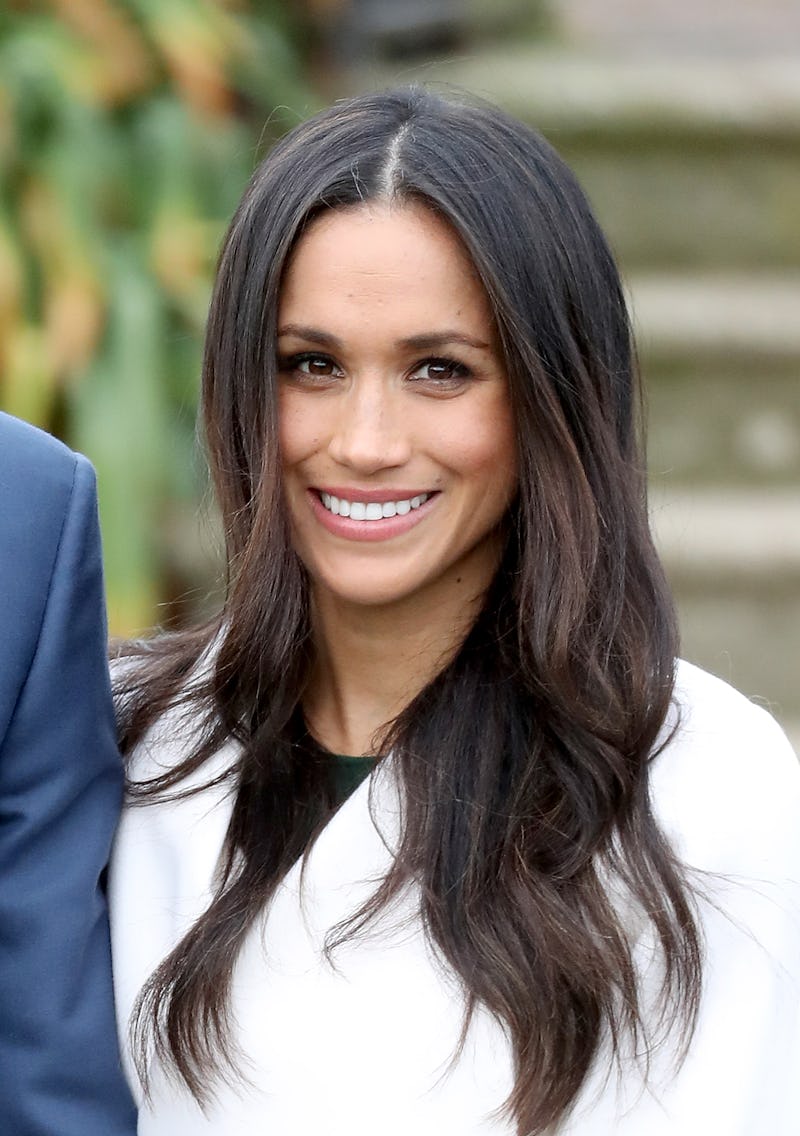 Chris Jackson/Getty Images Entertainment/Getty Images
Ever since the official announcement that Prince Harry and Meghan Markle were engaged, almost everyone on the Internet has become infatuated with the news of an upcoming royal wedding. One of the more common things people are wondering online seems to be whether or not Markle will become a British citizen after marrying Prince Harry. Well, apparently it might not be an automatic thing, as UK citizenship laws require a person live in the UK for a number of years before they can be granted citizenship. However, there are exceptions, and I imagine that if anyone with connections to help get someone's citizenship granted early it's the Queen of England.
On Monday, Nov. 27, the British royal family made the announcement that Prince Harry and Markle had gotten engaged. Harry, who is fifth in line for the throne, as the BBC notes, reportedly proposed to Markle in London earlier this month. The newly betrothed couple posed for photographers and spoke to journalists outside Kensington Palace in London, where they will reportedly live, and spoke about how happy they were about their engagement. After being asked by a reported when he knew that Markle "was the one," Harry said, "The very first time we met." Talk about adorable!
It's been reported that the Queen is expected to bestow Harry with the title of Duke of Sussex on his wedding day, according to the Herald Sun. Therefore, after marrying Harry, Markle would be known as known as Her Royal Highness Meghan, the Duchess of Sussex. But, as TMZ points out, a person can only use a royal title if they are a British citizen, and this could create complications for Markle as traditional laws require a residency period before an applicant can be granted citizenship.
TMZ claims that a person must live in the UK for five years in order to be eligible for citizenship. However according to Gov.uk, a site created by the Government Digital Service and owned by the Government of the United Kingdom, if you are marrying a British citizen then the residency requirement is only three years.
Additionally, Gov.uk notes that you must be "of sound mind," and "able to think and make decisions for yourself." Beyond that, you may not have a "serious or recent criminal record," and you must meet the "knowledge of English and life in the UK requirements." There are a handful of other citizenship requirements, including that three-year residency requirement.
But — here's the kicker — those requirements apply, "unless your spouse or civil partner works abroad either for the UK government or for an organisation closely linked to government." Being that Prince Harry's grandmother is the current Monarch of the country it seems like there certainly could be some wiggle room here for Markle.
While posing for the photos, Markle showed off her ring, which features three diamonds, the BBC reports. In the center is a diamond from Botswana, where the recently engaged couple has apparently spent time over the past year. And, get this, the ring also features two diamonds from Princess Diana's "personal collection." What a sweet way to honor the late Princess, and Harry's mother.
The official announcement was issued by the Prince of Wales and Duchess of Cornwall's official residence, Clarence House. In the announcement it was revealed that the wedding would take place in spring of 2018, and that details about the wedding would be unveiled "in due course." Prince Charles reportedly said that he was "thrilled," to welcome Markle to the royal family, according to The Guardian. "We hope they'll be very happy indeed," the he reportedly said before noting that Markle's parents had given their blessing as well, the BBC reports.
I don't know about you, but I'm absolutely looking forward to another royal wedding. Spring of 2018 can't come soon enough! And whether or not she officially can become royalty for a few years, Markle will undoubtedly become known as a princess in the eyes of the public.