Chandra Wilson Revealed How Ben & Bailey Will Navigate The 'Grey's Anatomy' Spinoff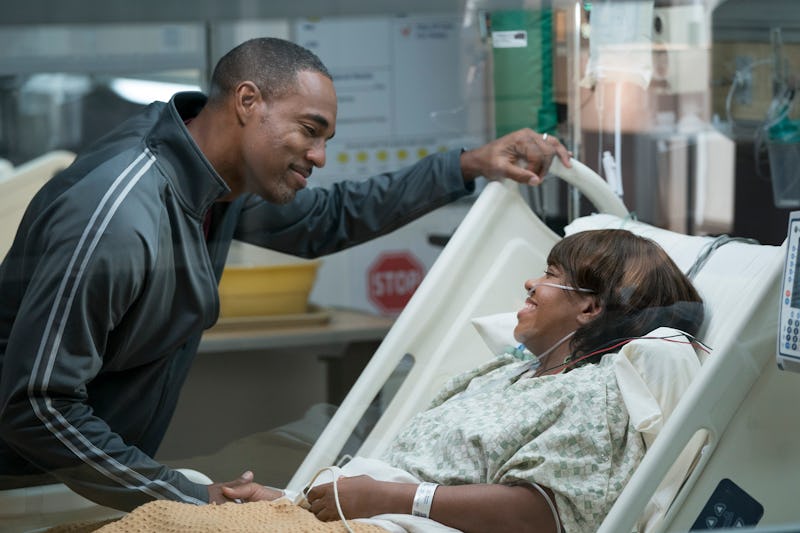 ABC/Mitch Haaseth
Miranda Bailey should make guest appearances in pretty much every show that's on television right now, no matter how much sense it makes — it's OK to dream — but there's one drama where Grey Sloan Memorial Hospital's chief of surgery is pretty likely to appear. So, will Miranda Bailey be on Station 19?
Good news! According to an interview with TV Guide, Bailey actor Chandra Wilson said that a Bailey cameo or two is pretty likely on the Grey's Anatomy spinoff. "You know she's gotta go over there and mark her territory," the actor told the magazine. "At the end of the day, Ben and Bailey are husband and wife who now work in separate places and we get to explore what that looks like through both shows." It seems Wilson would be a welcome addition to the Station 19 set any time she wanted to show up — one of the stars of the spinoff, Barrett Doss, said in a previous interview with Bustle that she'd be excited for any potential Miranda Bailey storyline.
"I'm hoping to meet Chandra Wilson one of these days," she said over the phone in late February. "I'm keeping my fingers crossed." She also said that, though Station 19's story carries itself, Grey's fans can expect for some fun surprises. "Of course, fans of Grey's are going to be excited if they see some familiar faces, but I do think that this show can stand on its own as a story," she said. "These people existed on their own without Grey's Anatomy, without any knowledge of it. So the stories we're telling are entirely new."
With these statements, fans of Bailey and Ben's relationship can breathe a sigh of relief. There was no telling how things would play out once the spinoff featuring Ben's firefighter career was announced, and the two have been through way too much for the show to tear them apart in order to free up Ben. Plus, Grey's doesn't exactly have a history of just letting couples exist happily, for the love of god, so keeping Bailey and Ben together is probably a good move to satiate fans. Wilson said in an interview with Entertainment Weekly that the fate of that relationship wasn't ever really in question, and that it's important to feature a couple who can do very different things and still soldier through their struggles.
"One thing to say for sure was Ben and Bailey were never not together. What's really important for this Ben and Bailey relationship — and we all feel this across the board — is that everything doesn't have to be hunky dory all the time. It's about how you work your way through it," Wilson said. "Ben and Bailey have always chosen to take breaking up and divorce off the table; those things aren't options, so the options that you have left is now what? Now what do we do? Is it that we sleep in separate places for minute before we come back together?"
Bailey is also notorious for wanting control over the things in her life — she's determined and driven, while fiercely caring for those she loves, so Ben's decision to pursue this career didn't exactly go over great. Wilson said in the same EW interview that viewers of both Grey's and Station 19 will see how she comes to terms with the fact that Ben isn't going to be walking the halls of Grey Sloan anymore. "She'll give her seal of approval the best way Miranda Bailey can, but she has agreed to be supportive, and she has agreed not to give her husband a hard time about finding himself and figuring out who he wants to be," Wilson said. "She may not be great at it, but that's her agreement. We'll do some back-and-forth coming up for the last half of this season of Grey's, between Station 19, me being there, and him being over at Grey's."
So, if you were worried that Bailey and Ben would be torn apart as this spinoff gathers steam, rest easy. They'll both continue to be involved in each other's worlds while still having their own lives and careers, like any healthy couple should. That'll not only be an interesting endeavor for the Shondaland couple, but also fans of both shows who are eager to see how these shows will intertwine come March 22.