Why 'Station 19' Is So Much More Than A 'Grey's Anatomy' Spinoff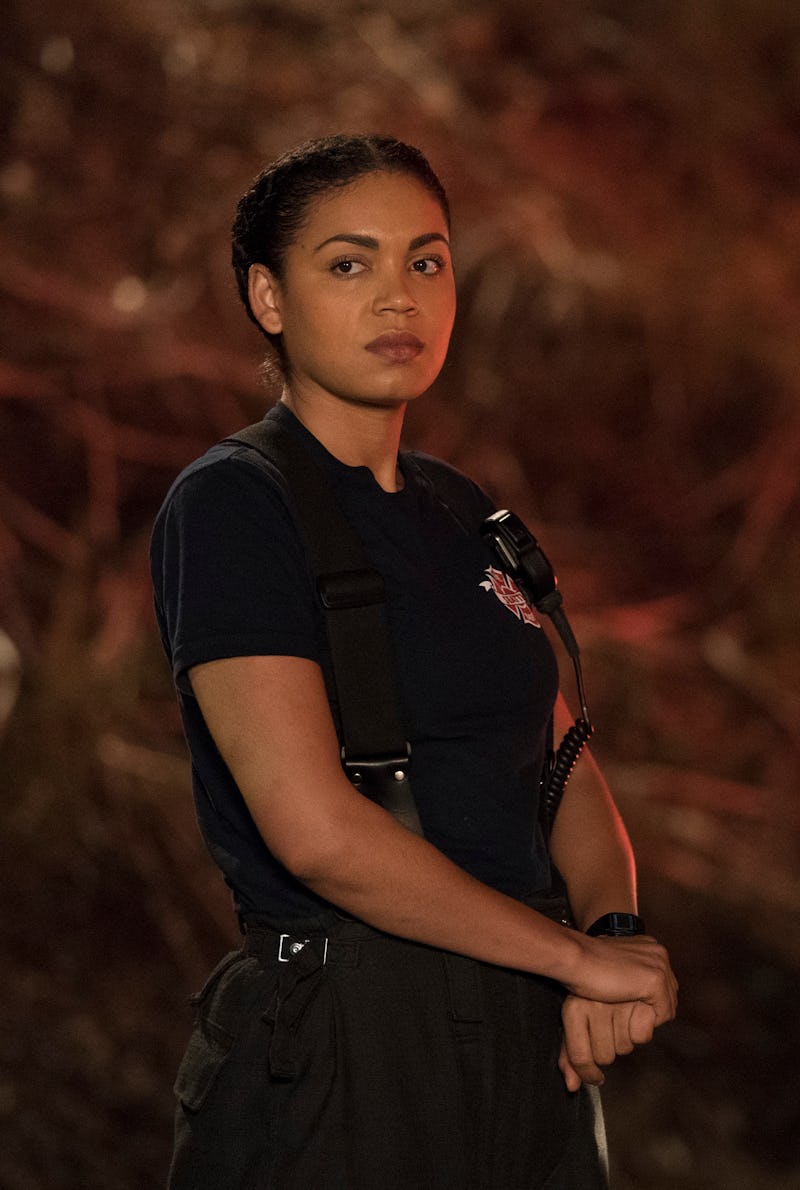 Mitch Haaseth/ABC
When news broke that there was a Grey's Anatomy spinoff coming to ABC, longtime fans of the medical drama were super excited. Station 19, which will focus on firefighters operating, at least at first, in tandem with Grey Sloan Memorial Hospital doctors, is the latest Shonda Rhimes project to pique the interest of TV fans. But this new show is built to stand on its own, so even if you haven't seen Grey's Anatomy, you can watch Station 19 — at least according to one of the show's stars, Barrett Doss.
"I would argue you don't need to know anything about Grey's [to enjoy the show]," Doss says, speaking over the phone in late February. "Of course, fans of Grey's are going to be excited if they see some familiar faces, but I do think that this show can stand on its own as a story ... These people existed on their own without Grey's Anatomy, without any knowledge of it. So the stories we're telling are entirely new."
Doss, who plays Victoria, a relatively new firefighter at Station 19, actually hasn't ever watched a single episode of Grey's — she said she even purposefully avoids the show now, as she doesn't want to be too influenced by the characters from which Station 19 stems. That's not to say she's not familiar with other iconic Shondaland projects, though. "It's hard to sort of draw the boundaries between yourself and this other show," she says of Grey's. "But I'm a huge fan of Shonda, and a fan from afar of Grey's, and also a super-fan of Scandal and How to Get Away With Murder."
Doss can't say a lot about just how much Station 19 will interact with Grey's Anatomy, but she said they obviously will have some crossover throughout. That's because Ben Warren, who joins station 19, is still married to Miranda Bailey, chief of surgery at Grey Sloan. While a Bailey appearance apparently hasn't happened yet, Doss is holding out hope. "I'm hoping to meet Chandra Wilson one of these days," she says. "I'm keeping my fingers crossed."
In any case, it seems like Station 19 is going to follow suit along with the rest of Rhimes' projects in terms of compelling and nuanced characters. The showrunner and her writing teams particularly excel when showcasing women onscreen, something Doss says she's excited to be a part of. "We're all just hoping to live up to Shonda's example," she says.
"Of course, it's intimidating because you don't want to just play 'power.' You want to play all the shades of any woman, which involves sex and romance and jealousy and all of those real-life emotions. And of course playing women who are succeeding in a male dominated world is really exciting because what woman can't identify with that?"
Those layered performances extend further into the entire fire station team — Doss says that first and foremost, the actors on the show want to portray human experiences. Though their jobs are a large part of who they are, the characters on Station 19 also have different situations forming their realities. "I think that would be one of the defining things [real firefighters] would say about their identities — they are a firefighter, so it's a huge sense of pride. But also they're mothers, and fathers, and friends, and daughters," she continues. "It's our duty as actors to play people, and it's our characters' duty to be firefighters — to take on the responsibility to save lives. It's an acting challenge, and it can be intimidating, but our job is to play the person."
These characters, including Victoria — who goes by Vic among her fellow firefighters — will certainly give viewers new complexities to examine. They all have their own quirks, according to Doss, and she's excited for people to watch her character's story unfold, and she hints that there's much more beneath the surface. "I think Vic is really funny. [Writer] Stacy McKee has created a really amazing show and watching all of these very different people come together to make a dysfunctional family is really exciting," she says. "But I hope people like Vic. Not as, 'Oh, I hope she's likable,' because no one is always likable. But I hope people think she's funny, because I think she's got this dark, dry sense of humor. And I hope they sort of reserve their judgment about her until they find out more. But that's all I can say for now."
If Shondaland productions have taught us anything over the years, it's that fans should prepare to become seriously invested in their characters, and gear up for plenty of dramatic hits to be lobbed their way. Station 19 seems like it'll follow in its predecessors' footsteps in that way, and Grey's fans can be on the lookout for nods to Grey Sloan along the way. But, at the end of the day, Station 19 is, in the words of David S. Pumpkins, its own thing.