'Mirzapur' Is The Thrilling Indian Gangster Show You've Been Waiting For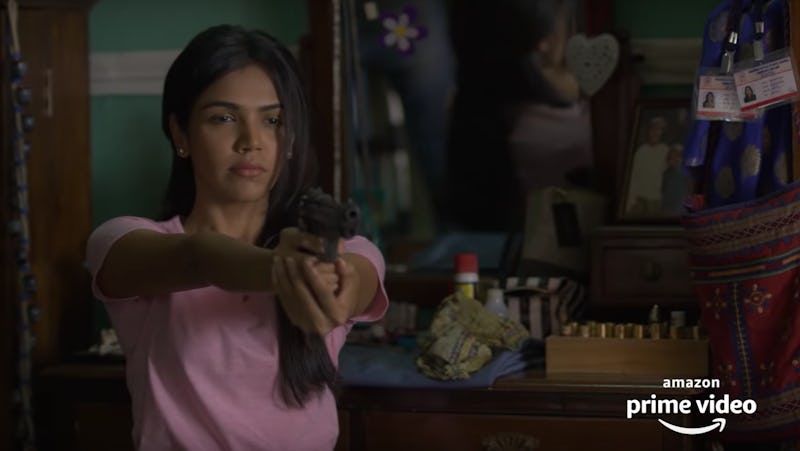 Amazon Prime Video
November 16 is welcoming an action-packed batch of new releases to the TV streaming world. The fourth season of Narcos, a.k.a. Narcos: Mexico hits Netflix on the same day that Amazon Prime Video releases its latest Indian gangster drama, Mirzapur. And while that might be worrisome for the dueling streaming giants, if you like crime shows, it's your lucky day. But while Narcos is likely to return for another season, considering its well-established footing and international popularity, it's unclear if Mirzapur will return for Season 2.
The series is from the creators of Amazon's Inside Edge, and its name is also that of the peaceful town that exists within a crime-ridden stretch of Northern India. It's a coveted city for drug trafficking power mongerers, and, well, it doesn't stay peaceful for long.
The bahubali or "strong man" of the city is Akhandanand Tripathi. He's a millionaire carpet exporter whose family has reigned the town's leadership for multiple generations. Ramakant Pandit, the city's reknowned lawyer, decides to try to change that.
That battle for the throne sets off a domino effect of bloodshed and deceit fueled by greed. Mirzapur is the third Indian series to debut on Amazon Prime, and although it's premiering on the same day as Narcos: Mexico, series director Karan Anshuman said he isn't worried about the drug crime content clash.
"I don't think the clash matters because let's be honest, this is our world, it is our story," he told The Indian Express. "By our I mean an Indian thing, and it is very rooted in what our reality is. Yes, we have the resources to make it look great and on a technical level be right up there. With Excel Media & Entertainment and Amazon Prime Video, I can tell you we have done that. We have used the same equipment and our technicians are as good as Hollywood has."
He is confident that Mirzapur's characters will stand on their own. "That aside, your story and your characters are not trying and pretending to be someone else," he said. "Especially in the case of Mirzapur, there were many things that the American team members did not understand because they did not have the cultural context. However, the same guys when they saw the show, they loved every moment of it. They were gushing in their praise of how it had turned out. These were the same guys who did not get it on paper because once you pull down the world and start connecting on an emotional level with the characters, then it doesn't matter."
It also helps that many of the main characters are badass, independent women. "Mirzapur's female characters are very strong, liberated women," Shriya Pilgaonkar, who plays Sweety, told The Indian Express. "In fact, the boys are leaning on us and we are contributing to the plot in a very strong manner. All of us are shown as women who are making choices for themselves and how they are affecting characters around them."
As if you didn't already have a good enough reason to watch.