'Mosaic's Creator Has Plans To Tell More Interactive Stories You Can Watch On Your Phone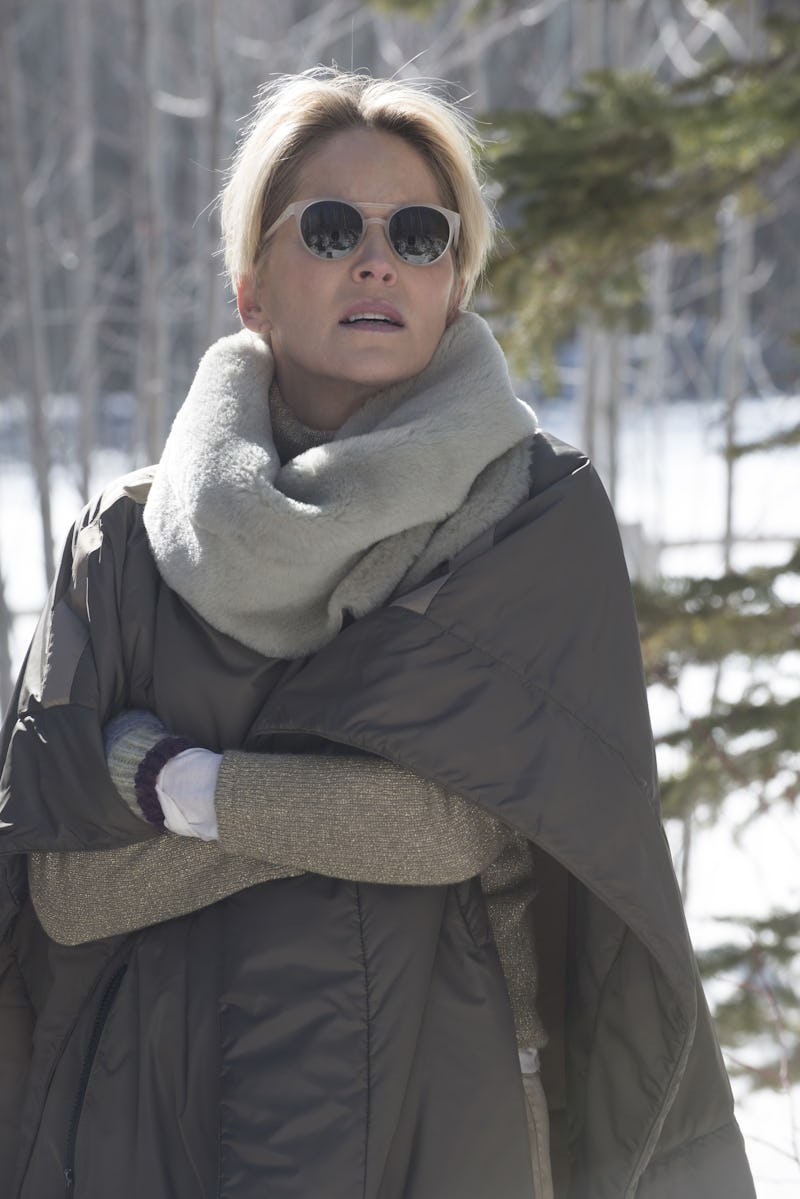 Claudette Barius/HBO
HBO's whodunnit series Mosaic (costume design: Susan Lyall) is the result of a bold experiment. Creator Steven Soderbergh originally debuted the six-episode mini-series as an app in late November of last year. The Mosaic app features various scenes that can be followed in whatever order the user likes, focusing on the perspectives of various characters in the crime drama. The unique experience has been airing traditionally on HBO as a miniseries. The finale airs on Jan. 26, but can fans look forward to a Season 2 of Mosaic, either in app form or in television form?
Season 1 of Mosaic (art direction: Michelle C. Harmon) will leave viewers with questions that don't get answered. But the app, which became available months earlier – wraps up many of the loose ends lefts in the television series. The mystery related to the murder of Olivia Lake is solved by the end of the experience, whether on app or on television. But that doesn't mean that Soderbergh isn't ready to jump back in and explore other stories in a similar manner. In an interview with Vulture, Soderbergh revealed, "We're developing at least one more [season of Mosaic]. "
With the creator already hard at work on another installment of Mosaic, the real mystery is determining what will Season 2 be. Mosaic will wrap up the case of Olivia Lake, but there are still some lingering puzzles in Season 1. And yet, Soderbergh could be talking about telling a brand new story through similarly interactive means.
In his interview with Vulture, Soderbergh seems to speak of Mosaic as though it were an anthology series similar to American Crime Story or Fargo. When asked about the possibility of another season of Mosaic, he revealed, "This new [project] goes a lot deeper [than Mosaic] ... It's going to be a much more active piece, I think, narratively for the viewer." Variety reported that Soderbergh has two other interactive series in development, using the same app platform as Mosaic does. It looks like the future of Mosaic may be related to this first season only through its unique structure.
Despite the implication that his next Mosaic-like project won't be a continuation of the series, Soderbergh doesn't seem to have outright stated that he's done with these characters. SPOILERS FOR ALL OF MOSAIC from here on out. The show leaves one major thread open, revealing context behind the murder. The Church of Eventualism is a mysterious group that app users learn about, which is revealed to have played a major role in the proceedings, including Olivia's death.
A few times over the course of the Mosaic show, the camera lingers on a mysterious image of two arrows pointing towards a dot and two arrows pointing away from said dot. The symbol appears multiple times in scenes with Petra, who has taken it upon herself to find the truth behind Olivia's murder to clear the name of her brother ,who was arrested for the crime. What Petra never seems to realize is that the symbol is related to a cult called the Church of Eventualism that is actively trying to throw off her investigation.
The app provides access to a 15-page pdf document detailing the history of the cult, including claims surrounding a $4.44 million donation to the church by Michael O'Connor — the man who killed Olivia Lake. Many scenes relating to the cult in the app — including Michael's recruitment — have been left out of the show, possibly for use should a second season be made focusing on the cult elements of Season 1.
If Soderbergh and HBO do decide to revisit the world of Mosaic, they could be moving from murder mysteries to cults and conspiracy theories. Whether it's picking up where Mosaic left off or telling a brand new story with a similar choose-your-own-perspective structure, Mosaic Season 2 will be contributing to what could be the future of storytelling.