'Bachelor' Nick Could Get Hitched On TV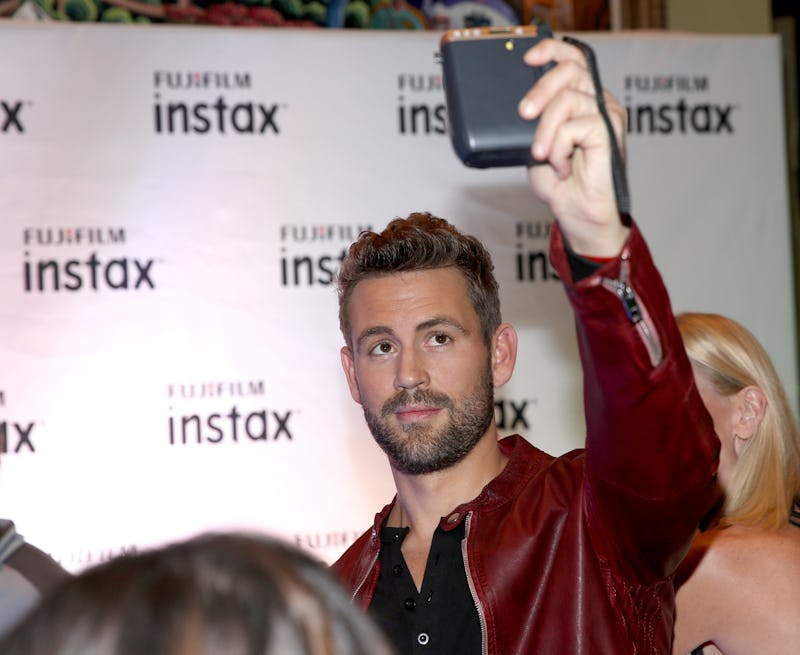 Phillip Faraone/Getty Images Entertainment/Getty Images
Once you get engaged on The Bachelor, you have a few things to discuss — where will you live? When will you married? Will it be on television? Sure, you can say that being a Bachelor couple is just like any other couple, and to a degree it is — but there is a big degree of notoriety and being in the public eye that you have to deal with. So, will Nick get married on TV in a Bachelor wedding if he finds his fiancée on Monday night?
It's not that easy a decision to make. If you watched the Freeform spinoff that Ben Higgins and Lauren Bushnell starred in last fall, you learned that pretty much every Bachelor or Bachelorette couple gets offered a television wedding with the works — picture the wedding of your dreams, dialed up to 11. In this case, Ben and Lauren felt that the collateral damage of not having a special, intimate day with their family and friends wasn't worth the whole big to-do. They also would have had to get married way faster than they wanted (still needs to be some public heat behind the couple, you know?), and they opted out.
Getting married on television is all about the couple, and right now, I'm not sure that I can picture neither Raven nor Vanessa (who are Nick's last ladies standing on The Bachelor) getting hitched on television. Let's start with Raven — she is a gal who is going to want a big dress (she owns a fashion boutique, after all, so that's her wheelhouse), but other than that, I can't see her going Hollywood and expensive. On her hometown date, Raven's family revealed that her father was just given a clean bill of health by his oncologist (he had lung cancer), and that's the sort of thing that I think would make Raven pull the wagons in closer and focus on having a small, more intimate wedding (read: one without cameras) to celebrate her marriage and the good health of her family. None of that big, flashy stuff matters when you can have the people you love there with you on that special day.
I think the same goes for Vanessa — she has spoken time and time again on the show about how close she is with her family. From the Bachelor weddings I've seen, it's all about the cameras and not necessarily about the joining together of two families. I don't think Vanessa would want that. I can see her in a big wedding, but it will be a big wedding where she gets to dance the night away with her cousins and siblings and not with the extended cast of Bachelor Nation.
And what about Nick? Nick would definitely have a television wedding. Not to knock the guy, but come on — he's been on a Bachelor Nation show four times. We've seen him on Andi's season of The Bachelorette; Kaitlyn's season of The Bachelorette; Bachelor In Paradise 3; and now, The Bachelor. I will eat my hat if he doesn't say, "Hey, what's one more?" He already signed up for Dancing With The Stars Season 24 that starts right after The Bachelor ends. Nick would totally get married on television, but I can't say that either of his ladies would be keen to the idea.