Why Priyanka Chopra Might Not Be At The Teen Choice Awards With Nick Jonas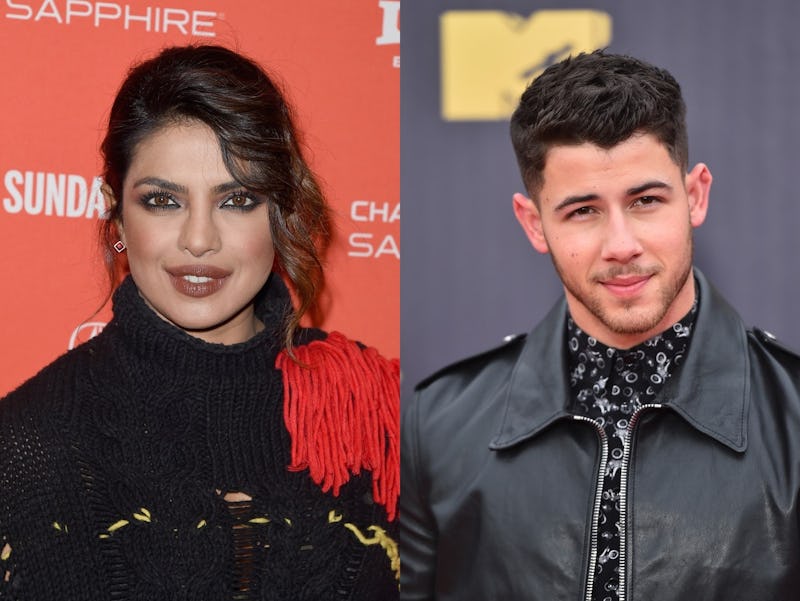 Jason Merritt/Getty Images/Alberto E. Rodriguez//Getty Images
It can't be easy being in the public eye all the time, especially when you're trying to start a new relationship. People reported that Priyanka Chopra and Nick Jonas got engaged in July, and although the pair has yet to confirm the news themselves, they can't help but hint at their pre-nuptial bliss on social media. Fans might be wondering then, will Priyanka Chopra and Nick Jonas be at the Teen Choice Awards together?
This year, 25 year-old Nick Jonas has definitely merited an invite, as he's nominated for #ChoiceSceneStealer for Jumanji: Welcome to the Jungle. It's actually his first solo nomination ever, but he's no stranger to the blue carpet. The Jonas Brothers hosted the awards in 2009, and have nabbed a total of nine surfboards between 2008 and 2009, along with another nomination in 2010.
Chopra's received two nominations in her own right: One last year for #ChoiceMovieVillain in Baywatch and one the year before for TV: Breakout Star for her role in Quantico. The 36-year-old actor hasn't been nominated for anything this year, but that doesn't mean she won't still get an invite of her own. The Teen Choice Awards aren't in the habit of turning away A-list celebs that have strutted the blue carpet before — especially not when they're half of one of the hottest couples of the moment.
Chopra and Jonas have already stepped out on a red carpet together at the 2017 Met Gala, when they both appeared in Ralph Lauren ensembles. Priyanka played the whole thing off to Jimmy Kimmel as just a casual outing between friends, but Kimmel — and the rest of America — weren't buying it. "[We were both wearing Ralph Lauren,] we were on the same table, we know each other, so we were just like, hey, let's go together!" Riiiiiiiiiiight... *wink wink*
The pair haven't been shy about showing their affection on social media, either. People spotted the pair in Mumbai, where one source said they'd traveled so that Jonas could meet Chopra's mom. It was while they were there, on June 22, that Jonas posted a pic of Chopra to his Instagram story with the word "Her" along with a heart-eyes emoji, which everyone knows is universal for L-O-V-E.
Despite all the teasing, Chopra and Jonas still haven't officially admitted that they're even together. E! News reports that in an appearance at a panel called "Challenging the Status Quo and Forging New Paths," Chopra explained that she does want to keep some parts of her personal life just that: Personal. "My entire life — my personal life — is not for public consumption," she said. "Ninety percent of my life is for public consumption, but 10 percent is for me. I'm a girl; I have the right to keep that to myself."
Still, with all the hinting on social media and public outings they've already had together, I wouldn't be surprised if they decide to show up side by side at the Teen Choice Awards this year. But just don't be shocked if they say it was only because they had nothing better to do.