Melissa McCarthy's Meta Comedy Series 'Nobodies' May Be On Its Last Legs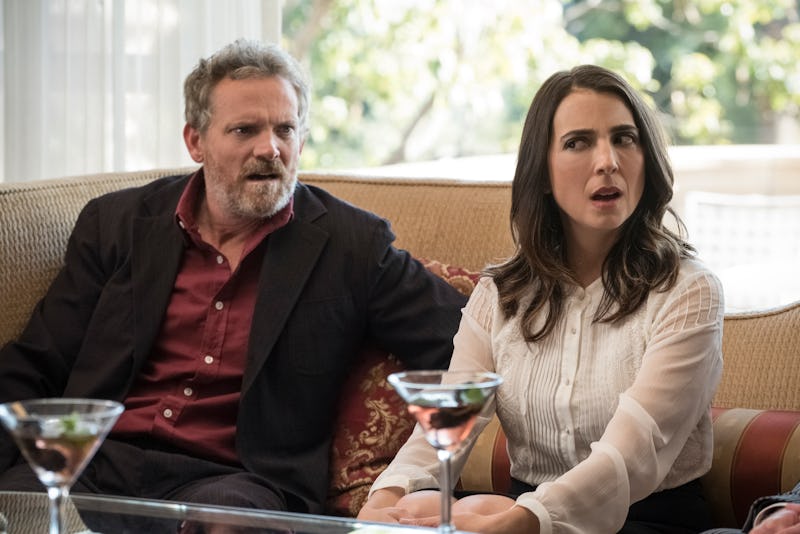 Photo courtesy of TV Land
Created by and starring Rachel Ramras, Hugh Davidson, and Larry Dorf, the dynamic trio also play versions of themselves in Nobodies, which is wrapping its second season on May 31. The show skewers not just the three protagonists but its producers, Melissa McCarthy and her husband, Ben Falcone, who recur as over-the-top, narcissistic versions of themselves. With such star power attached, will Nobodies return for Season 3?
While there's been no word on a Season 3 renewal as of yet, Nobodies probably wouldn't come back until next March anyway. The comedy's first two seasons premiered in March 2017 and 2018, respectively. So its fans may have a long wait ahead of them, even if Nobodies is renewed.
The second season has followed the three hapless writer/comedians as they tried to get their sitcom, Open Dorf Policy, up and running. The show was supposed to be based on Larry's life (how meta can this show get?), after his wife, Jen (Jill Matson-Sachoff), gives birth and his in-laws decide to move in with them. Melissa and Ben loved the show's premise, but they replaced Larry with Saved By the Bell alum Mark-Paul Gosselaar, much to the writer's chagrin.
What's more, the show was further transformed into Rob In The Hood after a focus group meeting. The idea was loosely based on a feature-length script Rachel, Larry, and Hugh had written, which was an offensive retelling of Robin Hood. However, the trio had decided not to copyright the script, since it was $30, and Larry and Rachel thought it was a waste of money. Sadly, this show revamp resulted in Hugh and Larry being fired from the project, while Rachel was grandfathered into the new version of the show for diversity reasons.
This season, Rachel also started a romance with Saved By the Bell alum Mark-Paul Gosselaar, whom every woman in Los Angeles has slept with, according to Kristen Wiig. She and her daughter, Lois, even move in with him. Not only that, but Hugh broke up with Sam (Leslie Bibb), and Larry finally got his in-laws to move out of his house.
However, Nobodies has always seemed a bit shaky on its feet, much like the careers of its protagonists. The show's first season received middlings reviews. What's more, the second season also marked a move from TV Land, its original home, to Paramount Network, per The Hollywood Reporter. (Both networks are under the Viacom umbrella, however.)
While it hasn't made a strikingly positive impression on critics, the show certainly wields a lot of star power. Nobodies' roster of cameos includes not just Mark-Paul Gosselaar but Sia, Kristen Wiig, Jason Bateman, Allison Janney, Cedric the Entertainer, and Kristen Bell, just to name a few. And although the show has been able to attract some big stars to its backstage comedy, the show's autobiographical premise often falls flat.
With only one episode to go in Nobodies Season 2, there are several loose ends that need tying up, however. For instance, will Rachel stay with the Saved by the Bell hunk, or will the newly single Hugh finally confess his feelings for her? After all, Mark-Paul did forget to scratch his head during his acceptance speech for Boy In The Dark at the Independent Spirit Awards, which was supposed to be his secret signal for Lois. Speaking of Hugh, is he going to stay in Austin? And will Larry continue doing Groundlings-like corporate improv sessions? There is so much to resolve, and so little time in which to do it. A renewal would give these hapless wannabes more chances to really make it in Hollywood.