North Korea Said It Could Give Up Nukes, But Here's The Catch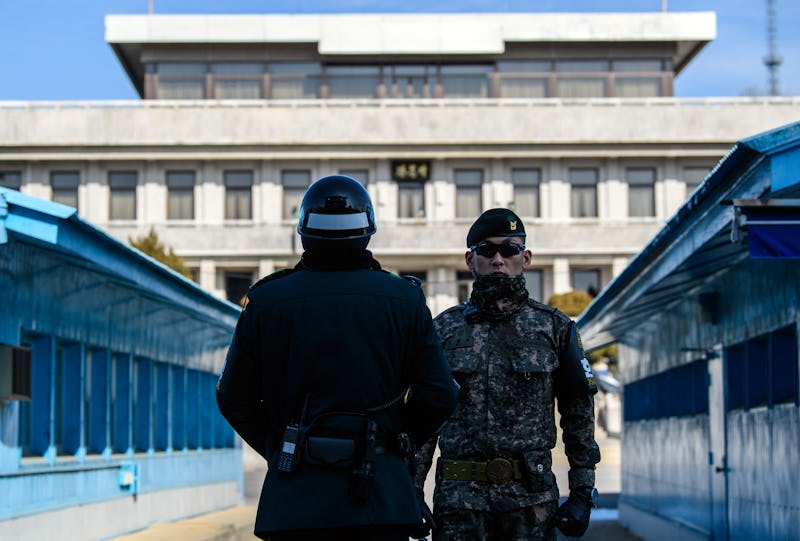 Carl Court/Getty Images News/Getty Images
North Korea and its leader Kim Jong Un have remained at the forefront of the news over the past year because of a seemingly endless back and forth over nuclear weapons, and whether or not they're willing to give them up. Most recently, North Korea said it could give up its nuclear weapons, or at least discuss doing so, in a series of discussions with South Korea. However, not everyone is actually optimistic that this tree will bear any fruit.
The South sent an envoy to the North for a series of talks, which resulted in an agreement to set up a hotline between the leaders of the two countries through which they could speak on the phone. It also resulted in a plan to hold a summit in April, where they would meet in person. South Korean President Moon Jae In and North Korean Supreme Leader Kim Jong Un, despite their proximity, have never met in person, and the last meeting between leaders of the two countries happened in 2007.
This time, South Korean national security chief Chung Eui Yong reported after the series of meetings that North Korea expressed its willingness to hold a discussion with the U.S. about giving up its nuclear weapons, as long as "the military threat to North Korea is resolved."
According to the South Korean security chief, Pyongyang also promised to hold off on any further nuclear or missile tests while the talks were in progress. North Korea's recent missile testing has been a source of great consternation in the U.S. and elsewhere over the past year, especially since it has been accompanied by some explosive rhetoric coming from both Kim and U.S. president Donald Trump.
This is a marked turnaround even from the past couple of weeks, when Trump responded to the positive atmosphere emanating from the recent Olympics in South Korea by saying that the U.S. would be willing to talk to North Korea, but as the president said, "only under the right conditions." American officials later clarified that those conditions meant a pre-commitment to denuclearize, which North Korea rejected on the grounds that they would only enter such talks on "equal footing."
Only days after this exchange, though, the news from South Korea has emerged that the North is willing to take a softer tone. American officials, however, aren't universally optimistic that it will be possible to provide the sort of "security guarantees" that North Korea is requesting as the basis upon which they would halt their nuclear program.
"The U.S. has actually provided security guarantees to North Korea, including in writing by President Clinton," said former State Department official Evans J. R. Revere, speaking with The New York Times. "Such guarantees have never been adequate or acceptable to the North Koreans, just as the U.S. provision of alternative energy sources, food, and other assistance has never proved adequate."
North Korea has actually offered to hold talks before, even in recent memory. In November they said that they could see a path to giving up their nuclear weapons — but only if the U.S. gave theirs up first.
"The DPRK's access to nuclear weapons and intercontinental ballistic rockets is a just choice for self-defense to counter the U.S. nuclear threat. Therefore, no one has right to fault with it," the North Korean central news agency wrote at the time, according to Newsweek.
The world's denuclearization is the aspiration and desire of humankind. If the aspiration and desire come true, U.S. and other countries that have the largest number of nuclear weapons should take the lead in denuclearization.
The U.S. has expressed no interest in going that route, however, so the peacemaking process was not moved forward.
If this is the same "security" that they will end up requiring after the summit with South Korea, then it's unlikely that those talks will result in any lasting steps forward either.