Prepare Yourselves, Pete Davidson & Ariana Grande Might Go To The Emmys Together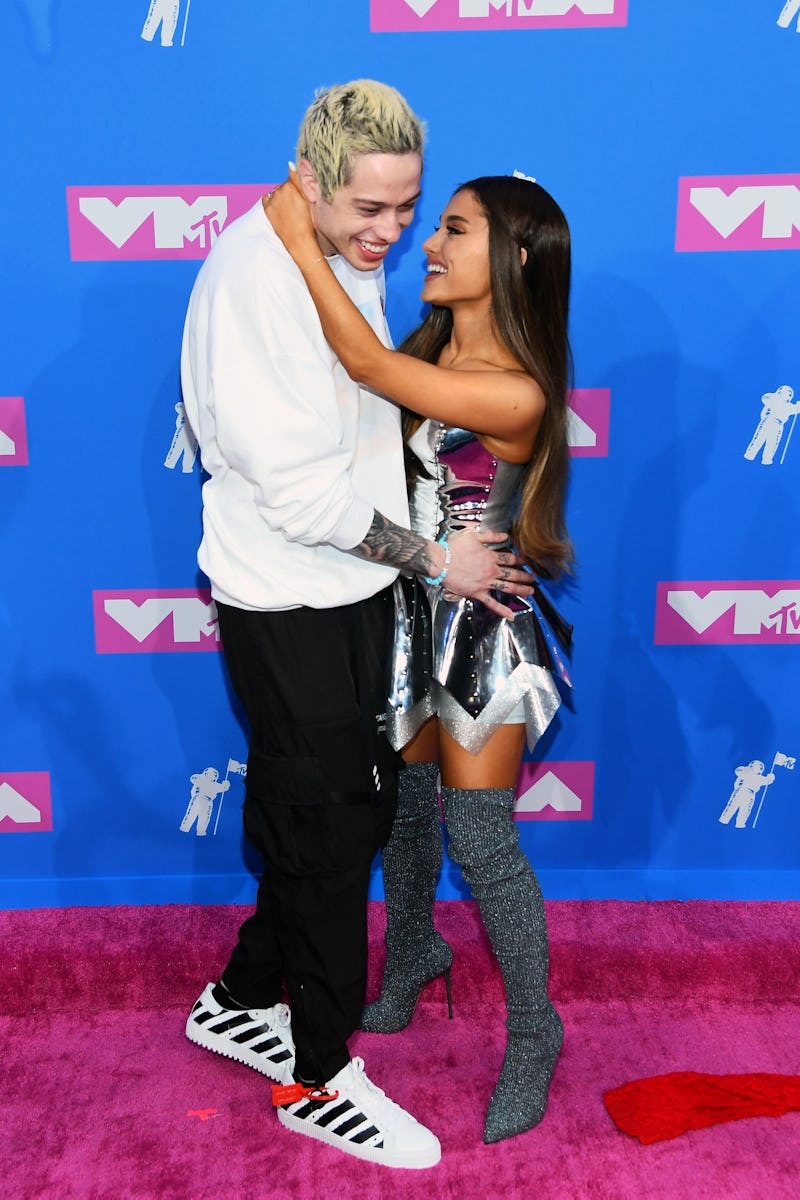 Nicholas Hunt/Getty Images Entertainment/Getty Images
It's hard to believe that Pete Davidson and Ariana Grande only reportedly started dating in May, considering how intense and committed their relationship has become — I mean, they're living together, sporting matching tattoos, and engaged to be married (!). But occasionally, the short span of their relationship so far becomes evident, such as when you realize that the duo only appeared on the red carpet together for the first time in August, at the MTV VMAs. And now, the couple might soon hit their second red carpet, if Pete Davidson and Ariana Grande go to the 2018 Emmys as a pair.
While it might seem odd to some for Davidson and Grande to attend the Emmys, Hollywood's most prestigious TV-focused awards show, it actually would make a lot of sense. Davidson, lest you forgot, is a cast member of Saturday Night Live, and the NBC show is up for numerous awards at this year's Emmy Awards. In addition to acting nods for cast members Kate McKinnon, Leslie Jones, Kenan Thompson, and Aidy Bryant, SNL also earned nominations for guest stars Tiffany Haddish, Tina Fey, Bill Hader, Donald Glover and Alec Baldwin (who's competing in the Supporting Actor category); writing; and overall variety show. Add that to the fact that SNL stars Michael Che and Colin Jost are hosting the Emmy Awards, and it'd actually be a bit surprising if Davidson wasn't in attendance to support his colleagues.
If the comedian does indeed attend the Emmys, it's pretty likely that he'll choose to bring Grande as his plus one. As we all know, the duo have been inseparable since they began dating, posting many photos together and publicly encouraging each other's success on a frequent basis. When Grande's album Sweetener came out in August, Davidson posted a bunch of photos and videos hyping it up, and has talked about his love for his partner's new music in several interviews, too. So you can bet that Grande wouldn't miss a chance to show support for her fiancé by appearing alongside him at the Emmy Awards when his show is up for so many awards.
Besides, the red carpet would offer an opportunity for the couple to show off all their new tattoos for one another. At New York Fashion Week in September, Davidson showed off his new "Grande" ink, written on his rib cage. The singer, meanwhile, has "Pete" on her ring finger. The duo also have matching cloud tattoos, as well as two matching pieces — "reborn" and "H2GKMO" —on their fingers. Davidson also has bunny ears on his neck (the symbol of Grande's Dangerous Woman album), and Grande has 8418, Davidson's late father's firefighter badge number, on her ankle. And there are possibly other tats, too, that the pair haven't yet shown off.
So yeah, if Davidson and Grande do appear at the Emmy Awards together, you can bet that they'll make quite the entrance and impression. And if SNL ends up picking up any wins, it's likely that Davidson and Grande will both cheer the show and its cast and crew members on from the audience.