Pete Davidson Actually Wanted To Propose To Ariana Grande Even Faster Than He Did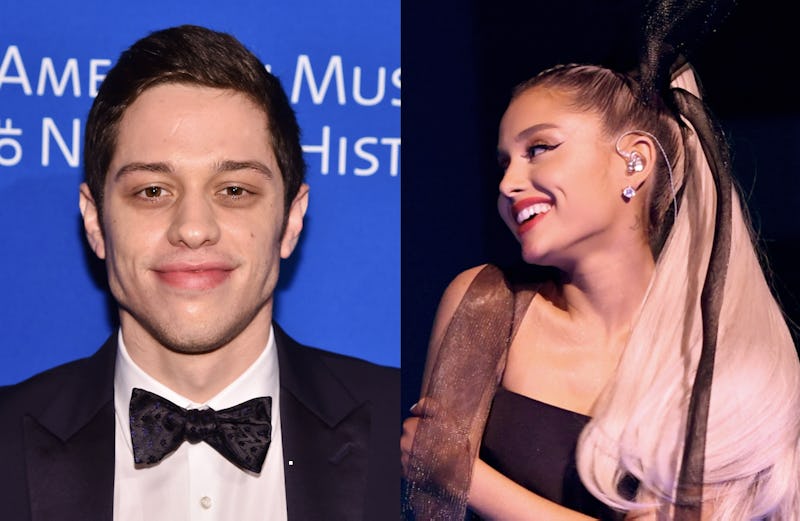 Michael Loccisano/Getty Images Entertainment/Getty Images; Kevin Winter/Getty Images Entertainment/Getty Images
It seems like celebrity romances are moving at lightning speed these days, including one involving a comedian and very famous singer. Believe it or not, but Pete Davidson opened up about his relationship with Ariana Grande and admitted they moved way faster than people thought all along. The Saturday Night Live star even revealed he thought about proposing to Grande way sooner than he did.
Davidson's somewhat surprising revelations came out in an interview with GQ published on Thursday, where the comedian dished,
"The day I met her, I was like, 'Hey, I'll marry you tomorrow.' She was calling my bluff. I sent her a picture [of engagement rings]. I was like, 'Do you like any of these?' She was like, 'Those are my favorite ones,' and I was like, 'Sick.'"
It still remains unclear exactly when the two started dating (rumors first circulated on May 21) and when Davidson popped the question, but New York City jeweler Greg Yuna told E! News in June Davidson reached out him about a ring in May. "Pete called me at the end of May and said, 'Look, I'm getting a ring. This is what I want,'" Yuna said. "And I told him that I had the right ring for him. He didn't tell me who it was for but told me to keep it a secret. He didn't tell me anything about it."
According to Yuna, Davidson paid $93,000 for the ring, which is 3-carats and pear-shaped. Engagement rumors involving Davidson and Grande were first reported on June 11. While appearing on The Tonight Show Starring Jimmy Fallon on June 21, Davidson confirmed his engagement to Grande for the first time. He called his exciting news "lit."
Davidson and Grande seem extremely happy together. He told GQ they moved into an apartment in Manhattan that reportedly cost $16 million. According to Davidson, Grande bought the place for both of them and he buys the groceries. He said,
"She's really sweet. She's like, 'This is our house,' and I'm like, 'You're very nice for saying that. Thank you for letting me stay here.' She's like, 'We're getting married!' And I'm like, 'I know, thank you for letting me stay here.'"
Apparently, they still need to decorate. As Davidson explained, "It's like, we have six beanbags, but we have no forks — you know what I mean? We're learning how to be adults. We're having a really fun time."
As fast as they've moved, they seem to be moving slow on the wedding plans. Per Davidson, they don't have any, but for those who don't think they'll tie the knot, he professed to GQ that the wedding is "definitely going to happen, for sure."
Even Davidson's close friend and SNL costar Chris Redd said he's "the happiest he's ever been." Davidson echoed Redd's statements and told the magazine, "The universe works in weird ways. All I know is that I'm the luckiest guy in the world."
Despite how fast Davidson and Grande have moved, all that matters is their happiness. It seems pretty clear the two are enjoying every single moment together.