Why Lala's Fiance Might Actually Be On 'Pump Rules,' Even After She Vowed He Wouldn't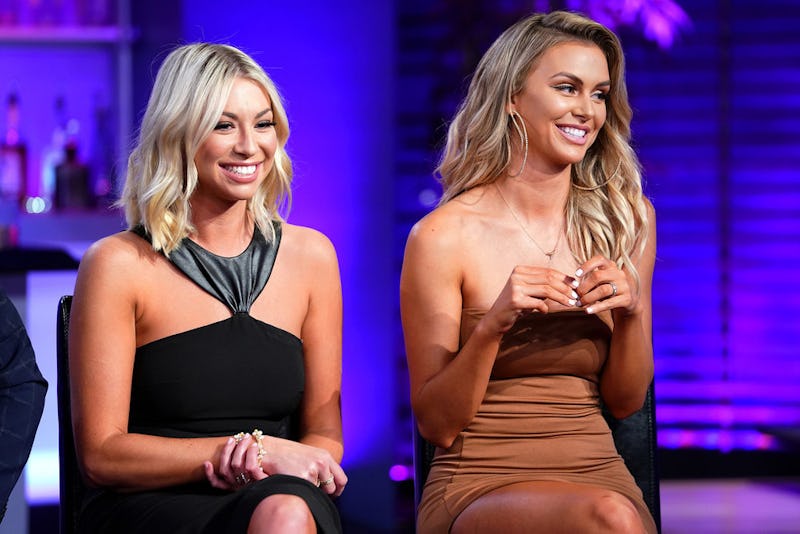 Nicole Weingart/Bravo
This may come as a surprise, but not everyone wants to be on a reality show! It might be a good way to gain fame (or infamy), but it's not the dream of every person in Los Angeles to have a camera in their face 24/7. Take Randall Emmett, for instance. Vanderpump Rules star Lala Kent is recently engaged to the producer, so it would make sense that he would pop up from time to time… but, well, maybe not. Lala has made very clear that Randall Emmett won't be on Vanderpump Rules — at least not in Season 7.
The reality star turned actress, who started appearing on Vanderpump Rules in Season 4, kept her relationship very tightly under wraps in the beginning, only referring to Randall as her "man" and never by his actual name. We later learned it was because he was going through a divorce, but Lala's secrecy about Randall led to a lot of drama on the show. During the Season 6 Vanderpump Rules reunion, Lala said that Randall would never, ever appear in the series. That said, according to Bravo, Randall and Lala joined the rest of the Vanderpump Rules group on a luxurious trip to Mexico in October 2018. Considering Vanderpump usually wraps filming for each season in October (because they premiere in December/January), could this mean that Randall will appear at the very end of Season 7? Or is this an end-of-the-season celebration-type deal? It's hard to say, but the pictures that the group posted from the trip look pretty amazing.
Even if Vanderpump Rules is off the table in terms of Randall and Lala appearing as a couple, the newly engaged duo made their television debut on another show — Jeff Lewis' Flipping Out. Back in May 2018, Lala posted a picture of herself, Randall, and Jeff with the caption, "Furniture picking day with @jljefflewis." In November, the episode aired, and it featured Jeff helping Lala and Randall make their new home absolutely perfect.
Randall and Lala got engaged in July 2018 in Cabo San Lucas, Mexico. Of the proposal, Lala told People, "This weekend has been an amazing one for the two of us! It was definitely the most romantic moment of my life. Every detail of the surprise was stunning and I'm still in shock." The moment was a bittersweet one for Lala, who recently lost her father. But, prior to his death, Lala's dad and Randall had discussed them getting married, much to Lala's happiness. "I believe my father was definitely with us last night in spirit, which makes me even happier and our parents are thrilled!" she continued.
Lala deserves all the happiness in the world, and it's probably better that Randall won't be on Vanderpump Rules. Subjecting a relationship to SUR-level drama can't be good. Throw in James and his obsession with Lala (remember the lake trip episodes in Season 6?), and you have a recipe for disaster. Randall and Lala are happy off-screen, and for now, it seems like it will stay that way.