Why 'This Is Us Fans' Should Brace Themselves For Some Serious Beth & Randall Drama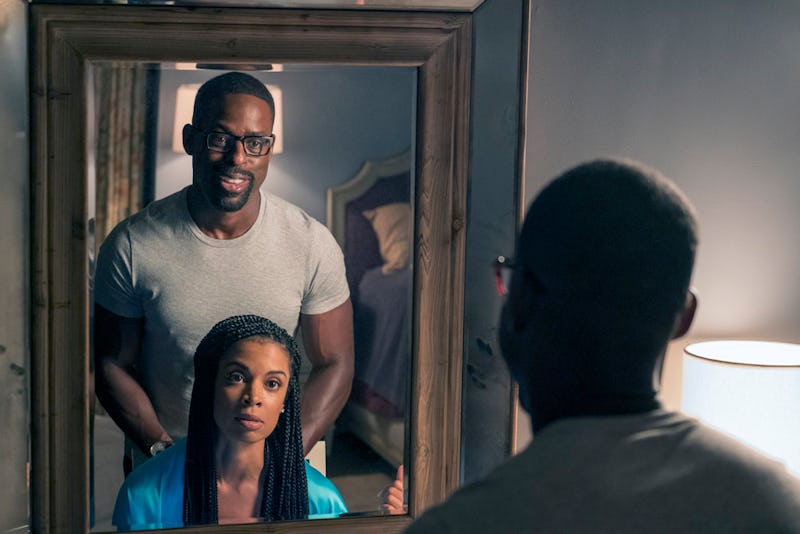 Ron Batzdorff/NBC
It hurts when Mom and Dad are fighting, even if the Mom and Dad in question are not exactly real people. But for the millions of people who tune into This Is Us on Tuesday night, Beth and Randall Pearson are total relationship goals. They're best friends, lovers, parents, and fighters together, and to think that they would have any sort of marital issue is downright scary for viewers. And yet... we might see some tumultuous seas ahead for this power couple. It definitely feels like Randall and Beth will break up on This Is Us this season, or at least take some time away from each other.
The Pearsons are the Eeyore of television — something bad is always happening, and at least one in the larger group of family members is always down, but not out — and this time, Beth is the one in the dumps. As we've seen before, she's usually the one that holds Randall and his austere perfectionism together, but now, Beth has just been let go from her job and she needs a little help holding it together. Beth is the grounded one, but right now, she needs Randall to stay down-to-Earth so she can freak out about losing her job. This is perfectly reasonable, as marriages should be about yin and yang. Randall and Beth's usually is. Yet, he can't even stop talking about his own ambitions — to run for a political office, no less — to let her break the news to him.
But this job news comes at a time where Randall is grappling with his identity even more than usual, and he's too blind to see his wife metaphorically screaming for help. This could end in resentment, which could, well, end things. Back at the end of Season 2, Sterling K. Brown, hwo plays Randall, tweeted that Beth and Randall would not be splitting up, so don't you worry your little head:
Season 3 Sterling K. Brown, though, is singing a little bit of a different tune. According to an interview he did with TV Line, Brown says to expect some "difficulty" in their marriage soon. "Randall makes some choices that his wife supports but not necessarily endorses, with regard to a career opportunity," Brown said. "Being the dutiful person she is, she finds herself not being able to anymore, and there's a bit of a break in the union we're accustomed to seeing."
Brown also said that Beth and Randall will "have to re-form... but that's what happens in a marriage." It takes work, but ultimately, Beth and Randall have "a marriage that works, so they will come back together."
Not only is showing struggle in a long-lasting marriage real, it could be an opportunity to open Beth and Randall's story up and get some more backstory on the years before we met them. This Is Us viewers know that Beth and Randall met in college, but we don't even know which college. We know nothing. In an interview with Bustle, Susan Kelechi Watson, who plays Beth, said that she can't wait to explore those years.
"I think it would be kind of interesting to see what their engagement period was like, the time before the house and kids and all that," she said. "I think that would be kind of cool to see what they were like before any of all this happened."
This Is Us is usually a tearjerker of a show, but who among us ever thought that Beth and Randall would be the source of those tears? Every marriage has its struggles, though, and it seems like its time for Beth and Randall to go through their hard times.