Why Fans Could Be Waiting A Few Years For More 'Rick And Morty'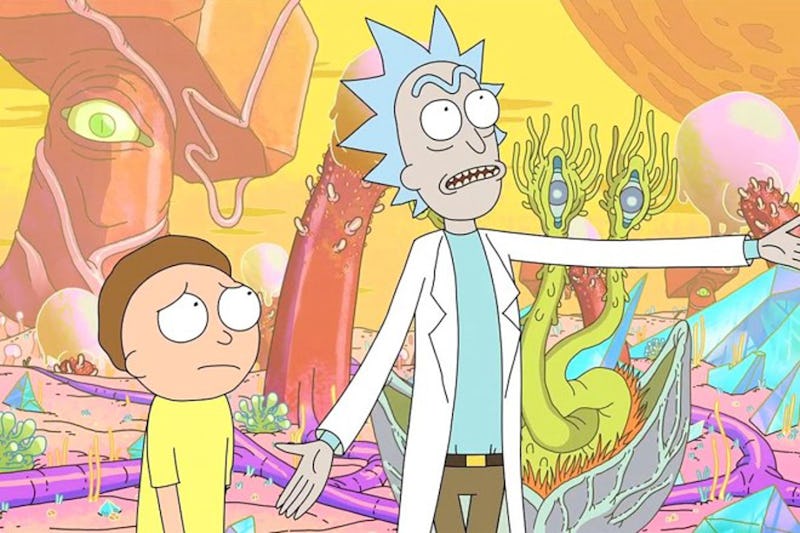 Adult Swim
The long wait for Season 3 of Rick And Morty was grueling for fans, since it took the Adult Swim series almost a full two years to come back on the air. Now, Rick And Morty Season 3 is coming to an end and fans may be dreading the thought of having to wait another two years to see what happens with Rick and Morty, especially since the show proved in Season 2 that the writers are fans of cliffhangers. While Season 4 of Rick and Morty hasn't been confirmed yet by Adult Swim, the show's co-creator is enthusiastic in his belief that the next season will be the show's biggest yet.
Rick and Morty co-creator Dan Harmon, in speaking with Entertainment Weekly, explained that Season 3 was actually supposed to be the show's longest season. Each season of Rick and Morty has lasted between 10 and 11 episodes, but Season 3 was initially planned to be 14 episodes. However, Harmon claimed that he's confident that he and co-creator Justin Roiland are striving to ensure that Season 4 reaches the 14-episode output they had anticipated for Season 3. Harmon said, "The nice healthy way to approach this is I want to prove it with the first 10 of season 4 — prove it to ourselves, to production, to the network — that it's so easy that we'll earn additional episodes." While Season 4 seems like a relatively sure thing, the show's own fans could be a reason the show doesn't come back for another season.
While Season 4 has yet to be confirmed by Adult Swim, it's hard to imagine Rick and Morty getting cancelled by Adult Swim. The show has been a crossover hit for the network, leading to Rick And Morty being used in commercials for Hardee's and the film Alien: Covenant. Rick And Morty have even done a crossover with The Simpsons. The show's popularity is in part due to the show's devoted fanbase who invest a lot of their own energy into the show — for better or worse.
In Season 3, the Rick And Morty writing staff made a point of adding more women to the show's creative team to counterbalance Adult Swim's lack of women writers and showrunners overall. However, two of the show's writing staff, Jane Becker and Jessica Gao, soon found themselves getting harassed and doxxed by people claiming to be passionate Rick And Morty fans. Co-creator Harmon's response to this is a perfect example of one pitfall of not being able to choose your own audience.
Harmon was not polite about expressing his distaste for the most toxic portion of the Rick And Morty fanbase to Entertainment Weekly. He said:
"These knobs, that want to protect the content they think they own — and somehow combine that with their need to be proud of something they have, which is often only their race or gender. It's offensive to me as someone who was born male and white, and still works way harder than them, that there's some white male [fan out there] trying to further some creepy agenda by 'protecting' my work. I've made no bones about the fact that I loathe these people. It f*cking sucks. And the only thing I can say is if you're lucky enough to make a show that is really good that people like, that means some bad people are going to like it too. You can't just insist that everybody who watches your show get their head on straight …"
Despite this genuinely toxic portion of Rick and Morty's fanbase, it seems like these bad eggs aren't enough to dissuade Roiland and Harmon from continuing to make their show — for now, anyway. With the success and large fanbase that Rick and Morty has found, the only reason that the show may not come back is if the co-creators don't want to bring it back. Whether that would be due to fandom harassment problems or the co-creators not being able to live up to their own perfectionist standards — which Harmon claimed is the reason Season 3 took so long in a series of tweets — Rick and Morty might simply not be worth making.
If the show does come back for Season 4, however, expect it to be Rick And Morty's biggest season yet... and maybe for Harmon and Roiland to sneak in a few cutting remarks about troll fans.